So… Who is Jared Padalecki?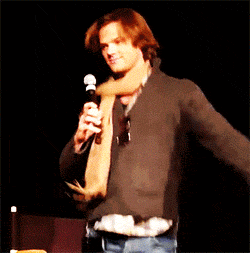 Jared Padalecki is an American actor who currently resides in Austin, Texas.
When is his birthday?
July 19th, 1982
What is he most known for?
Jared Padalecki is best known for his role as Sam Winchester on the hit fantasy/horror series Supernatural.
What else has he starred in?
Film
A Little Inside
Cheaper by the Dozen
New York Minute
Flight of the Phoenix
House of Wax
Cry Wolf
House of Fears
Christmas Cottage
Friday the 13th
TV
Silent Witness
Gilmore Girls
ER
A Ring of Endless Light
Young MacGyver
Supernatural
Room 401
Supernatural: The Anime Series
Gilmore Girls: A Year in the Life
What else do I need to know?
On top of all his movie and television work, Jared Padalecki is an important advocate for mental health awareness. After sharing his personal struggles with depression, he began the "Always Keep Fighting" campaign. Through multiple clothing campaigns, he has raised money for organizations such as To Write Love On Her Arms and has encouraged fans around the world to keep fighting and to put themselves first.
What are his social media links?
Twitter: @jarpad
Instagram: @jaredpadalecki
Facebook: @JaredPadalecki
Are you a fan of Jared Padalecki? Do you watch Supernatural? Tell us by tweeting us at @CelebMix.