For years, the Supernatural cast has been doing panels at conventions. Not only do they go to the famous ones such as Comic-Con and EW PopFest, but they also do their own round of cons. That's right; there are conventions strictly based around Supernatural, and they're awesome.
If you're considering going to one of these cons, let us help you. In honor of Supernatural's twelfth season premiere on October 13th, here are twelve reasons why you should attend a Supernatural convention.
1. A reason to travel
Supernatural conventions always take place in major cities. There have been cons in Las Vegas, Minneapolis, Chicago, Burbank, Washington DC, Dallas, and many other cool places. Since each convention runs for three days, this gives you a chance to leave your hometown and explore somewhere entirely new to you.
2. Lots of Supernatural merch you can't get anywhere else
If you're familiar with Hot Topic, they offer a lot of Supernatural gear. It's great. However, they can only sell so much. When you attend one of the official show's cons, they have an entire room of vendors ready to sell you things related to the series. Most of these items aren't available anywhere else.
3. You can take pictures with the cast
If you were at @CreationEnt #spnpitt with us this weekend, this could be YOU! (The dog, not @JensenAckles ) pic.twitter.com/yS5YkSBuoD

— Jared Padalecki (@jarpad) July 10, 2016
This is one of the biggest reasons people make their way to these conventions. If you purchase a photo op ticket, you are given the chance to take a picture with the actor of your choosing. For example, if you buy a Rob Benedict solo photo op, you will get to take a picture with Rob. If you buy a J2 photo op, you will get to take a picture with Jared Padalecki and Jensen Ackles. You can't do that anywhere else.
4. You get to watch panels involving the cast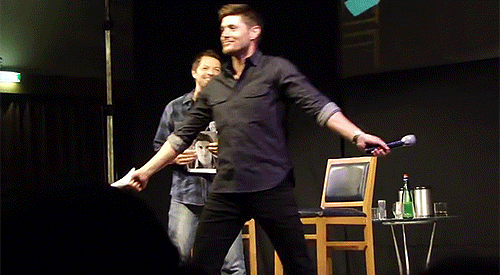 During all three days of the convention, there are panels involving the stars of the show. This includes the main four (Jared, Jensen, Misha, and Mark). Other cast members appear as well, such as Rob Benedict, Briana Buckmaster, Kim Rhodes, Mark Pellegrino, Osric Chau, Alaina Huffman, and many others. The list is different for nearly every con, although the main four are (almost) always present on their assigned days.
5. You will be in a convention center full of people whom all love Supernatural
At a place like Comic-Con, there isn't just one group of fans. There are hundreds of different shows and comics being celebrated, so there's a mix of fandoms. However, at a Supernatural con, the majority of people there are fans of the show. You don't have to search for someone who feels the same as you do. Almost everyone there is in the same boat.
6. You can meet online friends in a safe space
Many fans talk to each other through social media. It doesn't always happen, but sometimes a real connection can be formed. A con can be a safe place for them to finally meet each other in person. They are held in public venues, and there are security and volunteers all around. If you're determined to meet a fan from online, there's no better place to do it.
7. You can meet new friends
If you're not coming in with any online friends, that's okay! You'll surely meet some new faces at a con. For the most part, everyone feels the same about the show, making it easy to find buddies. You may walk in knowing no one and end up walking out with twenty friends. It's known to happen.
8. You can get things autographed by the cast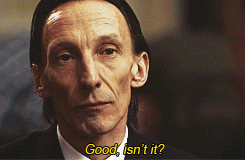 If you're interested in getting something signed by a cast member, the official cons are the places to do it. If you purchase an autograph ticket, you will get to go into a room and have the actor of your choosing sign whatever you bring in. For example, if you buy an autograph ticket for Felicia Day and bring in her book, you will be allowed to come up to the table she's sitting at and have her sign it in front of you. It's pretty awesome.
9. You can hang out with cast members during their private meet and greets At a lot of the cons, private meet and greets are also available with the stars. The process is a little different from the rest of the tickets. If you want to go to Ruth Connell's private M&G (or any other cast member who does them), you will have to take part in an online Dutch auction. While it can be stressful, it's worth it. There are usually ten to twenty fans in the room, but the meetings last around forty minutes each dependent on the stars involved. It lets you have a real conversation with them.
10. There's a concert where many of the cast members perform
On the Saturday night of the con weekend, you can attend the Saturday Night Special. The concert features Rob Benedict's band Louden Swain, but many surprise guests are known to show up. Matt Cohen, Richard Speight, Jr, Mark Sheppard, and even Jensen Ackles have all shown and performed in the past. Many other cast members have shown as well. It all depends on the con.
11. You don't have to like Supernatural to enjoy it
While most people who walk in are fans of the show, you don't necessarily have to like Supernatural to enjoy the cons. Many of the panels aren't completely focused on the show, and it works a lot like a comedy club. Everything is positive and many of the stories told are hilarious.
12. You will never forget the experience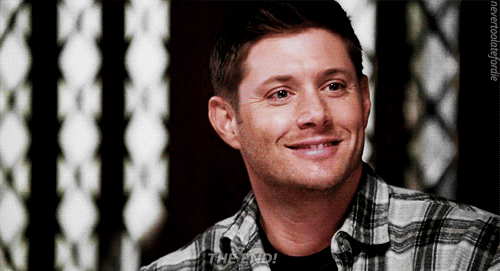 If you make your way to a Supernatural con, it'll always live on in your memories. It's an experience like no other. There is no other place where fans from around the country (and even world) can come together and celebrate Supernatural with the actual cast present. You'll get to see the actors in real-life, whether or not you chose to purchase autographs and photo ops, and you can make friendships that have the potential to last a lifetime. It doesn't get much cooler than that.
Are you debating on going to a Supernatural convention? Have you already been to one? Tell us on our Twitter page, @CelebMix.