Harry Styles, the youngest member of One Direction, is no longer quite young. He is no longer the same 16-year-old that tried out for The X Factor all those years ago.
He was first introduced to the world back in 2010, and since then, we have been captivated with Harry's ability to smile through anything. As a member of One Direction, there are moments that aren't quite enjoyable – such as the ugly rumors and unjustified headlines – but bravery is always checked in Harry's book. His smile reassures fans that everything will be alright.
Harry's happiness is one of the most important things for all the 1D fans. Seeing your idol smile can be one of the greatest gifts! Whether it be on stage, through a computer screen, or during an interview, Harry Styles has a dazzling smile that warms all of our souls.
22. All His Little Things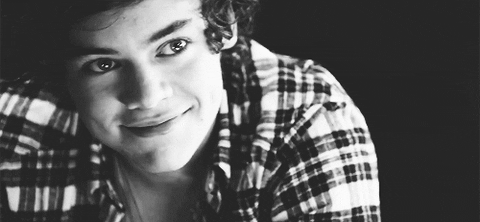 It feels like it was just yesterday when the Little Things music video was released. His eyes are literally sparkling! He's glowing, and therefore, we are glowing,
21. First Moments on Stage
Performing on stage on live television for one of the first times must be an exhilarating feeling.
We bet you that Harry Styles never imagined to be as successful as he currently is – going from small arenas to big stadiums.
20. Oh, it's a video?
Silly Harry posing for a photo when it's actually a video!
19. Headband Harry
Harry's headband phrase has got to be one of our favorite One Direction eras. Then again – Harry's smile is one of our favorite things ever. What a perfect match.
18. What are words
We're sorry? Did you want us to describe this GIF? Because to be honest, we think we just went brain dead. Just look at him. What is there to even describe besides the fact that Harry Styles is absolutely lovely?
17. Cutie!
Throwback to when the Tumblr trend was tagging every photo of Harry with #CuppyCake.
16. Signings
Do you think the lucky fan on the receiving end goes to sleep every night thinking about this very moment? We know we would.
15. HAHAHA.
We can already hear his laughter – and it's slowly warming up our cold hearts.
14. The Reason Why We Went to WWA
Our secret is out. The only reason we purchased Where We Are tour tickets was to see this precious Harry moment on the big screen.
13. He's Not Real
Harry Styles is not a real person. That's our only explanation.
12. Deep breaths.
We know it's getting hard to breathe, but we're almost to the end of the listicle! Pull through, you got this.
11. Don't die.
If you die now, you can't see the rest of the smiles Harry will shine our way!
10. Look at him.
Just… Just look at him.
9. Look at the dimple

How is he real???
8. R.I.P Fans All Over the World
CelebMix is not responsible for any deaths caused at this point of the article. At least, we can all have a joint funeral.
7. Happy Harry
Harry's bashfulness and modesty shine through and we are squealing on the inside. He looks so happy and we feel like we are looking at the sun right now.
6. U Smile I Smile
We are honest giggling right now.
5. :D
We are so thankful for high definition cameras with high-quality zoom.
4. :)
You're absolutely amazing just the way you are.
3. Is he blushing?

It's official. Our brains are no longer functioning. At all.
2. Stay Gold.

How many fans did he made smile that day just with his own smile?
1. Back to the Beginning…
Last, but certainly not least, we can never forget the smile Harry shared with us during his beautiful performance of "Isn't She Lovely?" by Stevie Wonder. This was one of the very first moments of Harry's happiness that we were able to witness.
It's been over five years – almost six, wow! – but we are still head over heels and completely enamored by Harry Styles. Fame and talent have nothing to do with our endless admiration.
It's 2016 and he is almost 22, but Harry Styles still has the same heart of gold he had when he auditioned for The X Factor. Six years later and Harry Styles still has the same dimple when he smiles. Six years later and Harry Styles still deserves the same amount of happiness he did when he was younger.
There are people who praise Harry for his success in money and for his success in worldwide popularity. Then, there are the fans who praise Harry, not for his name, but for his heart, his support, and his love. There are fans out there – no matter what age, gender, sexuality, race, etc. – that found hope in Harry Styles. They found hope in his lovely persona and beautiful smile. We hope that his 22nd year of life will bring Harry a lot of happiness because he deserves nothing less.
Happy birthday, Harry! Lots of love from CelebMix and the fans.
Tweet us @CelebMix and @CelebMix1D your favorite Happy Harry moments!