These past five years with One Direction have been a rocky rollercoaster ride leading up to a well-deserved break on their behalf. Fortunately for the fans, the 18-month break doesn't start until the new year and fans were given a chance to celebrate Louis Tomlinson's 24th birthday with him before the hiatus begins.
Louis has never failed to appreciate and acknowledge Directioners for all their hard work. "This is a testament to how incredible our fans are," Louis gushes upon receiving the Artist of the Year award at the AMAs in November, "You've been great to us this year, so thank you, thank you, thank you."
The love and thanks Louis directs towards fans is mutual and is always returned. Fans have done so much in order to express their gratitude and love towards Louis, such as gifting him with presents or tweeting sweet things just to make him smile. In honor of his 24th birthday; here are 24 times the fans have given back both physically, and emotionally, to Louis Tomlinson.
24. That One Ah-dee-das Jumper
https://twitter.com/hlupdates/status/628766962974330880
The time he pronounced "Adidas" was correct in several countries, but differentiated from the norm in America – where the interview took place. Let's just say he made many fans adore him just by his dialect with that one word. Imagine being the lucky fan that gifted him the jacket!
23. The Other Adidas Jacket
A fan threw it on stage in Milwaukee, and Louis did not hesitate to put it on. He even performed with it!
22. More Adidas Gear!

This shirt was bought by @lookingoodlads on twitter. Her motive was to gift it to Louis at OTRA Gillette. Although it was not able to reach him, the intention was there all the same. Anything Adidas will look great on Louis.
21. Adidas Fanart
https://www.instagram.com/p/6DNE8QoNFw/?taken-by=girlartmighty
If there's one thing fans are 100% certain about Louis, it's his love for Adidas! This artwork captures the perfect mixture of Louis Tomlinson and Adidas.
20. Cartoon Fanart
Fan art is a gift that takes talent, consideration, and dedication. This piece is too cute, just like Louis! (Credits in Photo)
19. Portrait Fanart
The talented fans never stop! This is a gorgeous rendition of Louis' outfit and style at the ARIA Awards back in 2014. Gorgeous artwork. (Credits in Photo)
18. GIF Photosets on Tumblr
There is no better way to capture Louis' best moments than in GIFs. This specific moment was during the infamous Carpool Karaoke with One Direction on James Corden. You can practically hear his accent! Tommosloueh's edit on tumblr captured the hilarious moment of Louis retelling the tale of a 45-year-old woman gifting him milk. What a laugh.
17. Let's not forget the sweet Vines!
Did you feel the goosebumps watching this? The amount of love and appreciation the fans hold for him is amazing.
16. The Appreciative Fan Signs at Concerts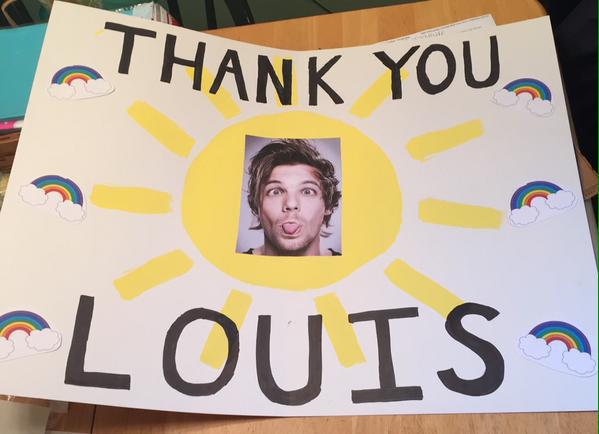 15. The Funny Signs That Make Louis Smile
14. The Tweets Dedicated to Louis' Smile
It's been over five years since Louis tweeted this, but the lovely tweets for him never stop!
13. The Tweets to Louis about his Work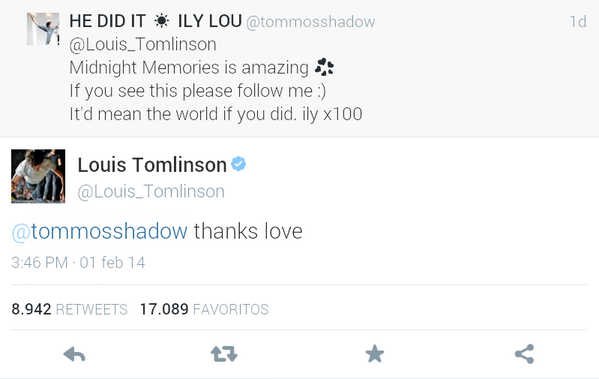 12. The Tweets that Protect and Defend Louis from Haters
Sorry for bringing it up, but it was a movement by the fans worth acknowledging. Remember when Louis was deemed the "ugly" member (hah!) of One Direction in a news piece? Directioners didn't stand for it, and #RespectLouis was trending worldwide on Twitter for over 6 hours! Absolutely amazing. Best fans in the world!
11. The Twitter Accounts Dedicated to how Beautiful Louis Is
https://twitter.com/thetommopics/status/678552046312796160
Louis recently followed @thetommopics on Twitter, an account dedicated to the best of Louis with a massive following. Give the account a follow so your Twitter timeline will never have a lack of Louis Tomlinson!
10. The Endless Amount of Gifts Fans Throw on Stage for Louis
https://www.youtube.com/watch?v=IWSNjyKgL5o
This was an irreplaceable moment. A fan throws her phone on stage – with the intention of it being a gift? Or was this her motive all along? – and Louis has a thrilling conversation with her mother about tea.
9. The Water Guns thrown on stage
Louis doesn't have to bring his own waterguns to the show because the fans provide it for him! He has great fun spraying his bandmates with them.
8. The Silly String
The fun doesn't end there! Not only does he attacks Liam with the silly string, but he usually engages fans in the war as well.
7. The Blue Bandanas that Fans Wore to Concerts
The Bandana Project was started back during the Where We Are tour, and it was quite a success! Several fans wore Louis' color – blue – to show their devotion to him.
6. The Sweaters with his Tattoos
My oops! sweater and my Louis tattoo sweater arrived today, I'm so happy !! (The oops! one is a bit big tho) pic.twitter.com/bc3xQfmncA

— franzi ? (@lovablelt) September 2, 2015
If you want one of your own, you can purchase them on Etsy. The time spent making these and the money spent buying them are things spent with Louis in mind.
5. Other Apparel Dedicated to Louis
I waved this jacket around while they were on commercial break and Louis saw and he gave me the sweetest smile pic.twitter.com/wfLkA3qQVH

— laura h (@laurxhuynh) November 18, 2015
Louis was able to see this windbreaker design when a fan waved it around during Ellen. Louis seemed to have appreciated it very much!
4. The Thank You Videos
https://www.youtube.com/watch?v=QpSxFndOU1Y
Challenge: attempt watching these videos and not crying.
Fans make these videos to express their feelings and thanks for him. These emotions are so large that they could touch the ends of the Earth.
3. How about the fact that Louis has several of his own "Funny Moments" videos on Youtube?
https://www.youtube.com/watch?v=_gOBHgNEMdg
Second challenge: watch this and try not laughing.
2. The 1DFansGive's Annual Charity Drive in honor of Louis's Birthday
few days left! we're at 107% and $25,773 for our charity drive for Louis' bday! https://t.co/30YX3e7yHF

— 1D Fans Give (@1dfansgive) December 21, 2015
The 1DFansGive charity drive is an amazing movement started by a few fans. It's been a couple years and the difference they are making is only getting stronger. They have already raised over $26,000 in honor of his 24th birthday this year.
Make sure to check it out and donate. It's not too late to help the fans, Louis, and Eden!
And last but definitely not least:
1. Project No Control
#ProjectNoControl made so many headlines and caused such a commotion that it will go down in music history. The fans are absolutely incredible! Have you ever seen such a smile on Louis' face?
That was the exact purpose of #ProjectNoControl – actually, it's the purpose of everything the fans ever do for him – to see Louis smile.
Louis Tomlinson has a heart of gold that empowers his fans and brings out the best in them. The love between Louis and his fans is connected through a special relationship that outsiders cannot understand. At the end of the day, Louis does his best to make the fans happy, but all the fans want is to see him happy. What a win-win situation! Louis will never stop giving back to the fans the same way the fans will never stop giving back to him.
Happy Birthday, Louis! May your 24th year of life be your best.