Larry Stylinson: (n) Harry & Louis.
The concept of "Larry" is a topic that continues to spark many discussions in the One Direction fandom. The relationship between Louis and Harry is a one laced with both care and confusion because of the media and fan speculation surrounding it. The secrecy of what goes on behind-the-scenes is unknown to fans but Louis and Harry's friendship is one that is looked up to.
There are many reasons to admire Larry and what it represents. The past six years have given us so much to appreciate. We may only be a couple months into the hiatus, but we are already anxious at the lack of interaction between the boys. Even so, Louis and Harry have given us some great memories to hold on to. Nostalgia hits as we realize that we actually really miss Larry.
5. Their hugs are the cutest things ever.
Louis and Harry hit it off back in their X-Factor days, with several videos and pictures to prove it.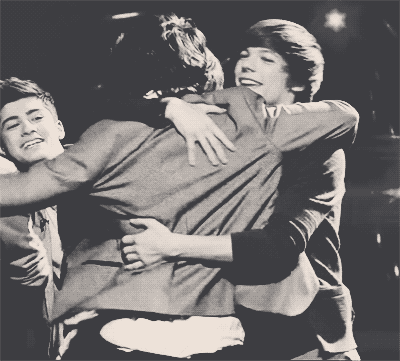 Our favorite moment is the one where Louis jumped into Harry's arms upon the formation of the band.
How long have you known the boy? Like what? Four seconds?
That day was July 23rd 2010. Today, almost six years later, Larry still lives on.
Fans promptly lost their minds at the boys' last OTRA stop before their hiatus – and with good reason. For the first time in years, the 1D fans were able to see Louis and Harry showcase their – platonic? Not platonic? –  love for each other on stage without hesitation. They threw caution to the wind and captured each other in a crushing hug.
We had to live off fan pictures and shaky iPhone videos for months until 1DHQ did us all a favor and added the heartwarming moment in the "History" music video.
We are still quite shaken up to be honest.
4. Their Obvious Height Difference.
Their height difference is one of the pair's most noticeable traits. Harry hit a growth spurt between his teen and adult years, causing several inches to be added to his height as he matured.
As for Louis?
Louis is 5'9″. 
But that's perfectly alright. The fans eat his size right up.
It only makes things more endearing when Louis stands next to Harry and showcases the difference in their height.
Once upon a time, Louis and Harry were the same height. Louis was 19, Harry was 17, and both were young and innocent. 
A hiatus may mean that new high-quality pictures of the two standing by each other will almost never make an appearance, but never forget – the height difference is very real and existent.
3. Not-So-Coincidental Tattoos
Coincidence? Possibly.
But honestly? We think not!
We think it's absolute amazing and inspiring of Louis and Harry to get permanent artworks that represent their relationship tattooed onto their skin. Talk about OTP and friendship goals.
Remember when Louis said he preferred tattoos on other people, but not so much himself? Nice to see how that's working out for you, Louis.
Our friends won't even get the same ice cream order as us for an aesthetic Instagram picture, let alone a ship to our compass! We are only slightly bitter, but still, we applaud Larry's matching tattoos.
Make sure to '@' your friends after reading this article and let them know that you guys are doing the whole 'friendship' thing very wrong.
2. They've Got Each Other's Back.
The On the Road Again tour was something that will never be forgotten. Louis and Harry were a whole new experience to witness live on stage.
We will never ever forget when Louis filled in for Harry when he went a little too hard during his solo on tour.
What a pal!
Our friends would throw us under the bus just to get the last cookie on the plate… but it is what it is. Louis deserves the best friend award.
1. They Make Each Other Laugh.
Seeing Louis laugh is one thing, and seeing Harry laugh is another. But seeing them laugh together? Because of each other? That's a something that we have a special spot reserved in our hearts for.
Look at those smiles. How are these two real?
SOS. There are real tears coming out of our eyes.
Harry was pulling funny faces just to get Louis to smile a little brighter. This is something that happened in real life. This isn't a movie. Louis and Harry actually exist – shocking, we know.
There are several reasons as to why we will continue to miss Larry Stylinson as the 1D boys continue their hiatus, but all the reasons lead back to one fact:
Louis and Harry make each other happy.
One Direction fans always vouch for their favorite boys' happiness and it is impossible to deny the happiness that Louis and Harry provide each other.
That happiness goes on to spread and fill their supporters with happiness as well.
We are actually sobbing over our computer screen at how goals Louis and Harry are.
Louis and Harry compliment each other so well.
It's been several years, and the bond between Louis and Harry is stronger than ever. Friendship is about love, strength and trust, something the two clearly hold. It does not matter whether the rumors are true or not, because Larry itself defies the odds.
Have you ever seen anyone as brave as these two?
Larry stands up against the rumors and the disapproval. Real friendships can fight the toughest battles and still come out on top, and that is exactly what Louis and Harry have done. After many years of hesitation and question marks, Louis and Harry are still friends, and their special bond still exists.  We are excited as to what Louis and Harry will bring to us in these upcoming months. We hope they enjoy their break, whether they are in the public eye or not.
Until the boys reunite after their hiatus and we are blessed with more public moments, we will be strolling down memory lane and reminiscing over all the wonderful memories the two have brought to us.
Make sure to share with us your favorite Larry moments. Tweet us @CelebMix and @CelebMix1D what you miss most from Louis and Harry, and we'll be sure to read them.