Your go-to-guide for everything you need to know about an American indie pop band Foster the People.
Who are the members of Foster the People?
Mark Foster ( lead vocals, guitar, piano, keyboards, synthesizers)
Sean Cimino (guitar, piano, keyboards, backing vocals)
https://www.instagram.com/p/BaKP-nyHQ0Z/?hl=en&taken-by=akrobat
Isom Innis (piano, keyboards, drums, percussion, backing vocals, bass)
Mark Pontius (drums, percussion, backing vocals)
What are their most known songs?
Pumped up Kicks
Houdini
4 facts about Foster the People
Foster the People was originally called "Foster and the People".
When it comes to composing songs, Mark Foster says he composes the music first, and then often freestyles the words after creating atmosphere through harmonies and beats.
In 2008, Foster took on at job at Mophonics writing commercial jingle writer.
The band has worked extensively with Paul Epworth, a noted producer who has also worked with the likes of Adele, Bloc Party and Cee-Lo Green.
What else do I need to know about the band?
Foster founded the band in 2009 after spending several years in Los Angeles as a struggling musician and working as a commercial jingle writer. After Foster's song "Pumped Up Kicks" became a viral success in 2010, the group received a record deal from Startime International and gained a fanbase through small club shows and appearances at music festivals. After releasing their debut album Torches in May 2011, "Pumped Up Kicks" became a crossover hit on commercial radio in mid-2011 and eventually reached number three on the Billboard Hot 100.
What are their social media links?
Official website: https://www.fosterthepeople.com/
Twitter:@fosterthepeople, @iamseancimino,@MarkPontius,@isominnis
Instagram:@fosterthepeople,@mistersmims, @akrobat, @fathorseranch, @isominnis
Facebook: @fosterthepeople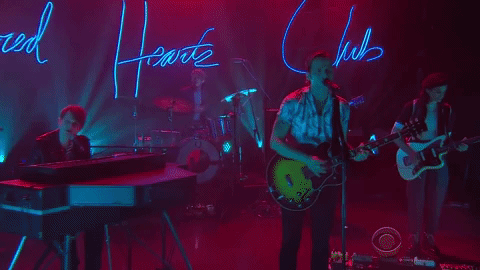 For more celebrity news follow us on social media via Facebook and Twitter @CelebMix.