Cimorelli is a Californian pop band made out of six sisters named  Christina, Katherine, Lisa, Amy, Lauren and Dani Cimorelli.
Just like many other famous artists, they were discovered on YouTube, but they are growing bigger and bigger. Currently, they are signed to Universal Music's Island label.
They released their first full-length album "Up At Night" on 20th May, and now they are heading to Europe with their frenetic songs.
In our interview, we spoke to Katherine about the band, their music, their plans and more. Check out her answers to our questions below!
Hey, Katherine! Please, introduce yourself and tell us what you bring to the band!
"Hey! This is Katherine from Cimorelli. I'm the second oldest girl, and in the band, I play the bass and sing!"
You were discovered on YouTube a few years ago. How did you decide to make and upload videos there?
"We wanted to reach new people and develop a fanbase. People had just started putting up covers, so we thought it would be a cool idea to put one up! Our first one was "Party In The USA" and it got 20,000 views in a day, which was crazy for us!"
That was a huge start! Since then, you got to cover songs with artists like James Maslow and The Vamps – how was it?
'It was so much fun! We love having the opportunity to collaborate with different people. James was so great to work with, and The Vamps are such nice and down to earth people. We had a blast!"
Your band is mostly a pop band, but you play plenty of other styles. How do you get the right sound of your music?
"We listen to a lot of different styles of music, so we are influenced by all the types of music we listen to, for instance, indie, emo, country, soul and Christian music."
Could you mention anyone who gives you the best inspiration?
"We are really inspired by Alanis Morisette, Sam Hunt, Ed Sheeran, and artists who put their heart and soul out there in their music!"
Here's your song 'Renegade', which we think is a totally empowering and feministic anthem. Who wrote it?
"Thank you so much! Christina wrote it. She was inspired by when we lived in LA, and there was a lot of pressure to change ourselves, which we didn't want to do. We love that song- we have so much fun performing it because of how much passion and courage is in that song!"
Absolutely! What about 'You're Worth It'? When young girls listen to that song, it increases their self-confidence. 
"That's what we hope for. Lisa and Christina mainly wrote that one, and it was really supposed to be a message of hope and encouragement. We hope everyone who hears it will know their worth!"
You're all singers, but you can play on instruments, too. Which part do you like the best?
"I like playing the bass! It feels like I am meant to do it, haha."
And how does it feel to have your debut album finally? Did you think about five years ago that you'll get here?
"We are SO excited that the album is finally out! We've been waiting for years, and the fans have, too. We originally wanted it to come out a long time ago, but now that it's out, we are glad that we waited so long because we didn't know who we were before."
How was the reaction to "Up At Night"?
"The reaction has been amazing. I think the fans can really hear how much heart and honesty we put into the album. It really is like pages from our journal."
What was your favourite part of making the album?
"Writing the music and seeing it turned into a full song is such an exciting process. It's cool to see the progression from melody and lyrics to a song with harmonies and the instrumental."
Do you have a favourite song that you wrote?
"That is such a hard question! I know we would all agree that "You're Worth It" probably has had the biggest impact on people, which is amazing to see."
You've got a growing fan base all around the world, you've reached almost a billion views on YouTube, and you have half a million of followers on Twitter. What do you think appeals to the fans about Cimorelli?
"I think they really like our dynamic as sisters. They like how we are not just sisters, but best friends. And I think the fact that we try to be positive and spread a message of self-worth and connection resonates with people."
We can state that you're not just good sisters but also really good friends. What kind of advice do you give each other when it comes to boys, self-confidence or anything related to life?
"We remind each other that we are worth the best, and not to settle for less! We definitely have a lot of opinions whenever one of us meets a new boy! And in terms of self-confidence, I think we try to build each other up and remind each other of our worth whenever we are feeling insecure."
There are so many sad things in this world, but you all seem to be always so positive. You smile, and you try to see the world with optimism. What made you sanguine?
"Thank you so much! I think the biggest part of our hope and optimism is our faith in God. God gives us hope and purpose- something to live for and believe in. Without God, we would be totally lost."
Could you tell us about any other albums being planned? 
"We have so many projects coming up- we can't announce anything yet, but I can say that we are planning on doing some things that we have never done before, which is really exciting."
We heard that you are about to go to other countries…
"Yes! We are touring Europe this November, and we're so excited! We love our fans there, and we can't wait to see them again."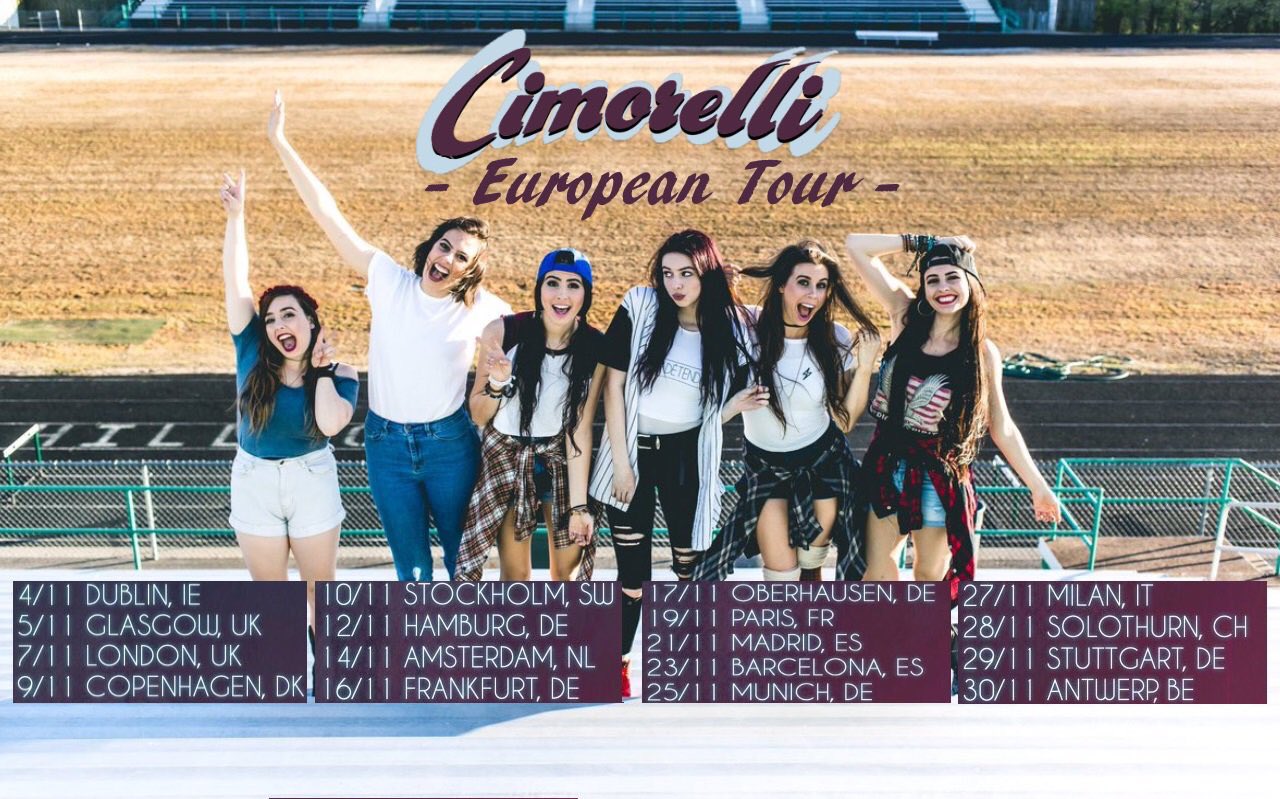 Do you have any message to CelebMix readers? Any tips to those who want to follow the same way in the music industry?
"Our message is – you are already unique, precious and valuable. You don't have to change who you are to be lovable. If you want to be in the music industry, write songs from the heart and really be strong in who you are. If you do it for the love of music and people, rather than the love of fame and money, you will be happy, and you will find true success."
Trivia Questions:
Lucky number? 
Kath – 7
Lauren – 8
Christina – 8
Amy – I don't have a fave number. Luck is from the devil..
Dani – I don't have a lucky number!
Lisa – 16
Favourite sport team?
Kath – I don't watch sports, haha, but if I had to pick it would be San Francisco Giants. Nor Cal!!!
Lauren – Sacramento Kings
Dani – Cleveland Cavaliers
Amy – I don't have one
Christina – none. Zero
Lisa – San Francisco Giants
Twitter or Instagram?
Kath – Twitter! So fun!
Lauren – Twitter
Dani – Instagram
Amy – Twitter
Christina – Instagram
Lisa – Twitter
Superpower of choice?
Kath- flying! I really wanna fly.
Lauren – invisibility.. I'm creepy, lol
Dani – invisibility. I like to stalk people, lol
Amy – teleporting
Christina – super strength
Lisa – mind-reading
What do you think would be the hardest thing for you to give up on?
Kath – my friends. Friendship is the most important thing to me besides faith.
Lauren – my phone
Amy – my car. I love have the freedom to go places!
Dani- boys and chicken nuggets. Lol
Lisa – singing!
Have you already checked out Cimorelli's latest music video for "I Like It"? If not, you can do it below:
For more music and videos, follow Cimorelli on Twitter, and check out their YouTube channel!
Make sure to drop a comment below or tweet us at @CelebMix if you liked this interview!