Ashlynn, like every 26 year old girl, was constantly enthralled by the charm of Instagram as she built her way through her early twenties and navigated her way through the world. The first time she encountered social media was as a child, and it was a completely new experience for her. Ashlynn Skyy did not realize that one day she was going to have this career and passion, but it ended up being the case.
 Ashlynn Skyy is passionate about bikini modeling, which she absolutely adores. While many of us think that becoming a model can be accomplished with just a pretty face, Skyy proved that there are many skills involved in achieving this. The world of modeling is a professional one, and a lot of hard work goes into making sure that it is recognized by those who employ models.
A person must work hard to reach the goals they have set for themselves in life, just as they would in any other profession. As a result of dedication and sincerity, this requires going above and beyond what is expected.
Ashlynn is distinguished from the rest of the models in the industry by her genuineness, honesty, and trustworthiness. Although she may have been hurt in the industry and became a fool by many people, Ashlynn's mantra remains the same: to act with kindness and honesty no matter what.
In order to complete the decision to relocate far from all the comforts and familiarity of home, friends, and family, to move to a place that has a brighter future, one must devote themselves to their job and make everything worthwhile. Skyy possesses all of those qualities without a doubt.
She moved to Newport Beach after leaving her home in the Inland Empire.
Like many other models in the industry, she loves to tan. According to her, during bikini shoots the body is given a natural look that gives natural effects.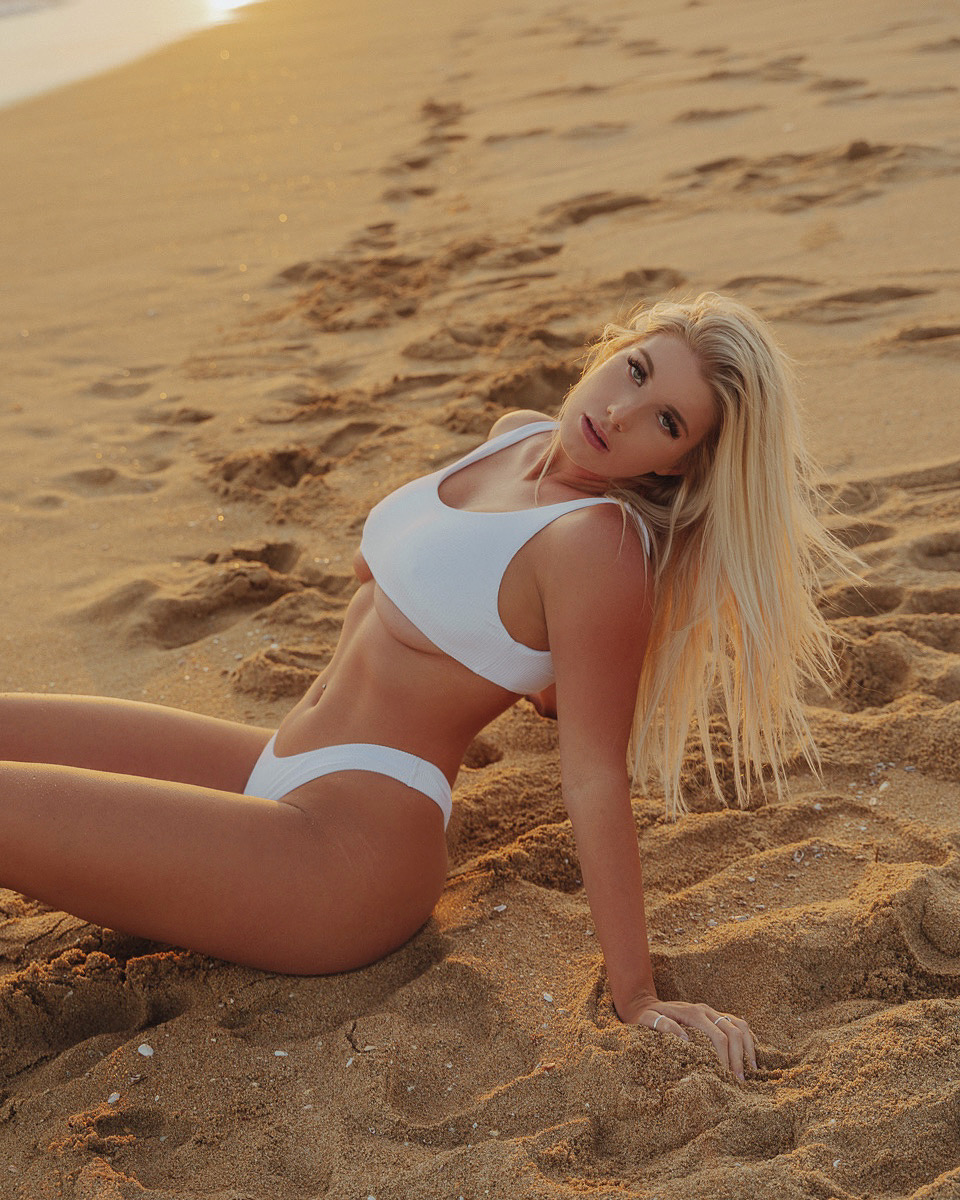 One of the challenges she faces in the industry is being compared to every other model. Due to the fact that every individual is different, each individual can be considered unique in their own way.
"I am one of a kind, there isn't one other person in the world exactly like me." She stated. 
 Ashley has decided to become a bikini model and has put in all the effort required to be the best. In order to maintain a healthy body, Skyy consumes the right diet, exercises when necessary, and drinks plenty of water so that she can give her best performance in front of the camera.
As a bikini model, Skyy follows an extremely strict regime and makes sure she indulges barely at all to stay fit. While staying away from your favorite food is a big sacrifice, her commitment is evident in her photo shoot where she looks phenomenal in a bikini, just like any top model would.
Ashlynn's perfect body tone makes her one of the best options for any brand trying to showcase their bikini products in an aesthetic fashion.
It is difficult to become one of these bikini models, which is why they perform a very difficult job. The reason that it is so challenging for most people is that it is basically living without the food they love, and doing workouts they despise with all their hearts. But nothing is all that matters in the end, right?
In Ashlynn's portfolio it is evident that she has the type of model portfolio that should make any model hiring agency want to consider her. We are certain that she is going to be the one bikini model you have been looking for to represent your brand!
For more information:
Twitter @ashlynnnskyyy
TikTok @ashlynnskyy
Instagram @ashlynnskyy