You may know of Hey Violet when they were signed to Hi Or Hey Records (5 Seconds of Summer's record label) and supported 5SOS on their headline tour "Rock Out With Your Socks Out" last year.
Although it is unknown whether Hey Violet will be supporting 5SOS again on the North American leg of their tour "Sounds Live Feels Live", we (and many other fans) hope they will be.
The band have been in and out of the studio for quite some time now, working on new music and what we all hope is their debut album! The band released their EP titled "I Can Feel It" in July of last year, which features their hit single "I Can Feel It".
The members of Hey Violet have not only wowed us with their amazing music but also their witty personalities that we cannot get enough of!
And here are just some reasons why….
10. Their Childish Antics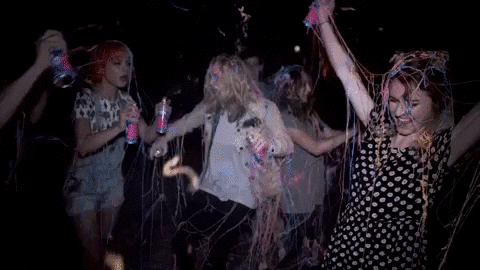 If you've never played with silly string, you don't know what you're missing out on!
Hey Violet are considered royalty when it comes to having a good time. They're always up to crazy antics and coming up with wacky ways to subdue their boredom or just to distract themselves! Whether they're in the studio or out and about in LA, they're always up to something.
9. Their Bandmance with 5SOS
We love a great bandmance when we see one and Hey Violet and 5SOS are definitely it! The power eight-o declared "Prank Wars" last year on the Rock Out With Your Socks Out tour and pulled a ton of pranks on each other which included a dressing room full of styrofoam cups filled with water and- balloons? Yes, balloons. These pranks were pulled by no one other than Hey Violet.
2 for Hey Violet and 0 for 5SOS!
8. Their Infamous Tweets
making art pic.twitter.com/8fCqDV9Wgv

— HEY VIOLET (@HeyViolet) February 26, 2016
Do we even have to explain what we mean? This tweet explains more than enough!
7. Snapchat Antics
You can never have too much of Hey Violet in your life and watching their crazy antics on their snapchat story is just another thing to add to the list. Don't have them on snapchat? WHAT ARE YOU WAITING FOR?! Add them – hey.violet
 6. Their Music is Badass
Even though they've only released an EP, Hey Violet's songs keep our heads banging! We've definitely got some favourite hits – "Sparks Fly" and "I'm There" being two of them. Their tracks have never failed to make a Friday, Saturday, and even Sunday night jam sesh a fun one, even if it's a one-man party!
5. The Love They Have for Their Fans
For the year that Hey Violet have been around, there isn't any doubt that they haven't stolen the hearts of many with their music, talent, and compassion. Their fanbase (the Ultraviolets) have only grown bigger and stronger since they've been signed to Hi Or Hey Records. They repeatedly tell their fans how grateful and thankful they are for what has happened to them and how great the experience has been.
Not a day goes by that they aren't tweeting a fan, retweeting a fan's fanart, or just making a fan's day by posting a quick update! Did we tell you they sent personal postcards to their fans? Clearly, the relationship that Hey Violet have with their fans is an unbreakable bond and that warms our hearts!
4. Periscopes + Hey Violet = Hyperventilation Nation

No matter how wacky and crazy they get, we will never be able to get enough of their Periscopes!
3. Band-ships
From major ships like Niranda (Nia and Miranda) to Rasey (Rena and Casey) and even the little ships in between, the friendships that each member have with each other have only gotten bigger, stronger, sweeter, and funnier but come on! Who doesn't love a good band-ship?
2. Hey Violet In Real Life
Alright, Hey Violet In Real Life (or HV IRL for short) is probably one of our favourite things that Hey Violet have done. They give us an inside look of what it's like to be a band, how life in the studio is like, and all the adventures they go on during their spare time.
Speaking of HV IRL! Have you caught the new episode (featuring Prank Wars with 5SOS for April Fools Day?) Watch it here:
Lastly but certainly not the least….
1. Just Hey Violet being Hey Violet
What's not to love about Hey Violet? They're funny, incredibly talented, passionate about their music, and above all absolutely amazing. 2015 has brought them a year of incredible success which included getting to tour with one of the biggest bands in the world and releasing an EP.
Hey Violet have also won over the hearts of thousands of fans around the world who show their dedication by listening to their music, attending their shows and tweeting the band members daily.
The members of Hey Violet owe their success to no one other than their fans (and 5SOS!) and are prepared to take the world by storm.
What are 10 reasons why you love Hey Violet? Tell us by commenting below or tweeting us @CelebMix.