Dermal fillers are a popular choice for obtaining perfect lips or smoother skin, and we find out everything you need to know about them.
By Vicky Sidler
If you're looking for smoother skin, fuller cheeks, or plumper lips, you've likely read about dermal fillers – quick, injectable treatments that can restore lost volume to your lips and cheeks. These minimally invasive procedures are designed to be long-lasting while looking completely natural, and they can have a rejuvenating effect on your appearance.
The procedure is also very low-risk, provided you go to a reputable doctor. As such, we spoke to Dr. Nicholas Toscano to find out everything you need to know about dermal fillers, from what to expect during the procedure to how to choose someone reliable to administer the fillers.
Dr. Toscano is responsible for some of the most beautiful lips in the modeling world, which he creates utilizing Juvéderm lip fillers and platelet-rich plasma/platelet-rich fibrin know as the Dracula injection. He is currently the official dentist for roughly 20 modeling agencies in New York City, including The Lions, Wilhelmina, One Model Management, Heroes, Muse, Marilyn, Storm, Major models, Fusion, System, State, and others.
1. What are dermal fillers, and how do they work?
Juvéderm fillers differ from Botox in that it's not a neurotoxin. Instead, dermal fillers use hyaluronic acid, which is naturally found in the skin and gives you a radiant, hydrated appearance. Hyaluronic acid production decreases as you age, so these injections work well to restore lost volume to key parts of your face, such as your lips.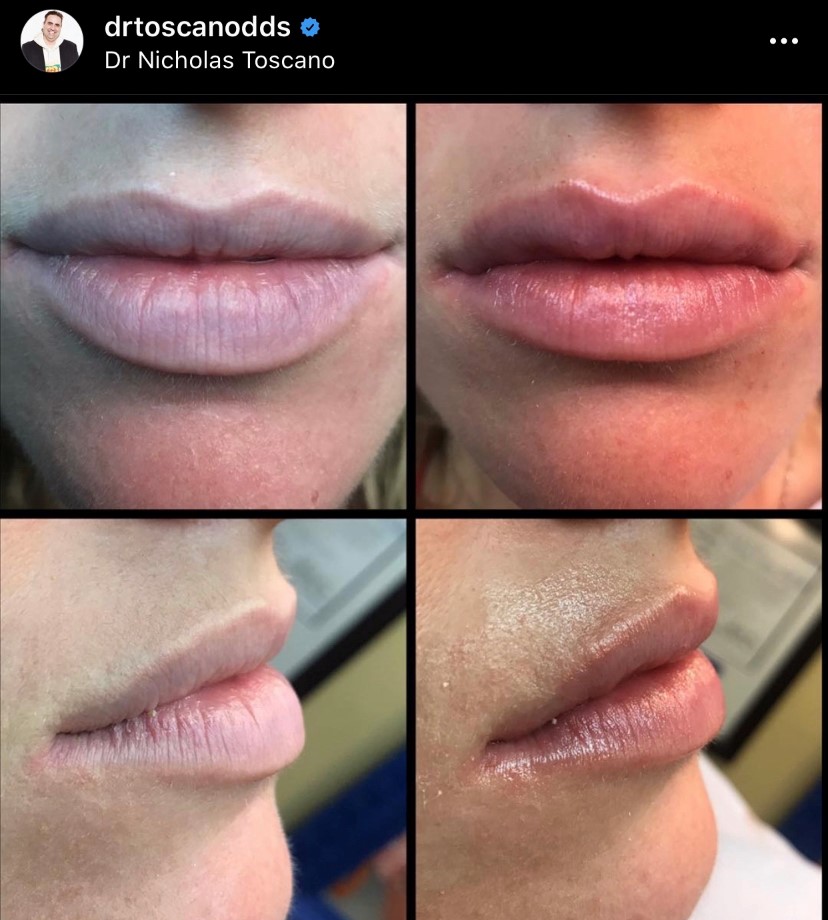 2. Do dermal fillers hurt?
The procedure shouldn't be painful if it is carried out by a skilled doctor. The fillers contain a local anesthetic, and so no additional anesthetic is required during a basic dermal filler procedure. The simple, straight-forward takes between 15 and 30 minutes and involves only a few tiny injections directly into the skin. You're able to apply makeup straight after the procedure and go back to work right away.
3. How soon will I see the result?
You'll be able to see the results of the procedure immediately. For best results, though, you will need to maintain your fillers over time through regular, repeated treatments.
4. How long does the effect last for, and how often will I need to repeat treatments?
A single treatment can make your lips plumper and your skin smoother for up to six months. Typically, results last between three to six months before a touch up is needed – so you can expect to visit your doctor two or three times a year to maintain your look. If you're only looking to try fillers out once or twice, you can skip the maintenance without experiencing any long-term risks. The effects will fade away entirely and safely.
5. Are there any other benefits to dermal fillers?
Fillers don't only need to be used to treat existing lines. They offer protection against developing lines as well, so dermal fillers can be used as a preventative measure against wrinkles. Research suggests that injectable hyaluronic acid-based dermal fillers can stimulate your skin's collagen production, helping you to look younger for longer.
6. Is there any reason to delay getting fillers?
While the procedure is safe, it's not a good idea to have the injections if you are pregnant or breastfeeding. Nor should you go if you have a sinus infection or are about to undergo a dental treatment since the pressure and stretching of the face could cause the fillers to become misplaced. Instead, wait a week or so before undergoing the procedure.
7. What can I do about my fillers if I'm unhappy?
If you don't like the way your filler looks or if you want them adjusted, in most cases, it won't be a problem at all. Your doctor may inject additional filler to achieve the desired effect, or there's an enzyme for hyaluronic acid fillers that can be used to dissolve the filler completely and safely.
8. How can I choose a reputable doctor?
The last thing you want is to look like you "had work done." Dermal fillers should look completely natural – they should emphasize your beauty in a way that's impossible to pinpoint. The goal is for it to be imperceptible. Imagine that your face is a canvas and that you are looking for an artist whose work you like. Be sure to ask for before-and-after photos of real patients to get a good idea of the doctor's style. Also, be sure to ask about their techniques, levels of experience, and your specific needs.
9. I found a great deal on dermal fillers, should I go for it?
One of the biggest mistakes you can make is to get lured in by a price that seems too good to be true – because it probably is. Treatments range between $650 to $2,000 depending on the amount of filler needed. Anything under that should cause you to ask questions. A syringe of filler costs doctors between $250 and $350, so no treatment should ever be priced at around that mark or lower. Counterfeit and diluted fillers are also a problem in the industry, so it's essential that you find a reputable doctor (as explained in the point above). If you have any concerns at all, it might be a good idea to ask to see the box and ensure that it has a safety seal intact.
10. Why should I choose Dr. Nicholas Toscano for Juvederm Dermal Filler?
Dr. Nicholas Toscano is an extremely accomplished and highly respected dental surgeon with a rich career of experience. He spent 13 years with the United States Navy, where he completed a 4-year surgical residency at the prestigious Walter Reed National Military Medical Center, "The President's Hospital" in Bethesda, MD.
During his time in the Navy, he received two Navy and Marine Corps Commendation Medals, three Navy and Marine Corps Achievement Medals, a National Defense Service Medal, and Global War on Terrorism Medal. He acquired one of his Navy and Marine Corps Commendation Medal for definitive life-saving treatment of a patient.
He is also a diplomate of the American Board of Periodontology and the International Congress of Implantologists, and he has written over 30 papers published in peer-reviewed scientific journals on the subject of surgical therapy, cosmetic, and reconstruction of the mouth.
His long and established career, along with his glamorous list of happy customers, makes him the dentist of choice in New York City. His client list display the kinds of smiles that will have you doing a double-take, including the gorgeous Victoria's Secret models, such as Candice Swanepoel, Helena Christensen, Jasmine Tookes, Romee Strijd, Josephine Skriver, Georgia Fowler, Frida Aasen, Vittoria Ceretti, Megan Williams, Lais Ribeiro, Daniela Braga, and Blanca Padilla. To make an appointment with Dr. Nicholas Toscano to discuss the option of dental implants or any other services, visit Instagram @drtoscanodds or his website http://www.manhattanperiodontist.com.