We've always been a fan of Zayn Malik's tattoos, to be honest, who isn't? They're amazing! We decided to look at his incredible display of ink and pick out a few of our favorites.
10. Fingers Crossed
As one of Zayn's very first tattoos, he wanted to make it special. According to Zayn, the fingers crossed tattoo represents good luck.
9. Ying Yang Symbol
When he got this inked in September of 2011, the trend of getting the ancient Chinese symbol was extremely popular but that doesn't take away from it's importance. The symbol represents that nothing can exist without balance, and forces that look to be opposing are really interconnected with the natural world.
8. Smoking Red Lips
Although there may not be a deep meaning behind this tattoo it is still one of our favorites!
7. Small Bird
Small and simple and quite beautiful.
6. "Be True to Who You Are"
Written in his native language (Arabic), Zayn sported this tattoo with pride. The deep meaning of this tattoo has most likely got something to do with his background and upbringing. This tattoo is as beautiful as the person who has it inked on his skin.
5. Zayn's Grandfather's Name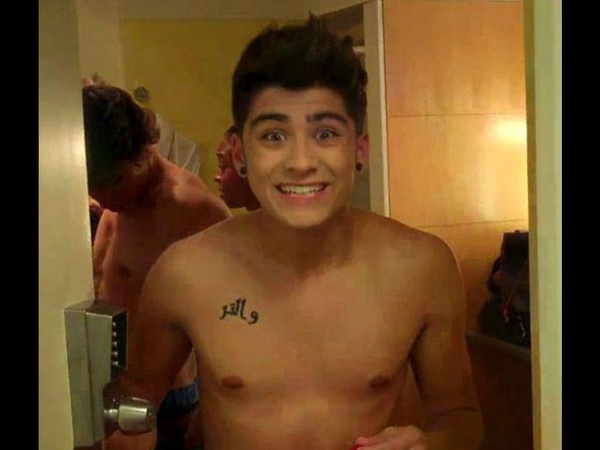 Written also in Arabic, Zayn got his grandfather's name Walter, tattooed when he sadly passed away during Zayn's X Factor audition. This was his very first tattoo.
4. Bus 1
This tat is meant to commemorate One Direction's tour bus! It is known that Zayn went to go get inked with Louis, who got the same tattoo! Our hearts are melting for Zouis!
3. Henna-Style Flower
Henna tattooing has gone back for thousands of years and is used for ceremonial practices, traditional weddings, and for the meaning of luck and happiness. Zayn got this beautiful ink work done on his left wrist, to represent protection.  How sweet!
2. Mind of Mine
To commemorate his first solo album, Zayn decided to get the album title tattooed on his arm. He said in an interview with DJ David Berry on the Capital London Breakfast Show, "I just got a tattoo on my leg and my arm, I did them both in the same session. I got a tattoo for the album; the name of the album."
1. Madison Square Garden (3.12.12)
On December 3rd, 2012 One Direction took the stage at Z100's annual Jingle Ball live at Madison Square Garden.  It was one of the biggest show's the boys have ever played, Zayn decided to get the special moment documented by getting the exact date of the show.
What are some of your favourite Zayn tattoos? Let us know by commenting below or tweeting us @CelebMixZayn.