The Simple Life premiered on December 2, 2003, 18 years ago, and to this day, fans always enjoy some of the show's iconic moments, whether it's to enjoy a laugh or do things in Paris Hilton's style, or to enjoy a funny video or GIF from the show, as without a doubt, it was one of the most popular reality series of its time.
Paris Hilton and Nicole Richie starred in this riotous and hilariously entertaining reality show to prove that party girls with big bucks are people too. And well, they did. Errr.. almost!
The ultra-modern and ultra-rich socialites got a taste of reality when they experienced what it was like to live among the middle-class as a middle-class person. After leaving their posh Beverly Hills pad, they moved to a small town in Arkansas for a month-stay. In the beginning, Paris and Nicole struggled a lot in their new jobs, including working at the dairy farm, fast-food joint, beauty salon, daycare, house chores, and more. However, they soon returned to their old ways and played goofy tricks- picked up guys and caused mischief at every turn to spice up their lives and the small-town people around them. Though the girls somehow managed to survive the challenges and curves they faced, the lesson was clear: a city girl will always be a city girl at heart. You can take the girl out of the city, but you cannot take the city out of the girl.
To celebrate Paris Hilton's 41st birthday, we decided to dive down the memory lane back to The Simple Life days and recount so18 hilarious iconic moments from the show that are always entertaining no matter when you rewind the tape and go to… the simple life. The show also gave Paris Hilton a whirlwind of success and turned her into the ultimate diva she is today!
Let's go!
Walmart.. What is Walmart?
Here's what she said literally: "I've always heard that people hang out at Walmart. Why? What is Walmart? Like they sell wall stuff?"
Are there any people at Walmart currently hanging out there who may be able to share their wisdom with Paris? She has opened this portal to the all-in-one supermarket that she had never even heard of, but we assure you, she is a quick learner.
Quarter Mechanics
Well, both Paris and Nicole were living their way through the simple life, but after seeing them sweep the shop after shopping for $46,604.25, it didn't seem that much. However, Nicole was short by 25 cents.
That is normal. That's nothing to worry about, yeah?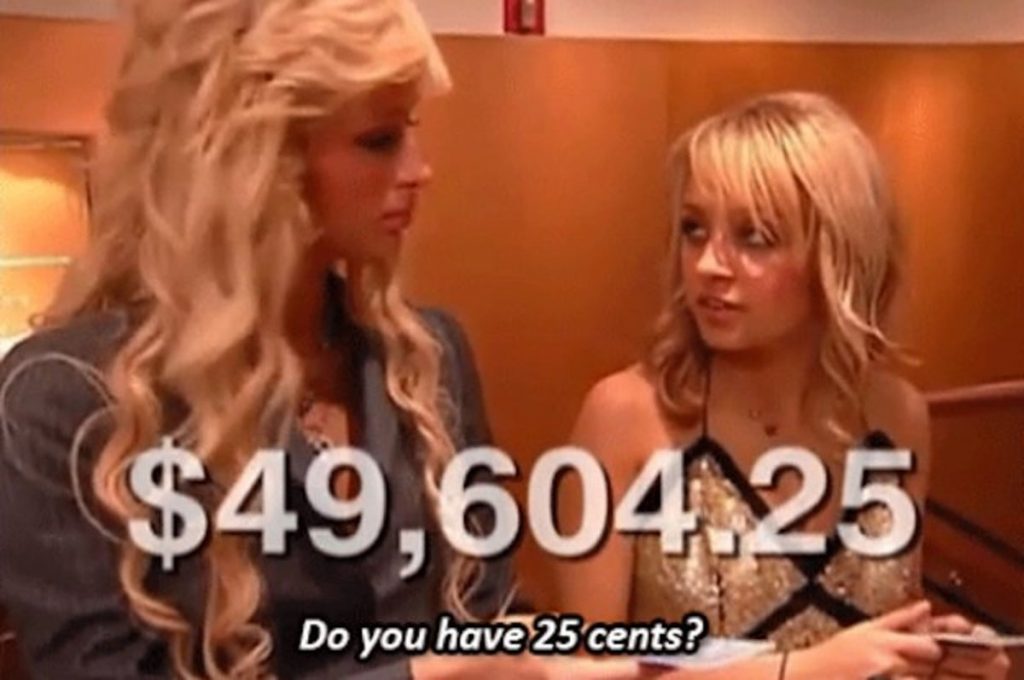 Cooking bacon on an iron
There is not much to say. We just took a cooking lesson with Paris Hilton, and it seems not so adventurous and unique, an elevated approach to cooking bacon, so why not give it a shot? From now on, that will be the only way we will cook bacon. Next?
Being Athletic
"Do you wanna go sit? My heels are hurting me. It's hard to play basketball in Louis Vuitton."
Since we have never seen anyone play basketball in a dress and heels before, after seeing Paris, we might as well give it a shot and see what happens when we get on the court in our Louis Vuitton and Louboutins?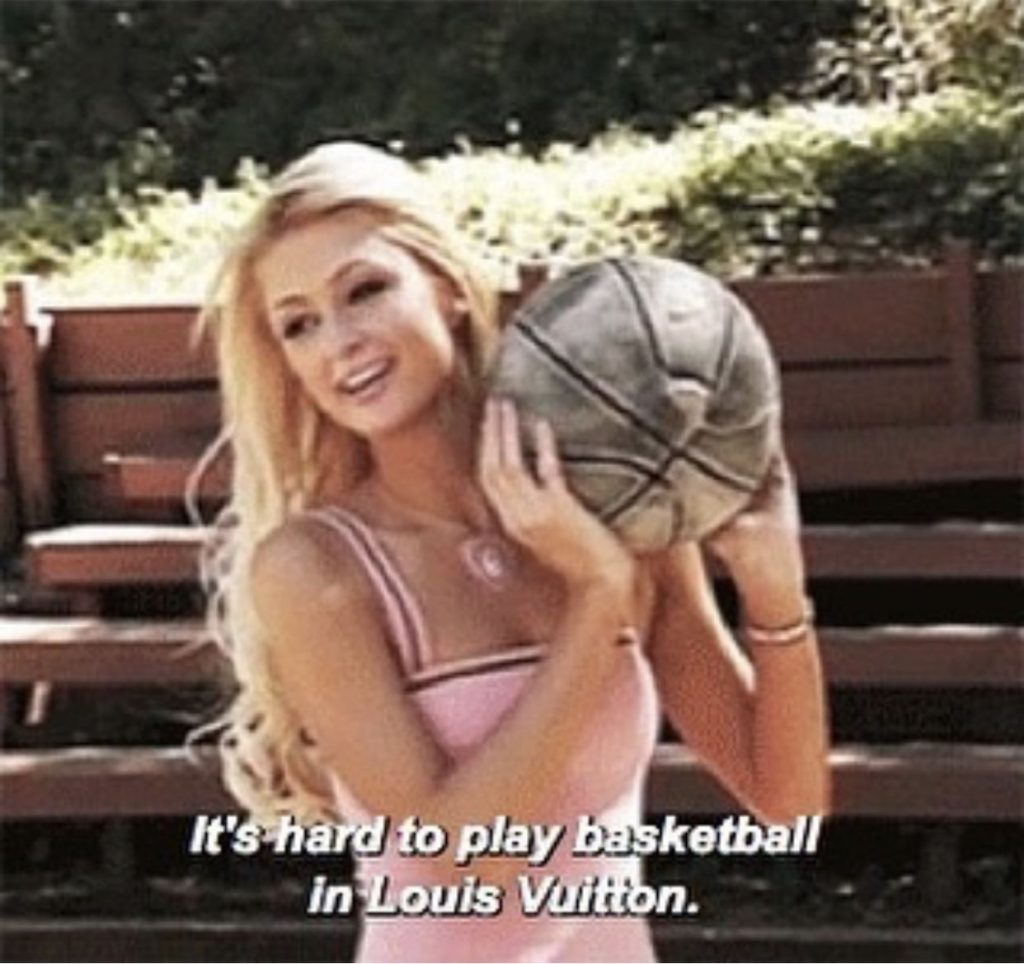 Mopping on a Segway
Paris Hilton rides a Segway on a mop attached to it around the house of a low-income family. And if you're wondering: yes, she fell flat on her face. But let's be honest, Paris was ahead of her time with this idea. But she didn't have the right technology to make it effective, and it didn't work in her favor. However, Paris first tried to mop and sweep like regular people. She came up with this brilliant idea of attaching a mop to a Segway out of boredom from doing chores. Okay, Paris, we get it. We really do.
That time Paris taught the world a valuable lesson.
Yes, we're taking notes. How about you?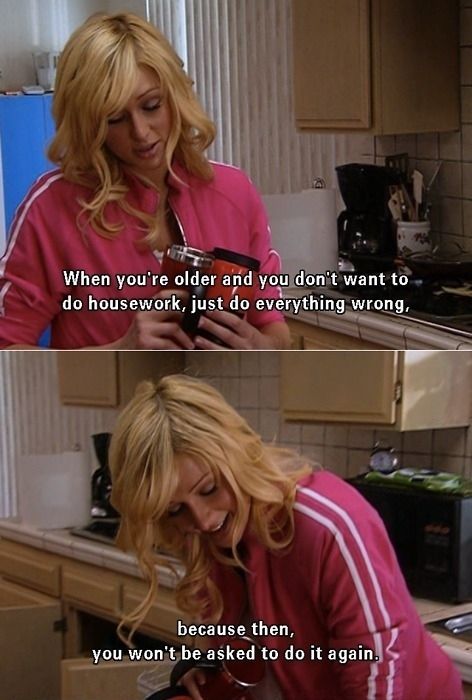 Kesha's Cameo
Yes, Kesha made an appearance on The Simple Life. Kesha's cameo on Simple Life is perhaps one of the most memorable moments on the show, as she helped Paris and Nicole interview prospective suitors for her mother.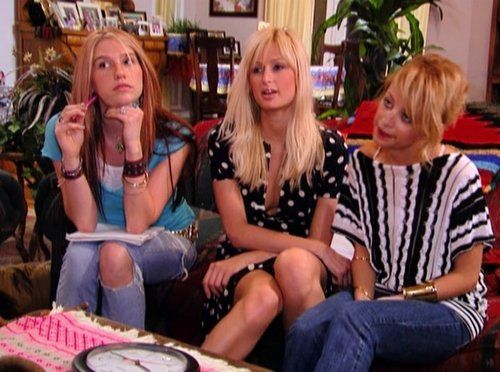 Spot Kim Kardashian
Paris and Nicole once met a woman named Kim Ho during the show, and Paris said, "We know a girl named Kim, and she's a ho." Everyone speculated that they could be referring to Kim Kardashian, Paris Hilton's best friend before she became a massive celebrity herself. It's a shame Kim Kardashian doesn't appear on this show as much as we would have liked to see her. But behind the scenes, Kim served as Paris Hilton's personal assistant in 2006 during the show
Infamous "Sanasa"
The Simple Life fans must have hummed the catchy tune "Sanasa" with their best friends. The song, which became Paris and Nicole's trademark, premiered on the show while the duo rode a bus singing along with other passengers. They sang it in the funniest voices they could muster. They sang the song loudly at the top of their lungs, much to the annoyance of other passengers, to the point where the driver had to stop them. Were they listening? Certainly not! And they even made everyone participate! We are not surprised by their ultimate diva attitude, and yes, we are singing "Sanasa" now.
The Sonic Sign
We don't know about you, but we think the half price is a great deal for "Anal Salty Weiner Bugers." As seen in this episode, we got a glimpse of how Paris and Nicole would behave at their summer job (if they ever did one)- doing nothing but goofing around all day. They even wore the Sonic mascot outfit, which was quite popular with passersby on the road.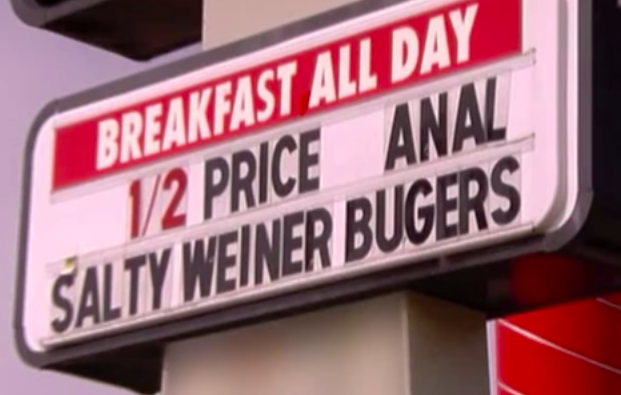 Brushing Up Customer Service
The customer service Paris provided was excellent: "Thanks, b**ch, have a great day." You know what? We think they couldn't have asked for a better day!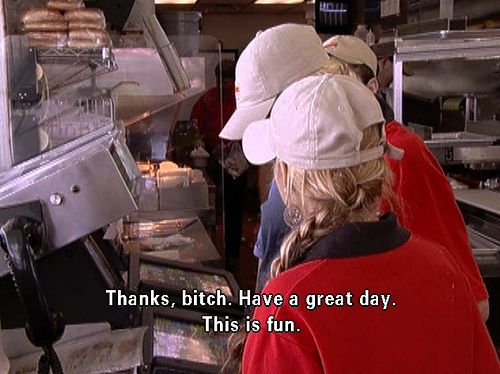 Nicole Richie was no exception. As soon as the following telephone conversation happened, we knew she nailed her job:
"Do we charge to check out the brakes squeaking?"
"No, ma'am."
"We normally charge, but you sound hot, so I'll give it to you for free."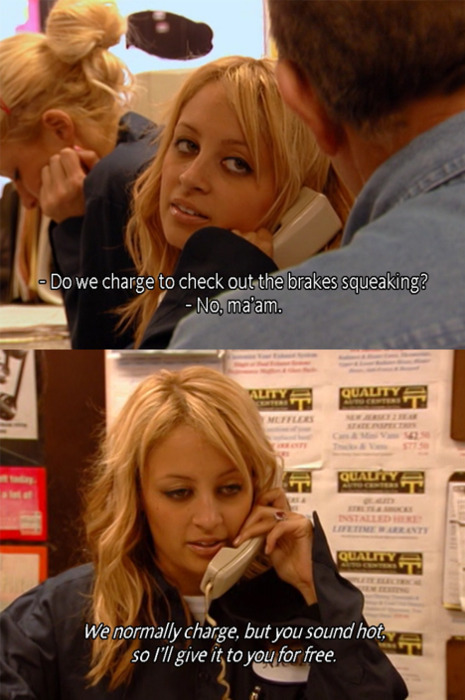 Daycare Assistants
By the time this episode aired, Paris and Nicole had proven that their approach to taking care of kids was quite different from regular people. They behaved like children themselves, playing around, but we loved watching them. Nicole, we're sorry, but we will never let you babysit for us… ever, on these terms! *facepalms*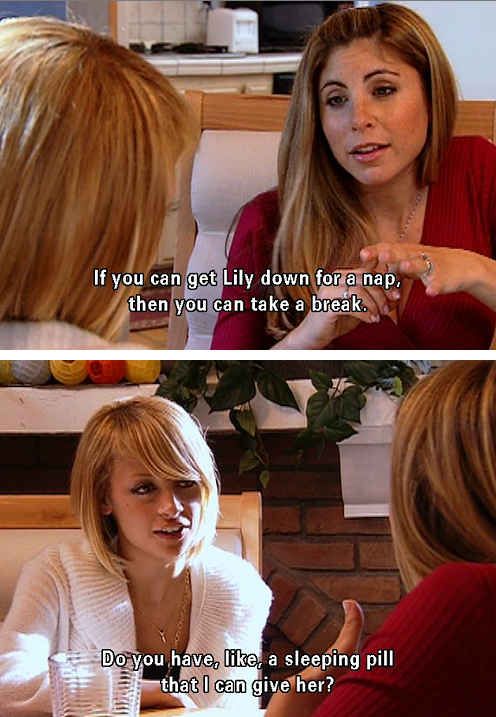 Paid their toll in gum!
Only if life works that way…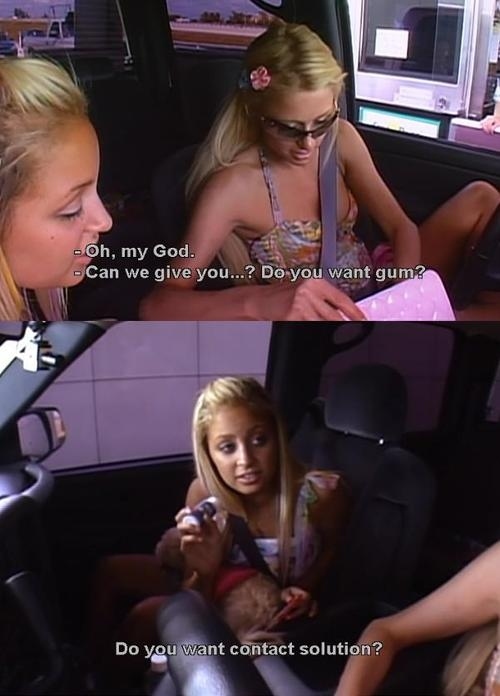 Traumatized a poor mom
We don't even need to explain this, just read it below…
Nicole: "I walked in on your son naked."
Poor mom: "My son wasn't naked."
Nicole: "Yes, he was."
Then, the camera pans to the son, whose face says it all!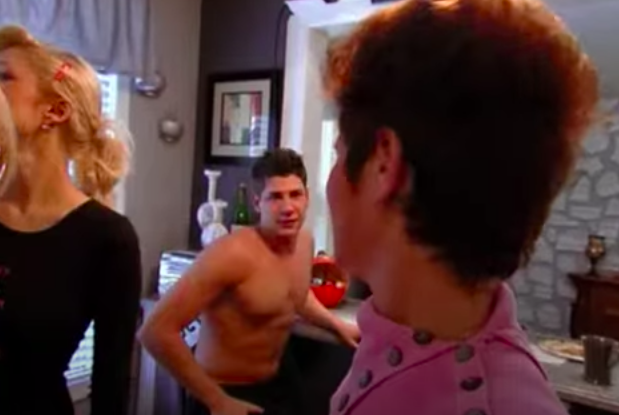 Where Is The "Cooking Room?"
Excuse me, a cooking room, you asked? Errr… it's the kitchen, ma'am. It's probably something Paris Hilton has never stepped in, and of course, she doesn't need to. She wandered around idly for good 10-15 minutes, asking people to direct her to the "cooking room."
Made A Grown Man Cry
In all fairness, we assumed that working at a salon would be easy peasy for these two socialites at the time, as it sounded like the perfect job for two fashionistas. But oh well, we forgot they didn't follow the rules. Among many tasks, one of them made a grown man cry so hard while they waxed his back. He cried and physically asked for help screaming, "Is there a way you could…like…stop."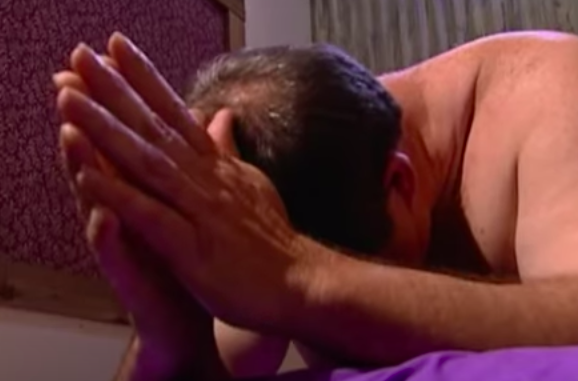 Weather Girl
Do you remember when Paris Hilton explained the weather? Yep, you heard us right. In one of the most iconic moments from The Simple Life, she remarked, "Don't pollute. Look at all the pollution," and concluded with, "Bye gorgeous, here's traffic." There were loads of versions of her famous "oh, that's hot," as she flirts with the meteorologist there and decides to announce a PSA out of boredom, saying he is one of the top 50 hottest single men in Baltimore. Perhaps you should check with that meteorologist today!
While we could continue to talk about more hilarious moments from The Simple Life, let's take a breather, and wrap this article in style.
What was your favorite moment or episode from The Simple Life that gave you stomachaches from endless laughter?
Join the conversation by sharing your thoughts with us on Twitter at @Celebmix!