The 2022 MTV VMAs brought some of the finest names in the music industry to the stage at the Prudential Center in Newark, New Jersey. From dazzling fashion and astonishing performances to influential speeches, this year's MTV VMAs were a delightful celebration of music and talent. This high-energy musical gala, led by the unusual trio of hosts that included LL Cool J, Nicki Minaj, and Jack Harlow, was brimming with enthusiasm as some of the biggest names in music took the stage to perform their blockbuster hit singles and take home some of the night's top honours.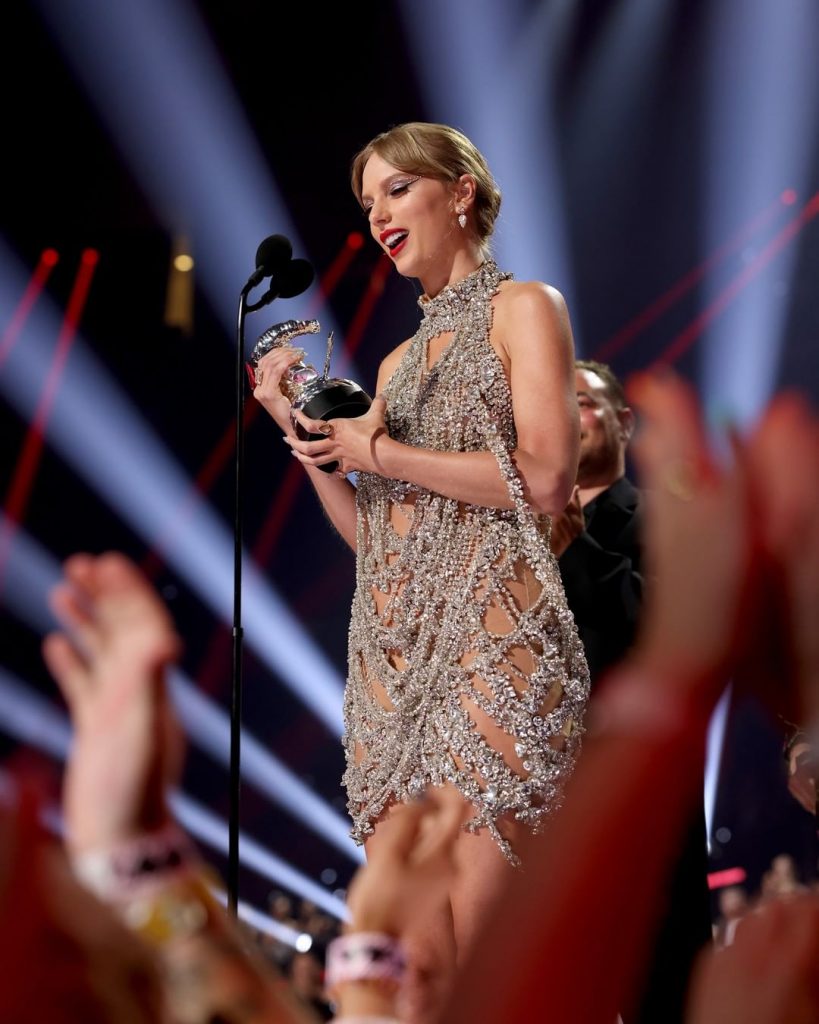 The 2022 MTV VMAs saw performances from a skew of genre-crossing artists such as Anitta, Bad Bunny, J Balvin and Ryan Castro, BLACKPINK, Kane Brown, Eminem and Snoop Dogg, Marshmello and Khalid, Lizzo, Måneskin, and Panic! at the Disco. Snoop and Slim Shady brought the metaverse to the Prudential Center, performing half of their songs in their Bored Ape avatars.
Here's a quick look at some of the biggest performances from the 2022 MTV VMAs. As we walk you through Jack Harlow's opening number in the air to Anitta's booty-shaking performance to BLACKPINK's exuding 'Pink Venom' to Nicki Minaj's knockout medley of hip-hop classics, let us know which one is your favourite!
---
BLACKPINK
After a smashing evening of "first-wins," BLACKPINK took the stage at the 2022 MTV VMAs for their first-ever performance at the event, making 2022 their year. The Women-in-Black, Rosé, Lisa, Jennie, and Jisoo, performed "Pink Venom," their first blockbuster single in nearly two years, in front of a raucous audience while decked out in stunning black and pink outfits and chunky boots. The K-pop powerhouses lit up the stage while celebrating their two significant victories for the evening, and it left the audience in awe.
Watch below when Taylor Swift becomes the cheerleader for BLACKPINK! Who else shares this energy, as we unquestionably do?
---
Anitta
Anitta electrified the stage and set it ablaze with a twerk-filled performance surrounded by background dancers, She delivered one of the night's most sultry and passionate choreographies to her international hits "Envolver" and the funky anthem "Vai Malandra," which she introduced with the phrase "VMAs, did you think I wasn't going to shake my a** tonight?"
---
Jack Harlow
The 24-year-old singer Jack Harlow opened the award evening as he flew on the exclusive VMAs airline to deliver a performance of "First Class." Dressed as a flight attendant inside an aeroplane set, we found star-studded fellow passengers including Lil Nas X, Avril Lavigne, Chloe Bailey, Jimmy Fallon, Saucy Santana, and Becky G gracing the performance. Where can we book our tickets for this flight? Harlow also brought Black-Eyed Peas' famed Fergie to surprise the crowd as she crooned part of her 2006 smash "Glamorous," which is sampled on "First Class."
---
Lizzo
Lizzo basked in the love with her delightful rendition of her recently released hit, "2 B Loved (Am I Ready)" on the 2022 MTV VMAs. From her powerful vocals to playing a light-up floor piano with her feet, Lizzo had the crowd singing, and bopping their heads along to the catchy number as she danced in a bubblegum pink ensemble against a backdrop of dozens of miniature versions of herself.
---
Nicki Minaj
Winner of the most prestigious award of this event, the Michael Jackson Video Vanguard Award, the 17-time VMA nominee, Nicki Minaj, lit up in all pink and slayed her win with an epic and show-stopping medley of her biggest hits. In front of a Barbie Dreamhouse, the rapper performed snippets of her fan-lauded songs like "Monster," "Beez in the Trap," "Moment 4 Life," and "Super Bass." Minaj embraced the sensual elements as she shifted to perform on newer singles including "Anaconda" and "Super Freaky Girl." She danced on a pole with male dancers wearing leather clothes, and the raucous audience applauded and roared loudly, including Taylor Swift, who didn't miss a beat!
---
Eminem and Snoop Dogg
The two mega hip-hop icons set the stage ablaze by bringing their scorching recent headline performance and a "live" rendition of their latest collaboration — first in over 20 years — "From the D 2 the LBC." MTV and Yuga Labs collaborated on this performance with animated versions of Eminem and Snoop Dogg that unified the metaverse with our universe which might be a bizarre yet entertaining attempt.
---
Red Hot Chili Peppers
The iconic band, RHCP, hit the stage for the first time in over two decades to deliver an astonishing performance at the 2022 MTV VMAs as they received the prestigious Global Icon Award. The band kicked things off with a performance of their recent single "Black Summer," before moving into their 2003 megahit "Can't Stop," which got the crowd on their feet.
They also gave a heartfelt tribute to the late Foo Fighters drummer Taylor Hawkins, who died in March at age 50. "There is another musical icon, a global icon, and his name is my brother, Taylor Hawkins. And I want to dedicate this to Taylor and his family," Smith shared. "I love him and I miss him every day. Play on, Hawk, play on."
---
Kane Brown
Kane Brown made history as he became the first male country artist to perform on the show since its inception, with Kacey Musgraves and Taylor Swift, have been the only country acts to score performances at the MTV VMAs. Kane performed his 2020 hit, "Be Like That," and belted out the lyrics to his pop-inspired single, "Grand" in front of a live audience.
---
Check out the full list of the 2022 MTV VMAs' big winners here!
Share your thoughts with us on Twitter at @Celebmix!