Louis Tomlinson has a way about him that is almost angelic, we know we aren't the only ones who feel that way.  We like to think of his incredible heart, his inspiring spirit, and his talent most often, but sometimes it's nice to just appreciate how absolutely gorgeous Louis really is.  Watching him grow up over the last 5 years has been a treat and on any given day he was liable to throw a shape, lick his lips, or do something totally innocent (suuuuure) and pain us all with his immense beauty.
Here are 24 times it happened that we almost didn't survive.
24. That time he lifted up his shirt and we all died a little.
If we had words to describe what we're feeling, we'd use them…but we don't.  It's just not fair is it, that he can look so cute for no reason at all.
23. That time he played with his tongue and his side profile was flawless.
Yep. That's a thing that happened that we still haven't quite recovered from.
22. That time he shrugged his jacket off
Did his collarbones have to be that lovely? No…no they did not.
21. That time he licked his lips in the suit jacket
Don't even get us started about his hair.
20. That time he was in denim in front of the American Flag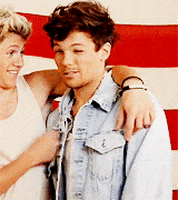 Can we live?
19. That time he was in a footie get up…
Louis and footie together is the most attractive thing, like…ever.
18. That time he had on ray bans and a baseball tee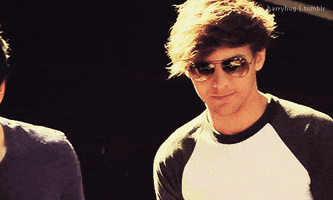 Hello from the other side…
17. That time he ate oreos
Milk anyone?
16. That time he smiled in the sweater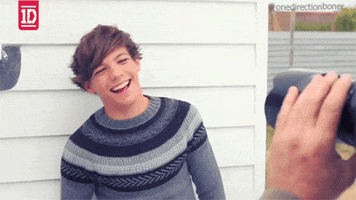 Can we just exist here forever?
15. That time he cursed and it was everything
We're all yours we've got no control…no control…
14.  That time he was messing with photographs in the Story of my Life music video
Photography is lovely, Louis is lovely…what more do you need?
13. That time he wore a headband
Actually anytime he wears a headband…
12. That time he smiled on stage and none of us could breathe
Happy Louis is the most beautiful Louis.
11. That other time he licked his lips and ended us
We cannot.
10. That time he wore a snapback
You can send condolences to our families…we're out
9. That time he giggled and our hearts melted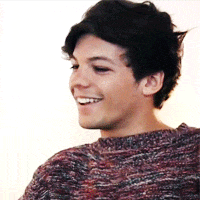 We'll say it again, happy Louis is the most gorgeous Louis
8. That time he looked like an actual angel
He. Is. So. Perfect.
7. That time you could hear his accent from the gif
His accent plays a huge role in how adorable he is
6. That time he licked his lips…again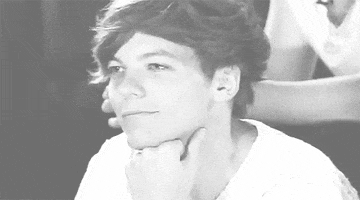 We're weak for it, okay?
5. That time his wrist was lovely
His wrists are everything.
4. That time he joked with a fan on stage
We think silly Louis is just the cutest
3. That time he did this
Sometimes we get overwhelmed that we get to exist at the same time he does.
2. That time he was snarky and drank tea
Snarky Louis is the reason we're here
and last but not least
That time he lost his breath when Harry sang Little Things to him
we'll just leave that there and be going…
So Louis Tomlinson is kind of the definition of perfect all the time, and if we could we would have shown you the other 24,000,000,000 times he's made us weak at the knees, but you get the gist of it now!
Happy birthday week Louis!