THIS REVIEW CONTAINS SPOILERS WHICH SOME READERS MIGHT PREFER TO AVOID.
On 6th June, the Australian pop-punk band 5 Seconds Of Summer brought a show of their "Sounds Live Feels Live" tour to Berlin, Germany. They played five German SLFL shows in total.
Even the day before the concert, you could tell that something was about to happen. There were a lot more non-german people than there's normally in the streets of Berlin. That certainly confused a lot of people, but we're sure that the people who are aware of 5SOS knew very well what was happening.
A huge amount of fans had waited in front of the Mercedes-Benz Arena since the evening before the concert! The people who had seating tickets were just hanging around the centre of Berlin the entire day and there also was a small amount of fans who had spent their day by the boys' tour busses.
The lucky people with soundcheck tickets were, of course, let in first. After the soundcheck, the doors got open and everyone could slowly get into the arena.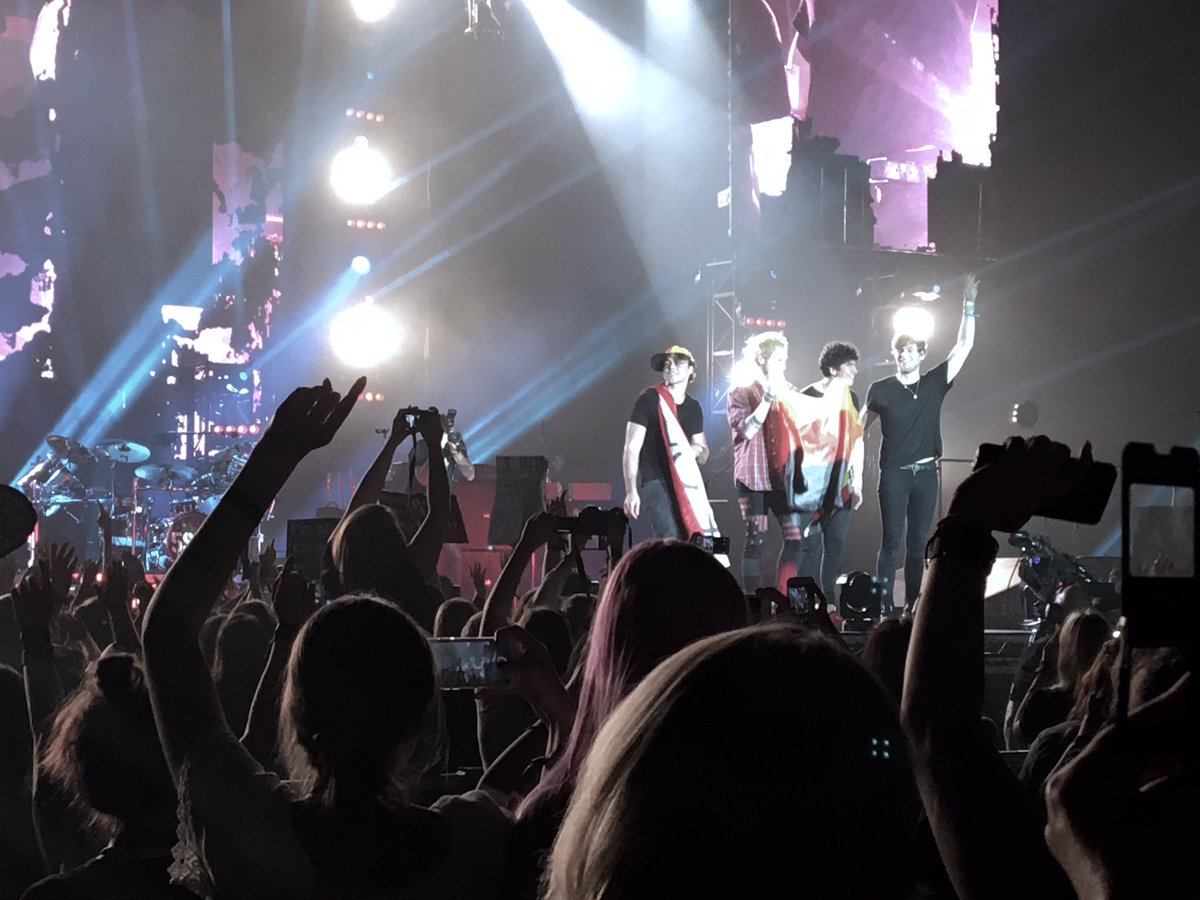 This year, a British band named Don Broco were 5 Seconds of Summer's opening act on the European leg of the tour. Let us assure you, they're ace! You should give them a listen!
Not long after that, the boys of 5SOS (Luke Hemmings, Michael Clifford, Ashton Irwin and Calum Hood) finally got on stage, opening the concert with the song called '"Carry On'.
The setlist was a bit different from the first part of the European leg – for example, they don't sing 'Catch Fire' anymore and they added 'If You Don't Know', which is one of their older songs.
Most of the fans, of course, participated in all the fan projects, which the boys seem to love so much. However, the Berlin show had something special. When Ashton, Calum and Luke got off the stage, people started chanting the words 'We love you' and everyone could just see in Michael's eyes how much this meant to him and the entire band.
The boys always make up a song for each city they play in. This time, the song was three-minute-long and the boys named it 'Born Again Berlin' (that were the only actual words which you could hear in the song, actually).
5SOS also surprised everyone when they kind of swapped their instruments – believe it or not, Michael has actually learned how to play the drums!
The last song they performed was their first official single 'She Looks So Perfect'. After they got off stage, it was time for the PCD to strike. It felt unbelievable how the time flew by.
We can't wait to attend more and more 5SOS shows in the future!
Were you at a SLFL show? Tell us about your experience in comments below or on Twitter @CelebMix & @CelebMix5SOS!