Adam Lambert has been teasing that something new is coming on December 13th, and that "something" was his brand-new album of cover songs, High Drama, which comes out February 24th! We are thrilled to hear these tracks because Adam never fails to make any song he sings uniquely his own.
To celebrate the new album, UK fans are invited to an exclusive show in late February, with location and details to be announced in January. To gain access to the pre-sale tickets, all fans need to do is pre-order any format of High Drama or sign up to his mailing list, which can be done in the UK shop: https://adamlambert.net/home/.
Some of the merch even has some signed cds/vinyl by the way!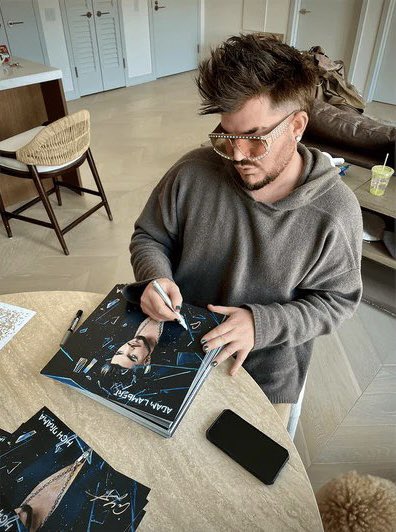 "Ordinary World" is officially out now and excited to finally share that you can pre-order my album 'High Drama' out on February 24th ?

Pre-save here: https://t.co/J1HUFd1pvN pic.twitter.com/cKorelM2oB

— ADAM LAMBERT (@adamlambert) December 13, 2022
Fans are now able to listen to two tracks off of the album, "Ordinary World" (a ballad version of the Duran Duran's song) and "Mad About The Boy" (a rendition of the Noël Coward classic). We also love that the record is executive produced by Adam himself, alongside production from Tommy English (Kacy Musgraves, Carly Rae Jepsen), Andrew Wells (Halsey, OneRepublic), George Moore and Mark Crew.
The diverse collection of songs include Ann Peebles' "I Can't Stand The Rain" and Bonnie Tyler's "Holding Out For A Hero", to modern tracks like Billie Eilish's "Getting Older" (which gets a glam-inspired transformation) along with a rock-leaning rendition of Lana Del Rey's "West Coast".
"It's a fun challenge to figure out a way of doing a 180 with a song," Adam explains. "This album is a foray into my world. Over the past decade, I've explored a few different areas and sounds and energies, and I feel like part of this new chapter in my career is me being really clear on who I am, and what I am, and what I'm not. I think that's all coming out in these tracks."
Here is the full High Drama tracklist:
Holding Out for a Hero
Chandelier
Ordinary World
Getting Older
I Can't Stand the Rain
West Coast
Do You Really Want to Hurt Me?
Sex on Fire
My Attic
I'm a Man
Mad About The Boy
High Drama starts the next chapter in Adam Lambert's solo career, and shows his love for high drama, in both fashion and in the way he sings the music that he loves. This album shows an artist comfortable in his own skin, being truly himself, and loving every minute of it.
Pre-order the album HERE: AdamLambert.lnk.to/HighDrama
Watch the music video for "Ordinary World" below: