The People's Choice Awards is one of the first big award shows of Award Season, and the 2016 edition, presented by Glee's Jane Lynch, saw some of our favourite stars from Film, TV and Music attend the annual event, and performances from Jason Derulo,  Jordan Smith and Shawn Mendes, as well as Fifth Harmony's Camilla Cabello, who joined Mendes on stage to duet on their song I Know What You Did Last Summer. 
Lynch kicked things off with a song and dance number, dubbing herself a "more masculine" Neil Patrick Harris, and was on good form all through the night, providing big laughs with moments such as her parody of Steve Harvey's now infamous Miss Universe mix up. The sketch saw Lynch invite Tom Lennon up to collect an award, before she interrupted his acceptance speech and joked that instead, he was first runner up, and the winner was Miss Colombia!
Everyone from Jonny Depp (Who won favourite Dramatic actor) to Ellen Degeneres, (who took home both daytime TV host and the Humanitarian Award) were in attendance at the ceremony last night, which saw awards handed out to the likes of movies Furious 7, Pitch Perfect 2 and The Martian. Sandra Bullock, Chris Hemsworth and Channing Tatum were amongst those awarded for their acting performances, and Melissa McCarthy won the title of Best Comedic Actress for both the Movie and Television categories!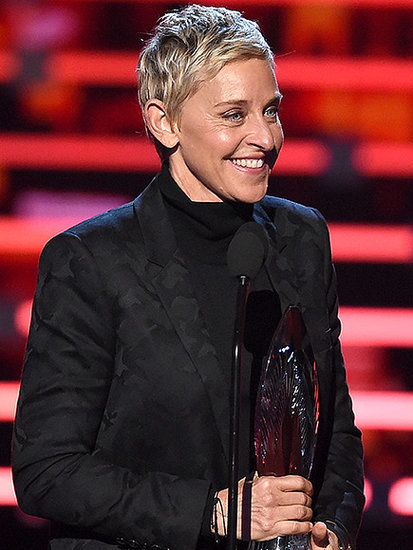 50 Shades of Grey star Dakota Johnson looked surprised to be awarded the accolade of "Best Dramatic Actress" over stiff competition from Jennifer Lopez and Kate Winslet, but was even more surprised when actress Leslie Mann accidentally broke her dress and almost caused her an embarrassing wardrobe malfunction! Dakota, who at this point turning 50 shades of red, laughed it off, joking "Well, it's not like nobody here hasn't already seen my boobs."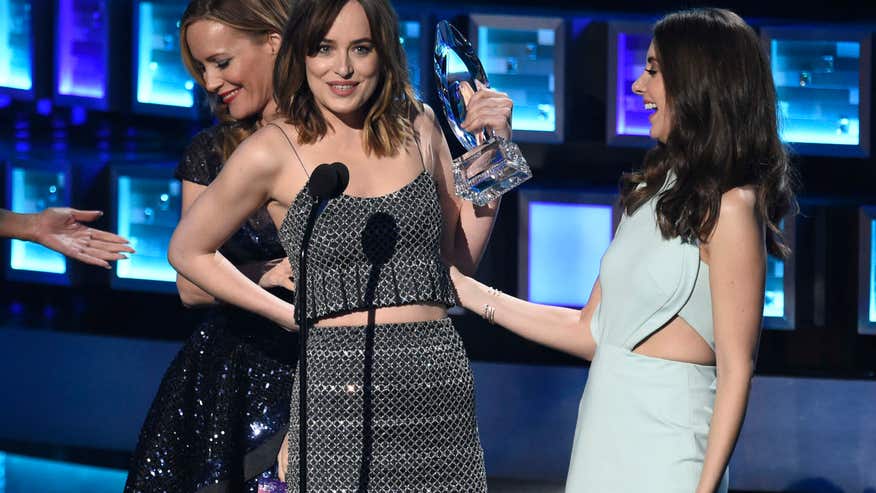 The big winner in the TV category was the Big Bang Theory, scooping favourite show and favourite Network comedy, as fell as a Favourite Comedic Actor win for its Star, Jim Parsons. Pretty Little Liars, Homeland and Netflix's Orange is the New Black also won accolades, with Supergirl taking the title of Favourite New TV Drama.
Though neither were in attendance, Taylor Swift and Ed Sheeran took home the Peoples Choice Awards for Favourite Female and Male artists, with Taylor making it a double and taking home favourite pop artist, too. Girl band Fifth Harmony were awarded Favourite Group and Shawn Mendes favourite breakout!
Blake Shelton, Carrie Underwood and Lady Antebellum reigned supreme in the country categories, with Nicki Minaj and The Weeknd taking home the Peoples Choice Awards for favourite Hip-Hop and favourite R n B, respectively.
Justin Bieber's What do you mean? was named favourite song, Title by Meghan Trainor favourite album, and Madonna named the Peoples Choice Awards favourite music icon, beating out the likes of Aerosmith's Steven Tyler and Paul McCartney.
Connor Franta and Britney Spears won big in the Digital Category, as Favourite Youtuber and Favourite Social Media Celebrity, with Maddie Ziegler and Matt Bellassai winning the Seriously Popular Award and Favourite Social Media Star. 
Other highlights? Sharon Osborne kicking a trespasser off stage, the camera operator focusing on the wrong guy when Matt Bellassai won his award for , so he could only be seen in the background sitting behind the man, and Ellen's "Would I call myself the Mother Theresa of talk shows, the Dalai Lama of daytime? No. But I'm sure someone out there has." joke that just shows why she keeps winning at these awards!
Did the right people win? Let us know on Twitter @CelebMix, or in the comments below!