Your go-to-guide for everything you need to know about an American DJ/producer duo The Chainsmokers.
Who are the members of The Chainsmokers?
https://www.instagram.com/p/BT9ttF9lAnr/?taken-by=drewtaggart
When and where were they born?
Andrew Taggart – December 31, 1989, Portland, Maine, United States.
Alex Pall – May 16, 1985, New York City, New York, United States.
What are their most popular songs?
Closer ft. Halsey
Roses ft. Rozes
5 facts about the duo
Taggart attended Syracuse University's prestigious Bandier Program for Music Entertainment Industries while Pall attended New York University and majored in art history and music business.
They have only known each other since 2012.
The duo helped with the creative design for the NYC-based fashion line Our Thing.
https://www.instagram.com/p/BGxWxV_g0Lb/?taken-by=ourthingnyc
Their favorite place that they've visited recently was Mykonos, Greece.
The duo use touring as inspiration for their songs.
What else do I need to know about The Chainsmokers?
The EDM-pop duo achieved a breakthrough with their 2014 song "#Selfie", which was a top twenty single in several countries. Their debut EP, Bouquet was released in October 2015 and featured the single "Roses", which reached the top 10 on the US Billboard Hot 100. "Don't Let Me Down" became their first top 5 single there and won the Grammy Award for Best Dance Recording at the 59th awards ceremony, while "Closer" became their first number-one single on the chart. They have also won an American Music Award and five iHeartRadio Music Awards.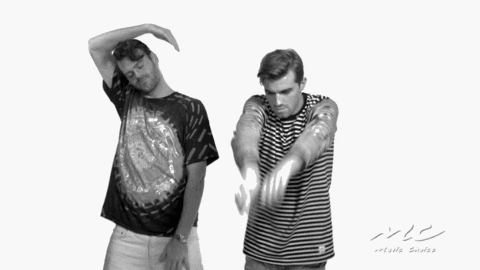 What are their social media links?
Twitter: @TheChainsmokers, @AlexPallNY, @drewtaggart .
Instagram: @thechainsmokers, @drewtaggart, @alexpall.
Facebook: @thechainsmokers.
Snapchat: thechainsmokers