This year's summer Olympic games might not be until the beginning of August, but no amount of time will prepare you for the amazing teams countries around the world are bringing to the world stage.
After putting in hours, months, even years of hard work and training, it's safe to say that we will definitely not be disappointed. It'll be the first Olympic games for some, and a return for others. Here are some of Team Canada's athletes that you'll want to keep an eye on!
Andre De Grasse
Events: 100 Meter Dash, 200 Meter Dash, 4×100 Meter Relay (Athletics)
Sure, you might know Usain Bolt of Team Jamaica as the fastest man in the world – but Andre De Grasse is catching up. Don't blink, or you might miss him. A bronze medal at the IAAF World Championships in Beijing last summer followed two gold medals at Toronto's Pan American Games has put him in the spotlight, finishing just 0.13 seconds after Bolt. All eyes will be on De Grasse during his individual sprinting events, and on the mens relay team this summer.
Damian Warner
Event: Decathalon (Athletics)
Think competing in one event at the games is tough? Imagine ten in one. For those of you who are just hearing of this grueling event now, the decathalon is made up of the 100 meter dash, long jump, shot put, high jump, the 400 meter dash, 110 meter hurdles, discus, javelin, and to top it all off, the 1500 meter run. After breaking a national record standing since 1996 last summer at the 2015 Pan American Games in Toronto, Damian Warner is ready to take on Rio.
Shawnacy Barber
Event: Pole Vault (Athletics)
Look up! After clearing 5.80 meters and winning a gold medal last summer at the Pan American Games, Shawnacy Barber went on to win Canada's first gold medal won in a non-sprinting event. Or as DJ Khaled would say, "Another one". At only 22 years old, we know he's going to be raising the bar and reaching new heights in Rio and at many more competitions to come. All puns intended.
Melissa Bishop
Event: 800 Meter Race (Athletics)
After a gold medal at last year's Pan American Games, Melissa Bishop broke a 14 year old national record in Beijing. This will be her second Olympic games, London in 2012 having been her first. Between then and now, she's been breaking records of her own as well – her current personal best for the 800 meter race is 1:57.52 minutes.
Tory Nyhaug
Event: BMX Cycling
It's been a rocky road to Rio for Tory Nyhaug, but he's bounced back every time! After making his Olympic debut in 2012 (following a ruptured spleen), he won a gold medal at last year's Pan American Games. He's unstoppable, and we can't wait to see how he does in Rio!
Jennifer Abel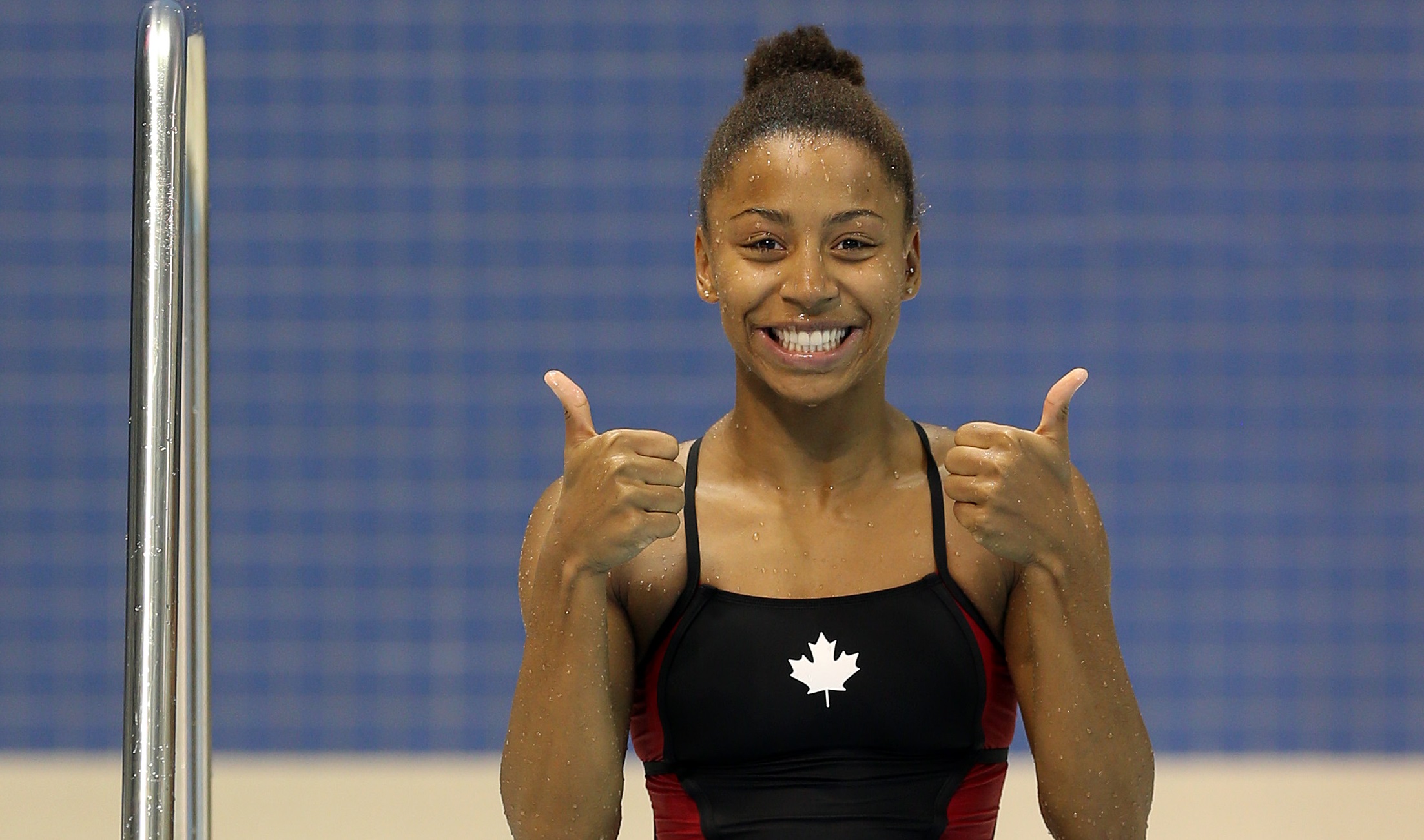 Event: 3 Meter Springboard (Diving)
Jennifer Abel is no stranger to the world stage. At the 2008 Summer Olympics in Beijing, she was the youngest Canadian diver at the age of 16! In addition to many other competitions, she won a bronze medal at the last summer games in London, and Rio will be her third Olympic games.
Emily Overholt
Events: 200 Meter Freestyle, 400 Meter Freestyle, 400 Meter IM,  4×200 Meter Free Relay (Swimming)
A triple Pan American medalist at the age of 18, Emily Overholt is definitely an athlete to watch this summer! Rio might be her first Olympic games, but she's ready to swim with the veterans. Michael Phelps may be one of her inspirations, but something tells us that there will be quite a number of medals of her own coming her way.
Michelle Li
Event: Singles, Doubles (Badminton)
She'll already go down in history as the first Canadian woman to win badminton singles gold at the Commonwealth Games in 2014, but Michelle Li's career is only getting better. After winning two gold medals at last year's Pan American Games, we're expecting amazing things from both Michelle and her doubles partner, Alex Bruce in Rio!
Who are some athletes you're excited to see in Rio this summer? Let us know by tweeting us at @CelebMix!