Globally renowned K-pop girl group, BLACKPINK, has unveiled their much-awaited brand-new spirited single "Ready For Love" in collaboration with the PUBG Mobile game.
Did you miss BLACKPINK as much as we did? Did you wish your favourite K-pop girl group would enter the spotlight again and hand out new music and more content to jam on? If so, your wishes have come true. Blinks, get "Ready For Love" as BLACKPINK dives deeper and explores virtual realms in the new music video in collaboration with PUBG Mobile. This comes ahead of the K-pop group's much-awaited comeback, as we expect more new music to be released in August.
And that's not all, either. BLACKPINK has also confirmed they would go on their 2022 world tour starting in October. As of now, the dates, locations and countries are yet to be disclosed, but they have claimed it to be a massive world tour, which spiced up things even more. Fans had been expecting the K-pop female group's return for two years, during which there had been rumors about the band splitting up. The last time the entire band embarked on a tour was in 2019, prior to COVID-19. BLACKPINK also confirmed that they would come out with a pre-release single in August.
We couldn't be more thrilled for all the new content, projects, and fun to begin starting this month.
BLACKPINK unveiled their "Ready For Love" performance for the first time at their "IN-GAME" concert on July 23 & 24. An in-game concert is basically a virtual concert held in the online game world, and this is slowly turning into a really popular trend where the online gaming and music worlds collide in the most whimsical and entertaining manner.
The K-pop group released a captivating virtual music video to support this track in an entirely new format. The music video feels very dreamy, plush, and beautifully intricate, featuring virtual avatars of all the BLACKPINK members, including Jisoo, Jennie, Rosé, and Lisa, along with some clips from their PUBG Mobile virtual concert.
In the video, we find their virtual avatars looking gorgeous and exploring imaginative, wondrous pastel-hued worlds, riding motorcycles and floating through pink cloudscapes. As the video opens, Jenni and Rosé croon on the song's pre-chorus, adorned with their velvety vocals, before the song explodes into an EDM-tinged banger that will get you grooving in no time.
There's no need to wait now/No need to be afraid/
Show me the colour of your heart/
I really need you in my world.
Open your eyes, here I am in front of you"
Watch the music video below:
We first heard a little snippet of the latest song in the Netflix documentary, BLACKPINK: LIGHT UP THE SKY, where the quartet unveiled the recording scene of this song, and it sent the fans on social media into a frenzy.
"Ready For Love," created exclusively for the ongoing partnership with PUBG: BATTLEGROUNDS was first featured along with some of the band's biggest hits in their recent virtual in-game concert titled, "The Virtual." This virtual concert garnered the attention of millions of global fans, and they made over 5 million reservations for the virtual concert the previous day.
This is the second time BLACKPINK is collaborating with PUBG Mobile. Earlier, they used songs from BLACKPINK's first full album, THE ALBUM, for their BATTLE GROUND MOBILE' BGM. The launch arrives with the game's Version 2.1 update, which is now available on the App Store and Google Play Store.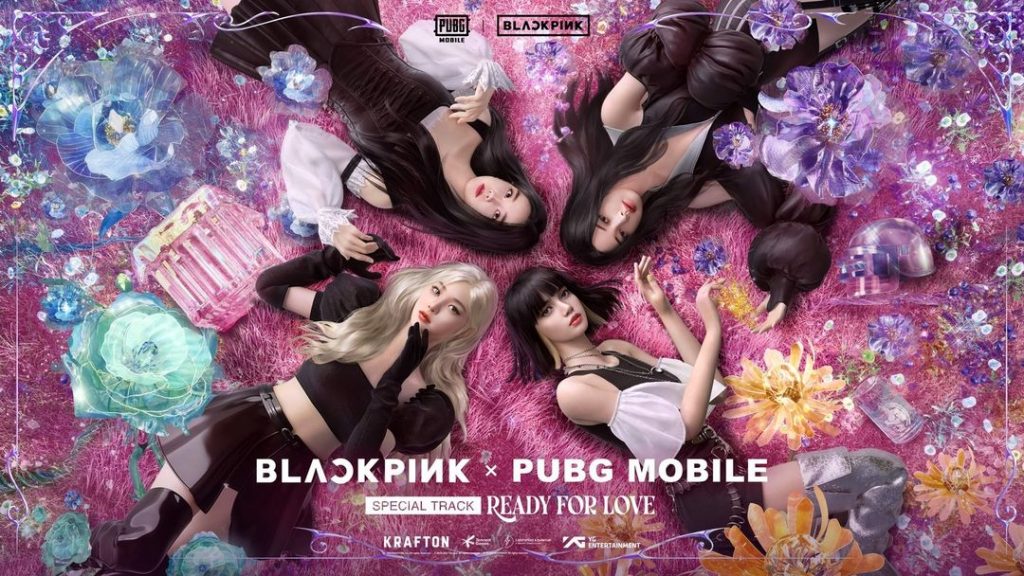 YG Entertainment remarked in a press release,
"It is pleased to hold an In-Game Concert as the second collaboration between the world's best group, BLACKPINK and PUBG MOBILE, the best mobile game in the battle royale genre. We also hope to increase the opportunity for artists and fans to interact closely beyond the borders and language barriers."
The song is a fascinating pop banger that opens with lyrical piano followed by an explosive beat drop. It portrays the attitude of not giving up no matter what, and a rock-steady heart toward love. Obviously, it's not surprising to find out that the music video for BLACKPINK's single, "Ready For Love," became the fastest music video to surpass 2 million views released by any girl group on YouTube this year! It became the most liked video by a K-pop girl group in the first 24 hours on YouTube.
You can also check out individual virtual avatar teaser images of the BLACKPINK members for "Ready for Love" below! Besides the virtual performance, BLINKs can get their hands on custom-made performance suits that Jennie, Lisa, Rosé, and Jisoo will wear in-game alongside a voice pack with commands from the girls. The outfits will be available for gamers from July 23 to August 31.
While you imagine us screaming with excitement across the screen (yes, we are mirroring you, lovely Blinks), stay tuned for more updates on BLACKPINK right here!