Every once in a while, the world encounters a singer in possession of a talent so pure, they are able to cut through the emotional zeitgeist, and tap into the collective conscience of an entire generation of people all looking to find hope and meaning in times of heartbreak and despair. In 2022, Calum Scott is that artist…
Having initially found fame as a contestant on the ninth series of Britain's Got Talent, winning universal praise for his stripped back rendition of Robyn's 2010 hit 'Dancing On My Own', Scott went on to sign with Capitol Records in a deal that would see him rip up the rule book and strike up on his own, to become part of a group of young performers who would forever change the public perception for what it means to be a British male recording artist in the 21st century.
"That whole period of my life still feels like such a blur." Calum says as reflects back on his stint on BGT, and the subsequent years that followed. "It was a total whirlwind, and to this day I still struggle to believe that all of this has happened to me. It's a very surreal thing to live out your dream, and to do the things you've spent your whole life fantasising about. Will it ever sink in? I don't know, but I think a real turning point in me being able to accept this as being my new reality, was seeing the reaction to my first album, and witnessing first hand the impact my music seemed to have on people…"
---
Dancing On My Own (Official Video)
---
Released back in the spring of 2018, Calum Scott's debut album 'Only Human' landed at No. 1 on the iTunes album chart in over 20 countries around the world, amassing over 7.5 billion total global streams and counting. Now certified platinum or gold in 21 territories, the truly transcendent record crossed over in a way that defied both expectation and time, with Scott's deeply personal lyrics and emotive melodies providing a voice for those who have ever felt sequestered, trapped, and unable to be their true authentic selves.
Four years on from the phenomenal success of his debut, and armed with a treasure trove of new life experiences to speak of, the Yorkshire native says now feels like the right time to become reacquainted with his audience once again.
"I've definitely learnt a lot about myself since the release 'Only Human'…" Calum says, his voice trailing off. "But I'm also really conscious, and completely aware that there's still so much for me to uncover and discover about life; like I'm not one of those people who all of a sudden thinks they know everything about anything, just because they've experienced a little bit of fame, and had a little bit of success in the music industry (laughs). I believe as human beings we're always constantly learning, and I love that! I like the idea that there's always going to be something that pops up and teaches us a bit of a lesson that we can then later draw upon in the future."
"When I put out my first album, I'll be totally honest with you, I didn't know what I was doing! One minute I was working in a 'normal' job, and the next I was living this new crazy, exciting, slightly daunting but amazing new life. Things happened so fast, and my world changed almost over night. This time around I feel like I have a better understanding of how the industry works and I'm more conscious of the fact that this is my career now – it's what I do for a living, I'm building a legacy for myself and my family, this isn't just me having a laugh and putting a few songs out here and there for the sake of it, I take what I do very seriously."
Listening to Calum summarise all that he has learnt throughout the course of his career so far, it's clear the events of the last few years have had a massive impact on him both personally and professionally. Invigorated by change, and empowered by his success, the singer credits the love and acceptance bestowed upon him by fans as playing a vital role in him being able to acknowledge his own value and self-worth – that's not to say however he doesn't suffer a crisis in confidence from time to time…
"I have a serious case of imposter syndrome." Calum says with a knowing smile. "Sometimes I feel like I'm going to wake up and all of this (my career) has been a dream, so it's almost like I'm constantly having to tell myself, or remind myself that I am an artist, I am a singer/songwriter and that the music I make does have influence, and my songs do have the potential to help change peoples lives for the better."
Contemplating his thoughts further, the 'Where Are You Now' singer continues: "There are moments where I question why all of this has happened to me, because the truth is I'm nothing special, I'm no different to anyone else, I have a ton of insecurities that I'm constantly trying to work through and I experience feelings of anxiety and self-doubt more often than I like to admit (laughs). But for whatever reason, I've been given this platform, and so I feel like I have a responsibility to help other people who feel the same way I do, feel better about themselves. I hope that this new album ('Bridges') will become a source of light in the lives of those who are going through a difficult time."
---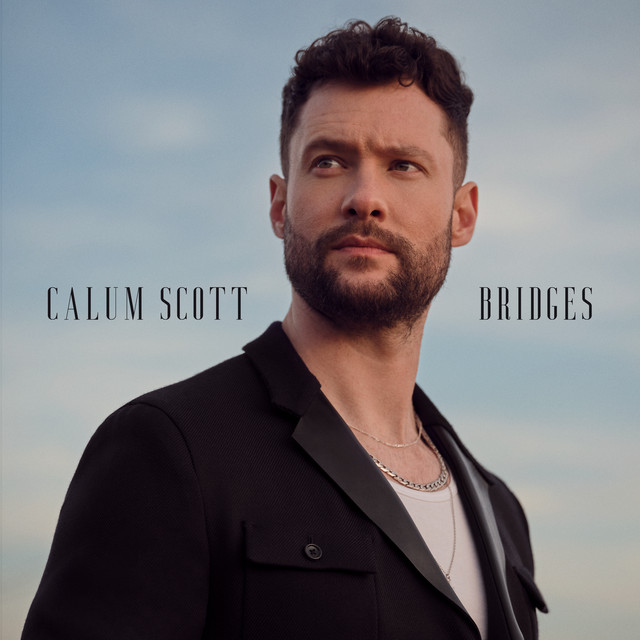 ---
Released today (June 17th) and featuring the singles 'Biblical', 'Rise', 'If You Ever Change Your Mind', 'Heaven' and 'Boys In The Street', the album serves as a beautiful continuation from 'Only Human' into the next chapter of Calum's life. Searingly honest and deeply profound, it's music that sounds like hope, and feels like healing…
"I'd say 'Bridges' chronicles my development as a person, as a man and as an artist – it's definitely a journey and it's 100% me coming of age. It's about me embracing all sides of myself and aspects of my character; I wanted to be honest, I wanted to be vulnerable and I wanted to be real in the hopes that it would allow others to know that it's okay for them to be that way too."
"The more I've written, and the more vulnerable I've been, the stronger I feel – there are certain things I want to say, and I'm now brave enough to say them… I don't think I was before. So I'm completely comfortable to put out songs like 'Boys In The Street', 'Bridges' and 'The Way You Love Me' because although they are incredibly personal and painful subject matters for me to talk about, they still exude a sense of hope because they're written for a place of contentment because I've ultimately made peace with us I am."
Keen to make one more point, Calum adds: "Even though songwriting for me is like a form of therapy and a brilliant way for me express myself, and work through whatever emotions and feelings I'm going through at that time, once a song is written and released, it doesn't belong to me anymore, it belongs to the people. Whenever you're making music, your hope is that it's always malleable enough to translate and withstand the test of time so that its message and sentiment will still resonate with people 10, 20, 30 years from now."
---
Boys In The Street (Official Music Video)
---
With any kind of success comes the weight of expectation, as both fans and critics wait with baited breathe to see what they're favourite artist delivers next. Whilst some may argue this is all down to a performers approach and state of mind, there can be no denying that some acts have found it difficult to replicate the same level of hype and momentum second time around. Having sold an astonishing amount of records and seen his music find its way into the hearts of people all around the world, we wonder has the 33-year-old ever thought, or worried about the supposed curse of the sophomore slump?
"Do you know what, I don't think I did." Calum muses. "Don't get me wrong, there have definitely been moments where I've felt insecure, and like the voices of doubt in my mind have threatened to overwhelm me to the point where I've wanted to put the brakes on everything, and completely pull back. But I think for me, the biggest challenge when making this record was getting used to the quiet and stillness. And I say that because since the day I signed my record deal, my life has been so unbelievably structured and organised, but also completely hectic and chaotic at the same time (laughs)."
"For the last four years of my life I've had a schedule to follow, I've had somebody tell me where to go and where I need to be pretty much 24/7. So when I first went back into the studio to start working on new material for what was to become this album, and all of that noise and the fuss had calmed down a little bit I started to feel a little bit uneasy, because as a professional singer and recording artist, I'd only ever known that kind of chaos – it's fun don't get me wrong, and I love it so much, but when things did quieten down a little, things felt… weird!"
"When you've been so busy for so long, then all of a sudden you're not, your mind can start to play tricks on you and you begin to question yourself about the silliest of things, like 'why am I not as busy as I was 2 months ago?' or 'that radio station hasn't played my songs now for a couple of weeks?' and the dreaded thought of: 'is everything going wrong, is my career over now?'"
---
---
"In the beginning I think I lacked direction." Scott says of his first few sessions back in the studio working with producers on potential new concepts for songs. "Even though my life had changed so much since I made 'Only Human', deep down I still felt like I was the same person, dealing with some of the same issues I had before – it was almost like all of these external factors around me had changed, but internally I was still very much who I was before all of this (fame) happened to me."
"With your first album you have your whole life experience up to that point to draw from, where as with your second album it can feel like you've explored every thought, and every part of your being, to the point where it can feel like you have nothing new to say. I guess what I'm trying to tell you is that it wasn't like I woke up one morning and had this major life epiphany, that had me running back to the studio to write all of these new songs from a new place of clarity… it wasn't like that at all (laughs)."
Never one to dwell or seek pity, Calum says he instinctively knew what he had to do to ensure that his career didn't go into free-fall, and that the new material he was recording was executed and produced to a higher standard than previous musical releases. "It was simple really." Scott says matter of factly. "I just had to push myself further out of my comfort zone, and dig deeper than I had previously. I knew this time around I had to be even more open and transparent that I was before. And the moment I did that, the direction and flow of the album followed from there."
As an artist who has successfully managed to cultivate a genuinely authentic and sincere rapport with his audience, Scott does admit he at times experiences moments of internal conflict with regards as to how much of his personal life he's willing to divulge. With this in mind, we wonder when does sharing, become overhearing?
"There's always this question that lingers as to whether or not I've given too much of myself to my music?" Calum ponders. "But the way my fans have been so brave and honest in sharing their stories with me, I feel like I owe it to them to be as brutally honest back. I owe so much to the LGBTQ+ community and I want to respect and represent them in the best possible way. I'm also incredibly passionate to continue with my mental health advocacy work, and be something of a voice for those who aren't currently able to find theirs, so if there ever is a doubt in my mind as to whether or not I'm being too open and truthful, I like to remind myself that what I'm trying to do here, is so much bigger than – it's being a support to others."
---
It was almost like all of these external factors around me had changed, but internally I was still very much who I was before all of this (fame) happened to me.

Calum on trying to reconnect with the both person, and artist he is in 2022.
---
For Calum, one of the most thrilling aspects of 'Bridges' release is the opportunity to perform its songs live, starting with his eagerly awaited summer headlining tour of North America which is set to kick off at the Neptune Theatre in Seattle on Friday, July 30th. Following his shows in the US, Calum venture out into the rest of the world to play gigs across the U.K., Europe, Australia and South Africa.
"There's so much preparation that goes in to touring." Calum admits. "Not only is there the physical side of things to factor in, but there's also the emotional aspect, and the toll that being away from your close family and friends can take on your mental health. I looked at my tour schedule the other day and I thought to myself 'I'm not going to be home for months' – and don't get me wrong I love what I do, and I'm so, so grateful to be in this position, but I love my family and it makes me sad sometimes to be away from them for so long."
Keen to find a silver lining, Scott continues: "Having said that though, touring throughout the course 2018 was seriously one of the greatest experiences ever – it was the best year of my life, so I know that whatever happens this time around, I'm going to have a good time! Seeing that some of the shows have already sold out, and knowing that I'm going to be visiting some countries that I've never been to before is super exciting! My new band and I are buzzing to get back out there!"
---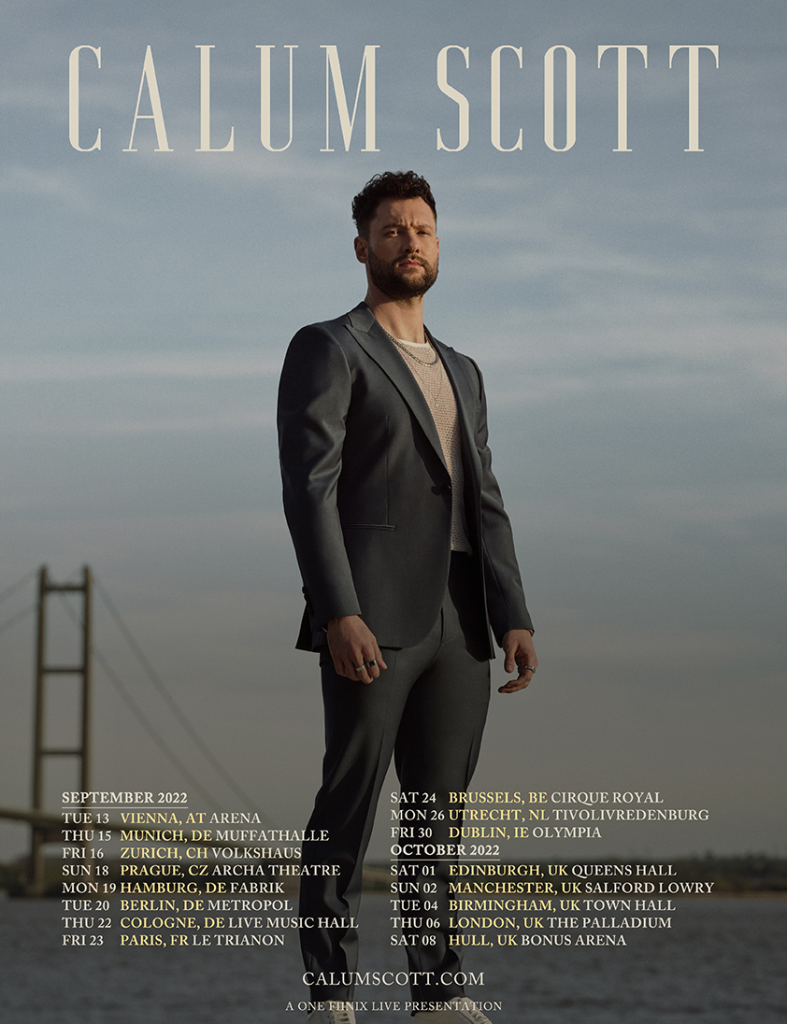 ---
"I have these moments of pure gratitude where I honestly cannot believe this is my life!" Calum says with a gleam of gratitude as we ask how he feels to be embarks upon this new era of his career. "Sometimes I think back to those days where I'd be sitting at my desk doing my human resources job, dreaming of doing what I'm doing now and I just… well, to be honest with you I don't have the words (laughs). I am so unbelievably grateful to every single person who shown up, believed in me and helped me get to where I am today; their support means the world."
As for the future… "I don't want to look too much into the future, I want to focus on the present!" Scott interjects smiling. "I don't know what's coming next and I'm not sure I want to! But what I do know however, is that I still want to be doing this when I'm 60 years old, and I desperately want to my music to stand the test of time – that's always my goal. To hear how evergreen some of my songs have been in peoples lives, is truly a beautiful thing and I hope this new album provides people with the same sort of comfort and emotional support."
Keen to share one final thought, Calum adds: "Fraser T. Smith once said to me 'albums are like a snapshot in time of an artists journey' and the great thing about being a career long artist, which I hope to be, is that every album I write will form a piece of a puzzle that will one day tell my life story. And so hand on heart, I can honestly and truthfully say that 'Bridges' reflects who I am, as both a person and as an artist in 2022; I'm not trying to be anybody else but me, and feels like a really nice place to be."
'Bridges' is available to download / stream now.
---
Let us know your thoughts on Calum Scott over on Twitter @CelebMix now!