Back in May 2018, Collective Journeys announced their new jewellery shop through its founder, former Vampire Diaries and Originals actress, Candice King.
Candice has collaborated with a range of charities, learning about each charity's work and history. Working with these non-profit organizations, each month Candice dedicates a bracelet to a chosen charity with the funds going to the chosen charity.
Each bracelet comes in a limited-edition box which provides information about the work and the background of the charity.
Candice has created bracelets in a dedication of charities such as Harvest Home, this particular charity aims to improve lives for homeless pregnant women. For this collaboration, Collective Journeys created a pastel-coloured bracelet in honour of Harvest Home. Candice has worked with numerous charities such as Project Q, Swim with Mike, Happy period, school on wheels and many more.
Recently, Candice has been sharing her experiences on Instagram where she has been working with the humanity project and the 'Yes We Can Foundation based in Mexico. The 'Yes We Can Foundation' is a charity organization which provides help to migrant families and children. They have also been running a bilingual school program for children who are between the US and Mexican border.
Within Mexico and the United States, a border wall exists separating the two countries. A few months ago, the Trump administration insisted that the Mexican-United States border wall should be 'big and beautiful'.
For these plans to be completed, the Mexican-born, American educated artist, Enrique Chiu planned for 3700 volunteers in the community to be involved in the humanity project where they paint unique and powerful messages on the border wall where it shows the theme of hope and love. Candice was one of these volunteers who was involved to help create this new border wall masterpiece. The Humanity Project is part of a community in Mexico called This is about Humanity, within this community people spread awareness about separated families and children at the Mexican-US border. The community also provides support for those individuals who are affected by this issue; they arrange mental health check-ups, provide living essentials, educational trips to the border etc… They're a wonderful and very generous community who deserve a lot of credit.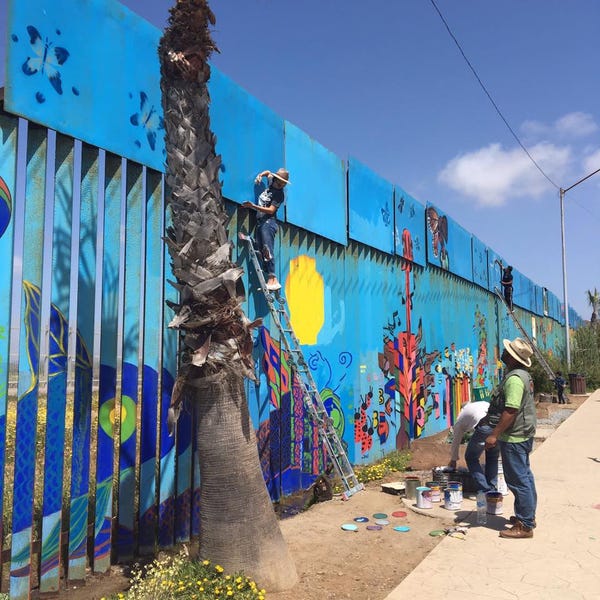 What do you think of The Humanity Project? Let us know @CelebMix