Celebrated Italian tenor opens up about the meaning and inspiration behind his brand new studio album, Believe.
When Andrea Bocelli took to the stage to perform at the 'Music For Hope' concert in Milan this past Easter, the world watched in awe, finding comfort and solace in the voice of an artist who has transcended time and circumstance to become one of the biggest, and most successful classical musicians of all time.
Broadcast live from the historic Duomo Cathedral, the divine recital of traditional standards and contemporary pieces broke records, becoming the biggest ever classical live-streamed event, garnering more than 28 million views within it's first 24 hours of broadcast.
"I was deeply moved and delighted to have received such an overwhelming reaction." Andrea says of the experience as we begin our interview. "It was an immeasurable honour and privilege to lend my voice to the prayers of millions of people, gathered together in a single embrace."
Andrea Bocelli: 'Music For Hope' Live From Duomo di Milano
The Power to Believe…
With his extraordinary vocal range, charismatic sense of showmanship and unique ability to convey the purest of emotion with each and every single lyric he sings, Andrea Bocelli possesses a profound talent that truly knows no bounds – his emotional understanding and natural musicality so powerful it resonates deep within the soul, affording people the freedom to rise above all of the chaos and disharmony in the world to feel hopeful, and free; even if only for just one, brief moment in time.
It is this visceral, musical connection that has adhered Andrea to audiences around the globe for more than a quarter of a century – and the powerful inspiration behind his brand new album, Believe.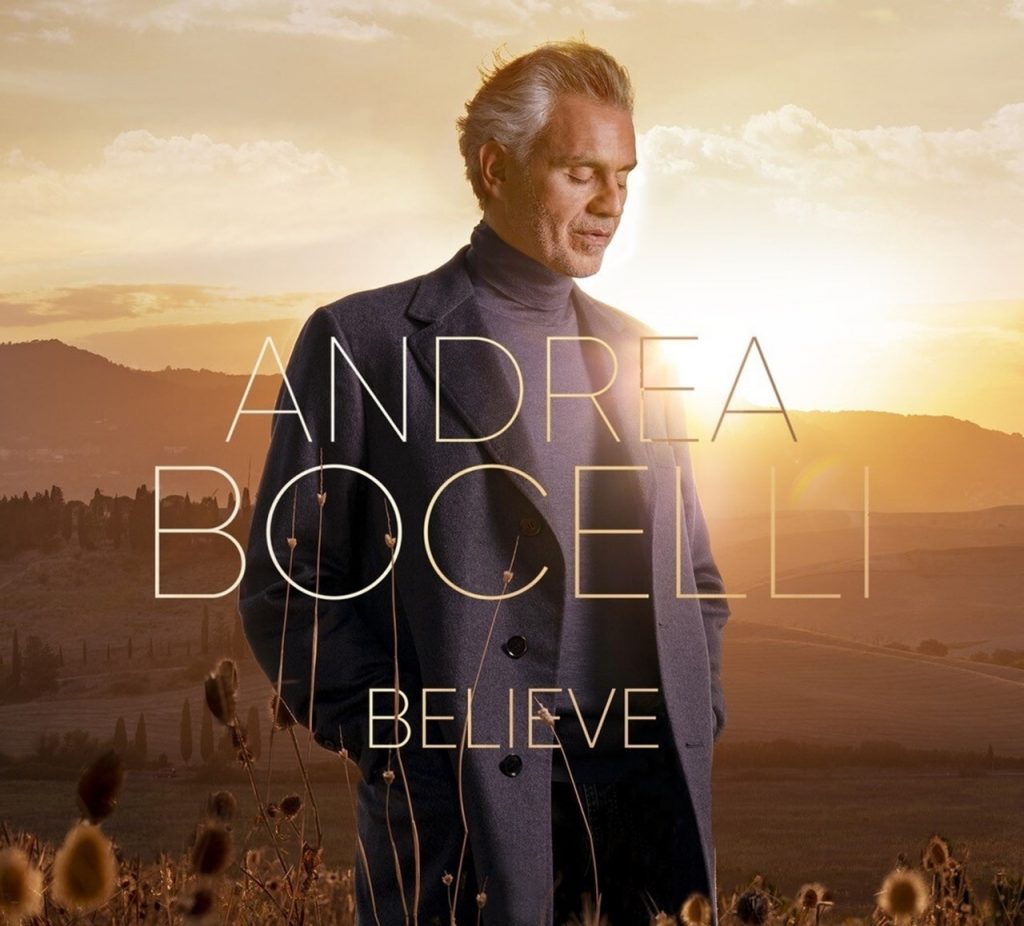 Released today (November 13th) via Sugar/Decca Records, and featuring collaborations with fellow recording artists Alison Krauss and Cecilia Bartoli, the breathtaking album celebrates the power of music, and the innate ability the art form has to help soothe, calm and lift the human spirit.
Exploring themes of unity, togetherness and spirituality, each song on the record was carefully selected to fit the prerequisite of creating a body work that would bring to life the meaning of three sacred words: faith, hope and charity. What inspired the concept and creation of such a project we ask the Italian tenor, as we settle down to discuss his intentions and hopes for Believe in more detail.
"The idea to produce an album of this sort has been in the air for some time. But it became more pressing this spring, as the whole world was going through a delicate and painful period." Andrea says. "The one thing all these songs have in common is an impulse towards spirituality, an appeal to matters of the soul, to meditation, to reflection on the meaning, and the gift, of life."
"'Believe' expresses my own modest contribution, in the desire to offer a moment of comfort and optimism through a variety of pieces, ranging from the great classics – Mozart, Fauré, Bizet – to a recently discovered piece by Puccini, as well as some contemporary pieces, including some that I wrote myself. Each track, in its own way, presents the same inspiration which may be summed up by this verb: 'Believe'. A verb that sustains faith, hope and charity: for we need to believe in what we think and what we pursue. If we want to show charity, we need to do so with conviction, with a profound belief in what we're doing. If we want to have hope, we need to believe in a better future. And faith is the quintessential definition of belief."
---
"The one thing all these songs have in common is an impulse towards spirituality, an appeal to matters of the soul, to meditation, to reflection on the meaning, and the gift, of life."
---
A singer, And a song…
Throughout the course of his illustrious career, there are many songs that have become synonymous with the name Andrea Bocelli. None more so than the heavenly and celestial, Amazing Grace – a standard so timeless, its sentiment is almost certain to resonate deeply in people's hearts for centuries to come. It's inclusion on Believe seemingly timely and perfectly, in-keeping with the albums concept and theme.
Performed as a duet with Country singer Alison Krauss – the pairs emotionally charged version of the much loved Christian hymn, without doubt takes on profound new meaning in 2020 – its message that both forgiveness and redemption are possible regardless of sins committed, more pertinent than ever.
"Alison is an eclectic artist and, as we all know, she is extremely talented. I've been following her for many years, so as soon as the production team mentioned her name, I was very keen and supported the idea of recording this duet with her." Andrea says of the collaboration. "'Amazing Grace' serves as a real hymn to life, and it's perfect for her vocal style – I enjoyed working with her very much."
However with the majority of Believe's production originally scheduled to take place at the height of the global COVID-19 pandemic, safety precautions and social distancing measures meant the two Grammy nominated artists were unable to record their vocals together in the same studio as originally intended.
"Of course, bearing in mind the restrictions and health guidelines, we opted to record our parts separately, with me in Italy and Alison in Nashville." Bocelli admits. "Before and afterwards we linked up with each other on many occasions so as to optimise the recording and so that we would, in effect, be singing together, even though we were physically apart."
Andrea Bocelli, Alison Krauss – Amazing Grace (arr. Mercurio) (Believe Studio Session)
---
Finding faith in new places…
As a creative soul always striving to push forward and break new ground, both sonically and artistically, Andrea continues to produce and record new music, collaborating with an array of new and established musicians, to create both traditional and contemporary arrangements each authentic in feeling and sound. With Believe's stand-out track, Inno Sussurato, being a prime example.
As one of the albums original compositions, Inno Sussurato (Whispered Hymn), written by the late, great Italian composer Ennio Morricone, serves as a fitting tribute to the Bocelli's friend and long-time collaborator, who sadly passed away earlier this year. Best known for his work composing many a Sergio Leone film score, and most recently his contributions to Quentin Tarantino's movie thriller The Hateful Eight, Ennio is without question the mastermind behind some of Bocelli's most loved and cherished hits, including his 2015 duet with Ariana Grande, E Più Ti Penso (The More I Think of You).
"'Inno Sussurato' was composed just a month before Morricone died." Andrea says of the emotional track. "I find it moving that the piece is a prayer, and being able to perform it fills me with great joy."
"It's a song in which Morricone's typical artistic style emerges, a piece that starts indeed as a 'whisper', and then becomes louder until it becomes the voice and prayer of the whole world. It's a little jewel, that embodies one of the last – if not THE last – creative acts of this great Roman musician."
---
"Faith is the centre of gravity in my life: a gift that I try to cherish and that sustains me, day after day."
---
Along with Amazing Grace and Inno sussurato, other notable highlights on the album include Pianissimo (with Cecilia Bartoli), You'll Never Walk Alone and Gratia Plena, Andrea's contribution to the 2020 Fátima: Original Motion Picture Soundtrack.
Written by Paolo Buonvino, (Caos Calmo, Italians, Medici: Masters of Florence) the uplifting and inspiring song important to Bocelli for it's deep and lyrical exploration into the power of faith.
"Faith is the centre of gravity in my life: a gift that I try to cherish and that sustains me, day after day." Andrea states candidly when we ask directly about the song, its meaning and how important it is for him as a man of credence to include such messages of hope in his music. "I think it's a crucial issue for everyone and I'm happy to testify to its importance every time I'm given the opportunity."
Commenting further on his involvement in the the film Bocelli says: "My contribution to the movie was only marginal, but I'm happy that my voice is on the soundtrack of a film that tells the story of one of the most dramatic events of the last century."
Directed by Italian cinematographer Marco Pontecorvo, Fátima tells the story of a 10-year-old shepherdess and her two young cousins in Fátima, Portugal, who report seeing visions of the Virgin Mary – inspiring believers but angering both church and government officials, who try to force them to deny their story.
"It's an uplifting story for us all, even for those who don't have the gift of faith." Andrea concedes. "I find the piece inspiring and compelling, and it brings a message of peace and fellowship to the whole world."
Andrea Bocelli – Gratia Plena
---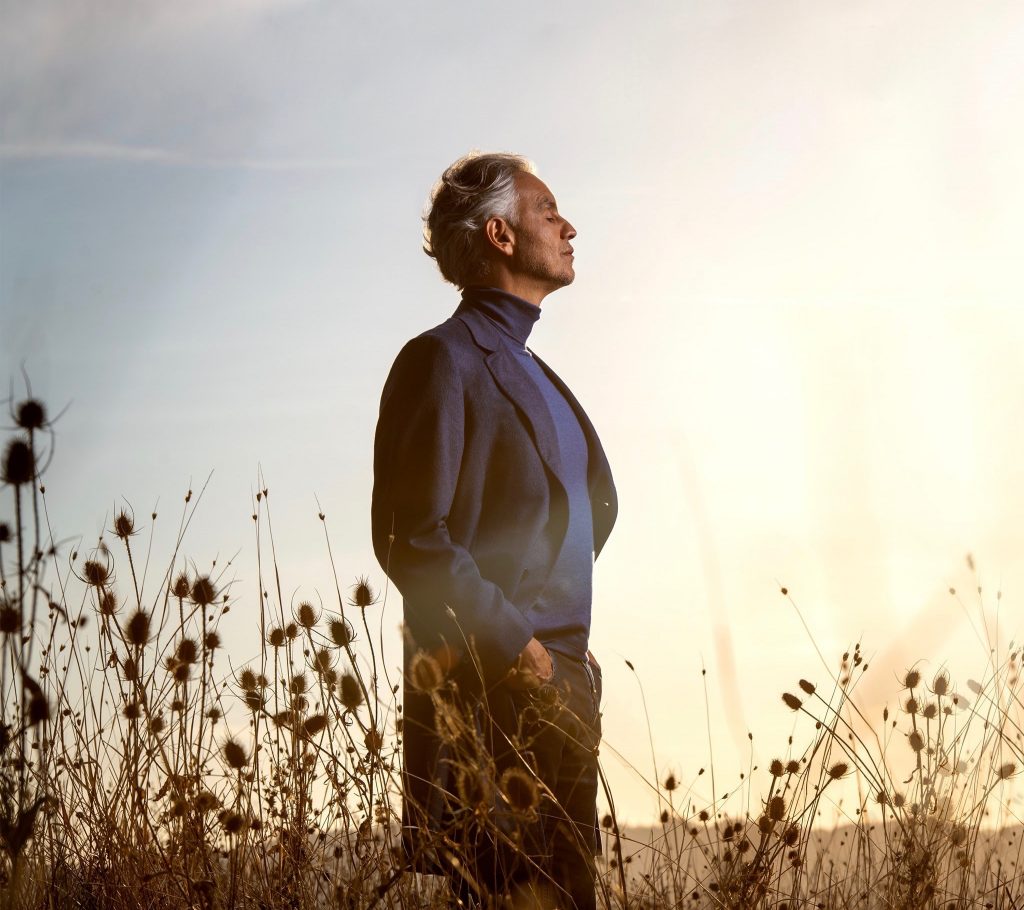 Hope for The Future.
As our conversation draws to a close, and we reflect upon our own cosmic relationship with music and spirituality, we can't help but wonder what lasting impression Andrea hopes Believe will have on audiences hearing the album for the first time…
"A sky that's a little more serene." Bocelli says thoughtfully. "For with the help of music, we can enter the temple of the soul, where we can be helped to remember that everything is sacred, that nature is supernatural, and that space, which seems empty, is never actually empty at all."
"Thanks to music, we can understand that we're not alone, and also that negativity won't lead to anything, and that fear is just a mist that distorts reality. Faith is a wager, as the philosopher Pascal said: 'If you gain, you gain all; if you lose, you lose nothing…' In all humility, and with respect for everyone else's opinions, contained in the songs on Believe, it is my desire to offer that wager. And for my part I'll bet that anyone who accepts the wager will make their own life, and the world, better."
Andrea Bocelli's new album Believe is out NOW on Sugar/Decca Records and is available to buy/download/stream here.
---
Let us know your thoughts on Andrea Bocelli and his new album 'Believe' over on Twitter @CelebMix now!