We chat with the operatic superstar, Summer Watson, who opens up about her musical journey, experiencing cancer, and new exciting projects she is working on.

Having graduated from London's prestigious Royal College of Music, British singer Summer Watson became the first classical artist signed to a $1M contract with Sony Music. Her debut album, SUMMER, recorded at legendary Abbey Road Studios, soared to number one on the US iTunes classical charts.
After surviving breast cancer and taking a break from show business, Summer understands the importance of determination and the healing power of music. Her new releases and the latest triumph in a career has taken the beautiful Los Angeles-based Brit to the world's biggest concert stages.
Her newly released songs "Break The Silence" and "Unveiled" refer to how one conquers and prospers through pain by channeling the warrior within each and every one of us.
Hello Summer! Welcome to CelebMix!
Thank youso much for sharing this wonderful opportunity to meet your readers.
Will you introduce yourself to our readers?
I fell in love with music when I was a child, Mum and I would dance around the house learning my songs for school from the age of 4-16, going onto then graduate with a masters at the Royal College of Music. Putting in my 10,000 hours and copious amounts of hard work I went on to win numerous awards and grants. Becoming a successful soprano vocalist, I chose to bring my love of classical, film, and pop music together. I became the first ever artist to sign a £1million contract with Sony Classical and recorded an album with the Royal Philharmonic Orchestra at Abbey Road studios. My confidence as a young woman grew everyday as my professional career was reaching new heights. Even the Potters Bar train crash(UK) in May of 2002 that I happened to be in couldn't derail me. This tragedy actually inspired me to cover Sting's well-known song Fragileon the SUMMERalbum. With the success of the SUMMERalbum reaching #1 iTunes charts in the US and #2 in the UK classical charts I toured all over the world, sharing stages with the likes of Michael Bolton, Chris Botti, Paul Potts, Nick Cannon and David Foster. I have performed for celebrities and royalty all over the world, from Buckingham Palace, Europe, Jordan, Dubai, to a 1.3billion tv audience in China.
Congratulations on releasing a brand new single Unveiled! What's the meaning behind it?
I've come to realize at this point in my life that I have faced and overcome enough trauma for one lifetime and I am still here to tell the tale, and now I want to live my best life and seize every single breath of it. Of course, some days are more challenging than others but I want to rejoice in every second of the life that I am blessed to have been given. I don't want people to have to be dragged down emotionally in desperation everytime they have to face something challenging in their life; an accident, a divorce, a loss of job, a death and god forbid an illness, yes these things can happen in life but it's all part of life and no matter what is thrown at us we have to rejoice and celebrate every second of life we are given and smile.
How is Unveiled different from your previously dropped single Break The Silence?
Break the Silence is about us needing to reach deep within and to speak the truth of who we are, to take the strength from the universe and to become the warrior to rise and drive through the problems that may stand before us. Unveiled is about opening our heart and living from a place of love, whether we are connecting with friends, work colleagues or even strangers in the grocery store or post office. If we lead our day, our life from a place of love, kindness and compassion – everything flows just how it is meant to.
Talking about Break The Silence, you took quite a break before from writing music and performing. What was the reason?
From the age of 4 years old, I have always performed other people's music, whether it was Mozart or Morricone, Strauss or Sting. 2002 I was in a horrific train accident that opened up a new direction for my music choosing to sing Sting's well known song Fragile on my SUMMER album with Sony, and then in 2014 having toured the world for many years I was diagnosed with Stage 4 Breast cancer, which stripped me to the core. My love of music healed me, eventually singing every genre of music with all musician friends and slowly learning who I was. Vocal coaching the next generation of singers began, I have a passion for bringing out the best in people. April 2020 my golden retriever Marleigh passed in my arms of cancer, my rock, my everything who was with me every step of the way throughout my cancer journey. It was because of this experience the only way I could learn to breathe again was by going into the music studio, crying, screaming and eventually laughing writing my feelings and sharing my story with my amazing writing partner Taras (Ukrainian / NewYorker, now based in LA film composer) and Unveiled EP was born. For the first time from singing classical music to learning all the classical crossover repertoire to now sharing my life's journey through music, I can now share my mission of encouraging everyone to live their best life no matter what!
How did your experience with surviving cancer influence your music – both lyrics and sound?
I love this question!! I have connected to amazing music and lyrics my whole life. From the train crash, to cancer to experiencing grief of the loss of my golden retriever this all brought me to a point where I was learning through chapters in my life how to have a bulletproof mindset and have a zest for life no matter what. This urgency of wanting to express my mission of how to encourage people to break their silence, speak their truth, do the things in life that they would like to do, and in Unveiled to live from their heart and be kindled to a bond cinematic orchestral sound, and the vocals are warm on the low end and super powerful in the climax of the various songs on the track.
The music video for Break The Silenceis a true masterpiece. Will you tell us a little bit about the visuals? Did you write the scenario by yourself?
I'm so thrilled that you think so – this warms my heart to read this. So when you think of music videos from artists such as Celine Dion, Il Divo, Jackie Evancho, Sarah Mclaughlin, Adele, they tend to be around the piano and I wanted to do something different to really get the story across the public. So many people I come across are waking up, going to work and just do not like the life they are living, so many talk of projects they want to do, something they wished they could say, places they would love to visit, courses they would like to take, and yet they don't do it – for whatever the reason is. I was introduced to the phenomenal young director Noah Frech(IG @NoahFrech) and cinematographer Antone Axten (www.antoneaxten.com). When I told my story to them from an authentic place – they listened, digested and understood. I explained I didn't want to just be at the piano by myself in the video – I gave them a blank canvas and trusted them 100% and asked them to run with it. Noah Frech and Antone Axten are the future of film, their authentic concepts are sheer genius. Their artistic direction was not only mind-blowing but they were worked from their heart, they were phenomenal to work with and for that I feel truly blessed. They came up with the concept to have someone who works in the corporate world someone who does not like their life, is overshadowed by the powers that be, and cannot speak their truth, they have to turn to the light (my character) to go deep within themselves to realize that they have to break free of that world, break the silence and speak their truth, be themselves authentically to live their life on the path that they are meant to travel as opposed to what society dictates. Break the Silence is being recognized as something a little different for the music scene being picked up for festivals – especially as it has spoken script prior to when the song begins.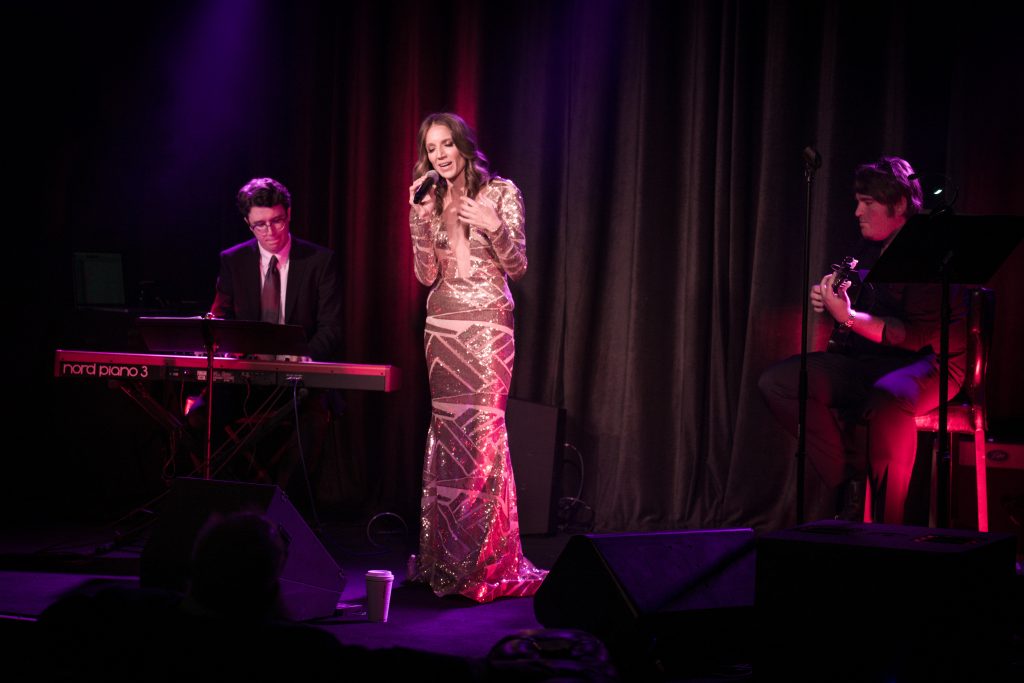 Both Break The Silence, and Unveiled represent your signature sound – a fusion of classical sounds with elements of pop. What is the response from listeners so far on such creative tunes?
Honestly, it has been a dream! To have always recorded and performed other people's music to be vulnerable enough to share my journey, my life, my lyrics with the world was a scary thought, and now it's out and people are loving it. They are understanding the lyrical direction and are understanding the new sound of Bond film cinematic strings, and more pop vocal direction with hints of classical sensibility. Thank you everyone for sharing this exciting journey with me. Thank you from the bottom of my heart. If anyone wishes to DM me on IG @summerwatsonofficial I would be delighted to chat with you! Future singers, or perhaps you're stuck and want to take the risk to do something magical for yourself and can't – I would love to help. You don't have to wait until you have stage 4 breast cancer to realize that life is MAGICAL!
Rumor has it you are working on some new material. What can we expect?
Oooo you got wind of it! Yes, that's right, 3 more singles coming your way as part of the whole EP Unveiled. You can expect orchestral masterpieces from Taras – big sound and big smiles. And then a beautiful love song as we all need a little something to warm our hearts after the year we have all had.
Thank you, Summer!
Are you kidding ?!? Thank YOU for all your support and this wonderful opportunity to share my story and music with all your wonderful readers!