Casino games like blackjack and roulette have been around for centuries. For most of their history, there has been a sense of glitz and glamour associated with heading to a casino and having a flutter on these games. Thinking about a casino can often evoke images of sophisticated characters like James Bond and Danny Ocean.
Today, playing casino games has become a lot more accessible as the internet has brought the ability to bet on slots and card games at home or anywhere else on a computer or smartphone. New features, like a live casino, have made the experience even more realistic, bringing human dealers to online games.
That hasn't taken away the glitz and glam from casino games, though. Major casinos around the world, from the Las Vegas desert to the bustling streets of London are still frequented by famous names.
Here are some of those casino loving celebrities.
Tiger Woods
Best known for his dominance of professional golf, Tiger Woods is tied for the most PGA Tour wins. His success on the course was almost instant, winning the 1997 Masters after just one year of playing professionally.
The excitement of playing golf on the world stage isn't enough for the 44-year-old, though. He is regularly seen playing other sports including soccer and basketball. Woods can also often be found in a casino where he likes to make large bets, where he regularly wagers $25,000 in a single hand. That's only lose change to the golfer though, who is widely considered to be the wealthiest sports star in the world.
Ben Affleck
The American actor famous for starring in Good Will Hunting, Chasing Amy, and Armageddon is another lover of casinos. He started out by playing blackjack and even learned to count cards, and he's been quoted as saying that he got so good "casinos asked him not to play".
Today, he often plays poker instead. He's been spotted taking on other Hollywood actors, including Tobey Maguire and Leonardo DiCaprio. One former poker room owner even described him as a "smart gamer".
Leonardo DiCaprio
It's easy to imagine Leonardo DiCaprio in a casino since we've seen it on screen. He played Brandon Darrow in the 1998 film Celebrity. Darrow is an actor who has a penchant for playing in casinos, trashing hotel rooms.
More recently, he appeared in "The Audition", a 2015 film that also featured Robert De Niro, Brad Pitt and Martin Scorsese. The 16-minute-long movie cost $70 million to create and was reportedly part of a promotional campaign for a casino in Macau.
DiCaprio has even produced a film about online gaming, Runner Runner was released in 2013 and starred Justin Timberlake, Gemma Arterton, Ben Affleck and Anthony Mackie.
In real life, DiCaprio is a big betting fan. As well as regularly taking part in private poker games and appearing in casinos, he reportedly bet Tobey Maguire $500,000 that his role in The Revenant would win an Academy Award. We don't know whether he ever collected his winnings, though.
Floyd Mayweather
Professional boxers are no strangers to casinos. Many of the biggest matches take place inside Las Vegas casinos. Being around casinos so much, it shouldn't come as too much of a surprise that boxers like to have a flutter or two when they're there.
Floyd Mayweather is no exception to this. The former welterweight and light middleweight champion fought for two decades before hanging up his gloves in 2015, though he made a one-off comeback in 2017. Not only did he win 15 major world titles during that time, he retired undefeated.
Mayweather lives in Los Angeles in the $25 million mansion he bought in 2017, but he still makes regular trips over the border to Las Vegas. His Instagram feed is packed with photos of him at various establishments in the city and of him playing card games on his private jet.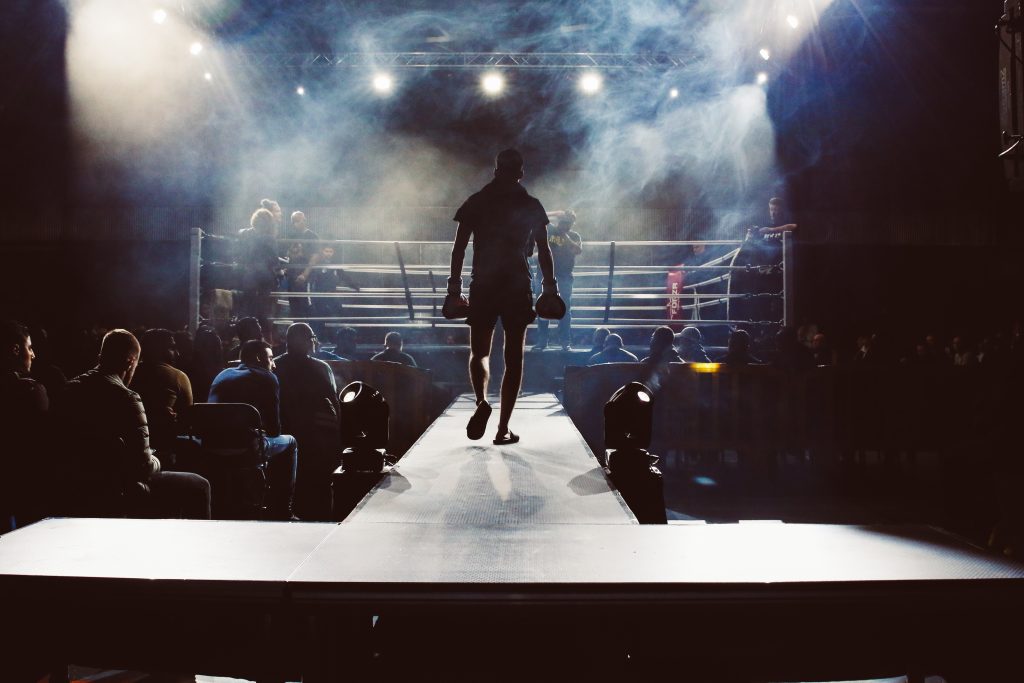 Wayne Rooney
Former Manchester United and Everton player Wayne Rooney is known to enjoy betting and playing casino games. Despite earning hundreds of thousands of dollars each week as a soccer player, Rooney still regularly plays the British National Lottery.
With a net worth of around $170 million, Rooney doesn't need the money, but he still enjoys the fun of playing.
He's also a regular at casinos, including the ones in Manchester, near to wear to former striker lives.
His game of choice is roulette, often choosing red (the colour of his Manchester United shirt) over black.
Rooney's betting doesn't end at casinos either. Along with his former United manager, Sir Alex Ferguson, the striker has invested in race horses, though he doesn't appear to have backed any winners.
Bruce Willis
It seems that many Hollywood actors enjoy a trip to the casino and Bruce Willis is no exception.
The Die Hard star has been spotted at many casinos in the US, including those in Atlantic City and Las Vegas. Willis was even seen on the gaming floor at the MGM Grand on the same night that Floyd Mayweather made his comeback fight against Conor McGregor in 2017. It's not just big casinos either, he was once spotted by a fan playing at the Route 66 Casino, a smaller establishment on the side of the former Route 66 road.
He appears to play a range of games too, having been seen betting big while playing baccarat and craps.