Louis Tomlinson regularly uses his huge platform to help people both publicly and privately. And now a young girl Chloe Balloqui he knows, needs help. She needs life-saving treatment in order to go back into remission after her cancer returned for the third time.
In 2015 he tweeted about a Chloe Balloqui. At the time Chloe was battling cancer neuroblastoma, a very aggressive childhood cancer.
Chloe was originally diagnosed with neuroblastoma at the age of 2. It was stage 4. An extremely high-risk cancer. It had spread through her body. Kidneys, bones, legs, skull and spinal cord were all affected. She had surgery on her kidneys to remove one of the tumours. Then started an intense treatment plan of chemotherapy, radiotherapy and immunotherapy at Great Ormond Street. After 7 months of treatment in July 2014, Chloe was declared cancer free.
Sadly the cancer returned in January 2015. A few days before Chloe and her family were due to travel to Michigan for Chloe to take part in an experimental drug trial that could prevent the cancer from reoccurring. Funds for the trip had been raised through Kids Solving Cancer.
While undergoing treatment for a second time Chloe featured in a documentary, Raining in my Heart which aired in the UK on one of the major TV channels ITV. It followed the stories of 3 young people all of who were at the forefront of cancer research. They were amongst the worlds first to go through experimental treatment at Great Ormond Street Hospital in London.
Louis and his family reached out to Chloe's family after the documentary to see how they could help and a long-lasting friendship was formed. He invited Chloe and her family to a "Cinderella", charity ball that he and his mum had organised in August 2015.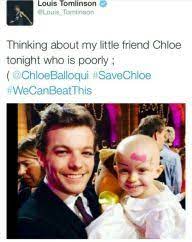 In June 2016, Chloe's family announced that she was once again in remission and that her scans had come back clear, which was news everyone who had followed her journey was happy and relieved to hear.
Sadly in June 2020 after being in remission for over 3 years, Chloe, aged 10 began to feel unwell. A very bad headache that would just not go away. A trip to the hospital found an aggressive tumour behind her left eye. Chloe is now fighting stage 4 Neuroblastoma Cancer for a 3rd time.
Unfortunately, Chloe is now out of options to get her into 3rd remission in the U.K. A trial in Barcelona to target relapsed Neuroblastoma using HU3f8 immunotherapy with a chemotherapy combination is her best chance.
Chloe and her family need help. They have a few weeks to raise £273,000 for the treatment in Barcelona. Should treatment be successful they hope Chloe could access a Vaccine trial that helps keep children in remission. In total they need to fundraise £400,000. They are currently on £183,529.
You can donate to Chloe's fundraising campaign, here. You can also follow her journey on Facebook and Twitter!