We recently caught up with alt-rock band Council, made up of brothers Pat, Andy, and Doug Reeves, to discuss their uphill battle in the music industry, the close relationship they have with their fans, and their plans for the future.
If you could describe yourself for your readers, how would you do it?
PAT: We are a band that writes with a dark optimism and makes anthems that will be stuck in your head long after you heard the song.
Is there a sense of comfort in being in a band with your brothers?
Doug: I think so. We have the same aspirations, which is crucial for a band to stay together.
Andy: It's a comfort if you like to be criticized daily, but I think that's what drives us.
Pat: For sure. I don't think people would deal with the arguing that goes on between us so I'm always grateful that we only have to deal with each other.
Let's talk about your journey in the music industry – you have previously talked about how hard you've had to work individually and together as a band to get to where you are today. What was that like? What helped you stay motivated?
Pat: Yes, for sure it has been an uphill battle. None of us are particularly great on our instruments so I think we have always focused on being great as a group. We are self taught musicians and I think that struggle has kept us hungry to achieve success.
Doug: I think knowing that we had good songs has always kept us motivated. It boils down to the music and I think the longer we went without getting the "industry attention" everyone strives for, the more we wanted to prove people wrong.
We know that you write your own music, which from an outside perspective is very personal yet relatable. But how would you define your sound?
Andy: I think the sound is definitely ambient and open. We like the big drums and try to create a musical landscape where the lyrics and melodies will thrive.
Pat: We aren't scared to go big and want people to go on an emotional journey with the music. We strive for feeling in the music we write and I think some fans describe us as Dark Pop or Pop-Rock etc. and those are good places to begin when describing our sound.
Is there a song that you are particularly proud of?
Doug: I think we would be crazy not to be proud of the success that "Rust to Gold" has had. That was the first song we ever recorded and released and it went on to be used in some amazing events.
Pat: Yeah, I think "Rust to Gold" will always be a song we have in our live set and look back as "the beginning" of our journey. Without that song, I don't know that we would have continued like we have to push our music out to the rest of the world.
Andy: For me I'd say "Rust to Gold" as well. The new songs we just released are amazing in their own light but there is a sentimental attachment to a song that begins your career and introduces our music to so many people around the world.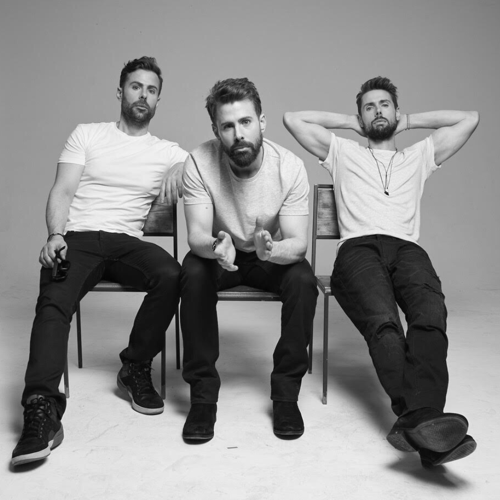 Your music has been featured at so many iconic events, such as the World Cup and the Winter Olympics! What would be your dream event/show to have your music featured?
Pat: I would have to say the Super Bowl for sure. It's so big here in America and really would be surreal to have it used in America's biggest sporting event.
Doug: I agree. It doesn't get bigger than the Super Bowl, so I'd love to see it used during the game or for a commercial.
Andy: These fools are missing the obvious. I'd love to see our music used during the Grammy's as we are walking on stage to knock another goal off our list. I swear these two are short-sighted, haha.
When looking at your social media, it is very apparent that you interact with your fans on a daily basis. How would you describe your relationship with your fans?
Pat: Our fans are like family. We do have daily conversations with them and they are everything to us. I think it's such a great thing to receive their support and it in turn motivates us to deliver great music and content for how great they treat us.
Doug: I think the importance of our fans can't be overstated. They not only give us amazing support but help share the music to people around the world. It's such an amazing thing to see how it's continued to build.
There is something very special about building that close-knit community with your fans. Does it inspire you professionally?
Andy: Of course, without them we are releasing music to no known audience and you feel like your releases just get lost in the black hole of the music industry. Knowing that people read your lyrics and live by certain songs and it helps them through tough situations drives us to write better songs. We want to be the band they come to when they are having problems or need to be uplifted and motivated or just want great music. We should be the constant in their life.
What does it mean when they express their love for your music?
Pat: It honestly still feels surreal. It's hard to grasp people loving something you wrote to get the demons off your own back. I think the fact that we write about our personal experiences, albeit a lot of times disguised in metaphor, resonates with people. It's because the music and lyrics are honest and not just written to sell some songs or get at the top of a playlist.
Andy: I'm always amazed and still have a hard time believing it. We love what we do, but I don't know if we ever actually thought about what it would be like to hear other people tell us they love what we do. It's humbling and it's definitely something that we hold dear.
Do you have any upcoming plans for the rest of 2020?
Doug: We are playing live stream shows scheduled weekly for the foreseeable future. We also have a surprise single release called "Faded Purple White Trash Royal" that comes out October 20th.
Pat: We also have some surprise performances for a couple of high profile events in the months ahead but we aren't allowed to say anything so everyone please stay tuned for that.
Doug: Just breaking hearts and melting faces on the way up to the top.
Thank you so much for your time!
Thank you so much. It was a pleasure!