Internationally known, and universally loved rock band Crowded House have this week announced details of their upcoming 7th studio album, Dreamers Are Waiting – the groups first collection of new material in a decade!
Set for release June 4th 2021 on EMI Records, and featuring the singles Whatever You Want and To The Island, the album looks set to be a triumphant return to form for the legendary band, who first found fame in the 1980's with hits including Don't Dream It's Over, Something So Strong and Distant Sun.
Crowded House – To The Island (Official Music Video)
Feeling inspired and re-energised to get back into the studio with fellow bandmate Nick Seymour to record new music following his surprise star turn and incredibly successful world tour with British-American supergroup Fleetwood Mac, lead singer Neil Finn admits he's excited to begin a new chapter in the Crowded House story.
"We were fortunate to be recording in the studio right before lockdown and so began this album with band tracks recorded live in a room, all brimming with character and energy." Neil says of the albums origins. "We then spent our strangest year, 2020, at distance from each other but connecting daily, swapping files and making those tracks complete. We're so excited and grateful to be back in one room together now, rehearsing, first to play live in front of audiences in NZ and soon we hope for the rest of the world."
---
To The Island Tour 2021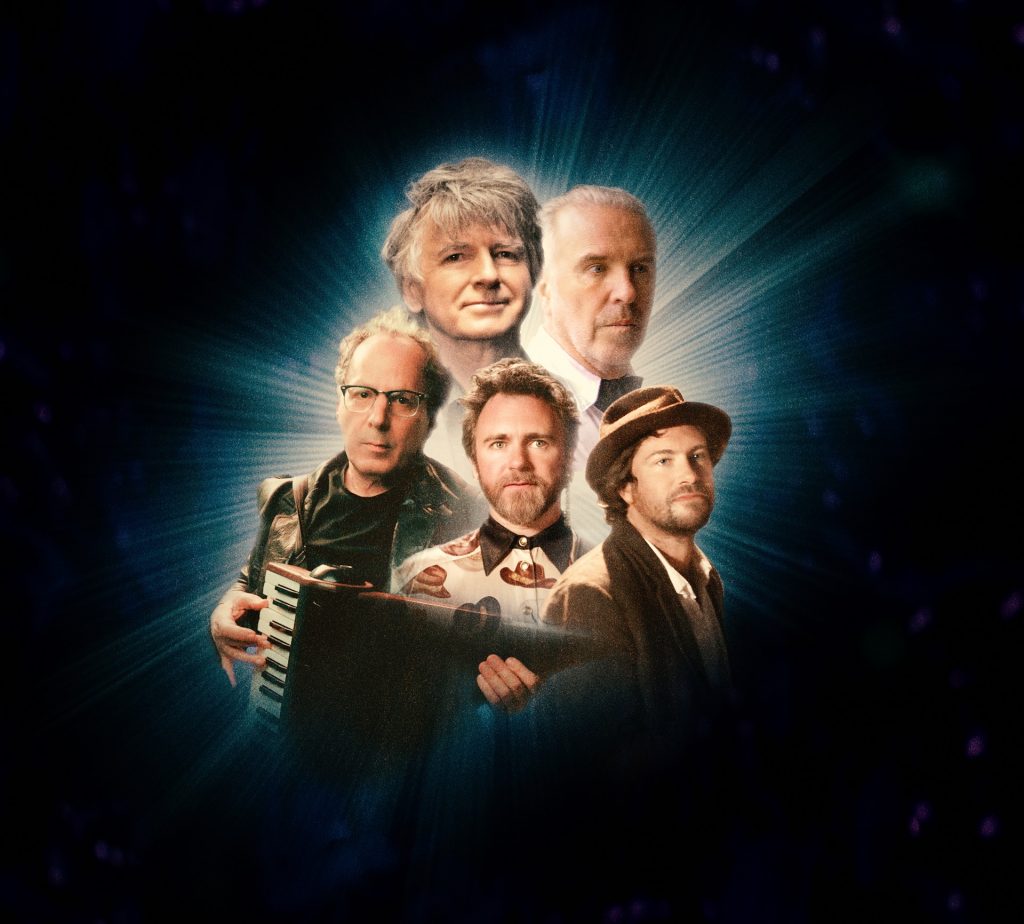 In celebration of the albums release the band, including founding members Neil Finn and Nick Seymour along with producer and keyboardist Mitchell Froom, guitarist and singer Liam Finn and drummer Elroy Finn, are set to play a string of live dates in New Zealand next month, promising fans both old and new, an electrifying night of incredible music as the perform all of their iconic hits alongside tracks from the new album.
CROWDED HOUSE: TO THE ISLAND – NEW ZEALAND 2021
THURSDAY, MARCH 4th: HAMILTON – CLAUDELANDS ARENA         
SATURDAY, MARCH 6th: NAPIER – CHURCH ROAD WINERY   
MONDAY, MARCH 8th: NELSON – TRAFALGAR CENTRE            
WEDNESDAY, MARCH 10th: CHRISTCHURCH – CHRISTCHURCH ARENA       
THURSDAY, MARCH 11th: DUNEDIN – TOWN HALL                           
SATURDAY, MARCH 13th: QUEENSTOWN – GIBBSTON VALLEY               
MONDAY, MARCH 15th: WELLINGTON – TSB BANK ARENA                 
WEDNESDAY, MARCH 17th: PALMERSTON NORTH – REGENT THEATRE                
FRIDAY, MARCH 19th: AUCKLAND – SPARK ARENA                       
SATURDAY, MARCH 20th: NEW PLYMOUTH – BOWL OF BROOKLANDS     
Crowded House – Whatever You Want (Official Video)
Dreamers Are Waiting is set to be released June 4th, 2021.
---
Let us know your thoughts on Crowded House & their return to music over on Twitter @CelebMix now.