After Ed Sheeran and James Corden were spotted filming together back in February, it feels like we've been waiting forever and a day for their Carpool Karaoke to air on TV. However, last night the wait was finally over as the highly anticipated clip aired on The Late Late Show, which is coming from London all this week.
As expected, we've been blessed with pure brilliance – in fact over 13 minutes of it! Whilst we could ramble on about the entire segment for the rest of our lives, we've decided to narrow it down and share with you our five best bits from Ed Sheeran's Carpool Karaoke
1. James nails the rap in 'Sing'
During every Carpool Karaoke, there's at least once occasion where James impresses his companion. One of the highlights for us is when Ed and James perform 'Sing', with Ed waiting to see if James has rehearsed the rap or not. Of course, James completely nailed it, wowing Ed (and us) with his flawless rapping skills.
2. Ed fits 55 Maltesers in his mouth
Rumour has it, Ed Sheeran is a big Maltesers fan and can fit 47 of them in his mouth. James took it upon himself to challenge Ed to see who could squeeze in the most. James failed after 26 whilst Ed managed to stuff a staggering 55 malt-balls of goodness into his mouth – impressive stuff.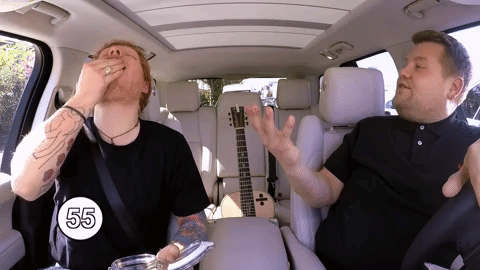 3. Ed gets his guitar out
It wouldn't be an Ed Sheeran Carpool Karaoke without a bit of guitar playing from Ed. He brings out his trusted guitar to perform a few songs and revealed that he was nervous about doing the Carpool but felt instantly more comfortable with his guitar in hand.
An @edsheeran concert in a car? Sure. Yes. All about this. #CarpoolKaraoke #LateLateLondon pic.twitter.com/1uROm23jer

— The Late Late Show with James Corden (@latelateshow) June 7, 2017
4. Dive bars with Justin Bieber
During a chat with James about enjoying 'dive bars and skanky pubs', Ed revealed that he once took Justin Bieber to a dive bar in Tokyo. With no security, they had a wild night and ended up on a golf course in which Justin put a golf ball in his mouth and asked Ed to hit it out with a club. You can tell where this story is heading…Ed happily obliged but ended up whacking Biebs in the face!
5. 'Castle on the Hill' gets reworked
After singing their hearts out to 'Castle on the Hill' but getting stuck in traffic, Ed and James gave the song a little remix. Everybody now…"I'm on my way, stuck in some traffic in downtown LA…"
You can also expect to see some sexy 'Shape of You' moves, covers of 'Love Yourself' and 'What Makes You Beautiful', as well as Ed talking about his mobile phone-free life.
Ready to watch Ed's Carpool Karaoke in all its glory? Check it out below.
Did you love Ed Sheeran's Carpool Karaoke as much as we did? Let us know on Twitter @CelebMix