Steps are back with a brand new single What The Future Holds, an album and a tour. It's been a few years since they triumphantly reformed and released Tears on The Dance Floor, which danced it's way to the top of the charts. Something no-one expected least of all band members Claire Richards, Faye Tozer, Ian "H" Watkins, Lee Latchford Evans and Lisa Scott Lee.
"We feel really grateful. It's kind of unbelievable we are still going twenty-three years later". Faye tells us as we catch up with her for a chat about the new album, single and the bands UK arena tour which is scheduled for November/December next year. "It feels absolutely brilliant and we feel really lucky."
Steps were due to release and begin promoting the album and single earlier this year. But like many things this year, the plans had to be put on hold as the world went in to lockdown because of covid-19.
"We were supposed to start talking about the album last March, the week before lockdown."This our first day back at work. So we haven't really seen each other's faces since last October. So it was quite emotional with everything that's been going on outside. It was really emotional. It was lovely."
The bands new single What The Future Holds which is also the albums title track, premiered on Zoe Ball's Breakfast show on BBC Radio 2, it flew straight to number 1 on the UK iTunes chart.
The track was written by Sia, which is something Faye and the band are thrilled about. It's a track that will get you up dancing around the living room.
The album it's named after, What The Future Holds, is slightly different from their last. "[Tears on The Dancefloor] was about getting people back dancing with the Steps. This is one a bit different it's got more sing-along songs." Faye says when we ask her how this album differs from the last. "And I think it's got a bit more personality and it's a lot more varied in style. Which is really nice for us and kind of appropriate for the times we are at the moment. As obviously we are not supposed to be jumping up on to the dance floor together quite yet!"
There is even a slow song. Something the band haven't really had on an album since they reformed. We even have a "slow-y", we haven't had a good slow-y on an album in a while." she laughs.
"There are some really great songs." Faye tells us, " We all don't really individually write for Steps, we did years ago but we think there are so many incredible writers out there, we get offered some amazing songs. For us, it's how we get the best album. We've got the choice of some incredible producers. And so we get songs sent to us. We sit around a table and we take months and months to try and pick and choose the ones we all like."
"Sometimes it can be an interesting and political process." she laughs." Because sometimes some like a song better than others, then we try and find crowd-pleasers, so yeah it can be quite interesting. But when it comes to the recording that's the really fun bit. Everyone spends hours in the studio and it's really exciting to hear the songs coming to life and it gets that Steps sound. All our harmonies together…. So it takes us about two years to do the whole process and really get an album and the whole project together."
Along with the single and album, Steps have announced a UK arena tour for late 2021. Something that logistically getting all five members, who have families and businesses to take care of is no easy feat. The band also have to factor in Lisa being able to fly in from Dubai where she is based with her family. But it's a commitment they all love to make.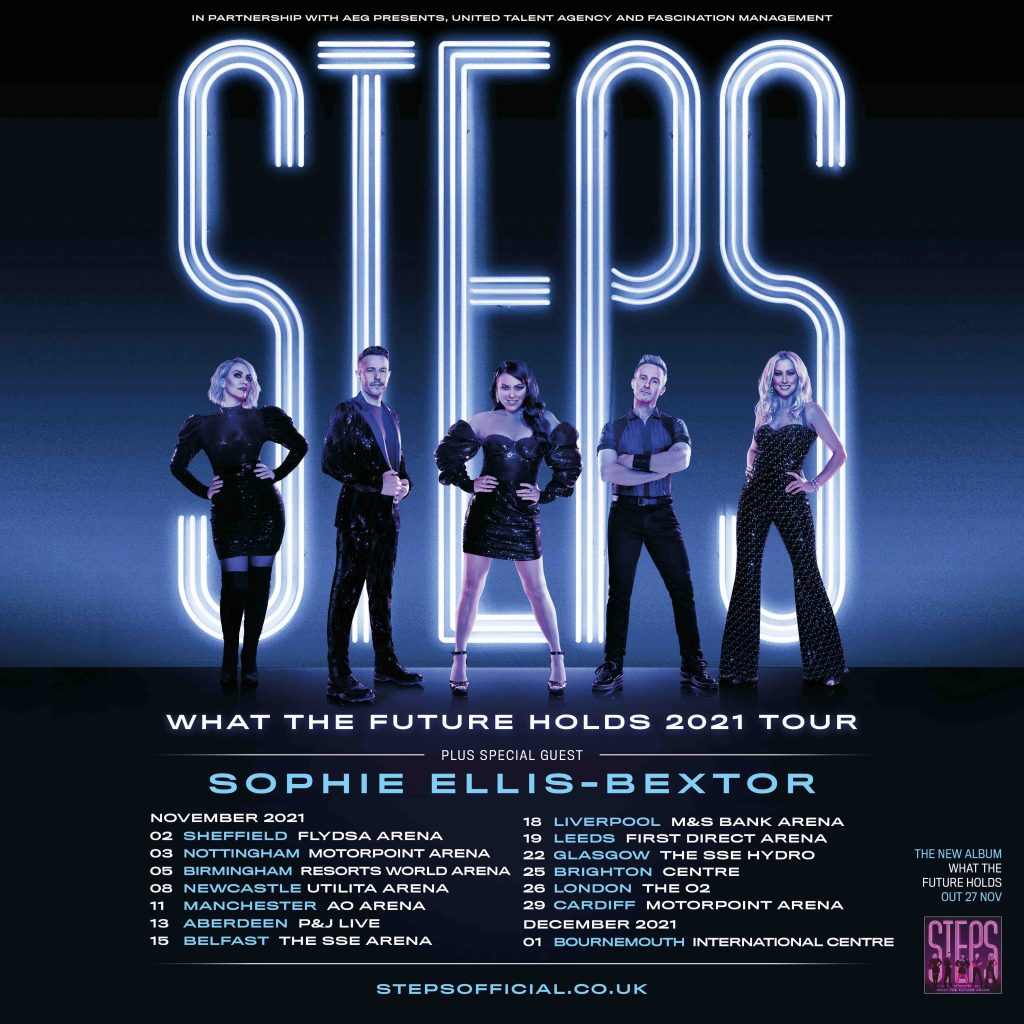 "It takes so much organising. It really does. It's crazy. We all have to decide what time is going to work for us. We have to fly Lisa over from Dubai, H from Wales and I'm in the North East. And we have to organise our children, our businesses around it. But we do it. And when know we have Steps moment coming up, we all kind of down tools and just focus on that alone. It gets really exciting as you can feel the buzz from the fans."
Steps are a band that loves to tour and have always been known not just for the catchy pop tunes they release, but the fantastic tours they do. And this upcoming tour is one that new and old fans alike will enjoy going to.
"We've had a few meetings about the tour already just to get it all booked up. But now is a really exciting time where get to buckle down and start talking about setlists and costumes. We work with our stylist Frank Strachan who we love and trust. He just gets us and our style. We always think it's important to give the audience what they want. We try not to be too selfish about the whole thing because we know we've got hardcore fans from right at the beginning. So we obviously want to do everyone's favourites songs but we also need to get a balance of changing it up and giving people something fresh to look at."
Tickets for the tour go on sale on 18th September at 10am, but if you pre-order the new album you can get access to pre-sale on 15th September.
The Album will be released 27th November. You can preorder here.
Are you excited for Steps new album and tour? Let us know @CelebMix!