US indie band Bright Light Social Hour are set to make waves with their catchy new single "Enough", which fuses the indie rock sound with synthpop vibes.
The band – consisting of Jackie O'Brien, Curtis Roush, Edward Braillif and Zac Catanzaro –  are gearing up to release their upcoming album, "Jude Vol. II", which was recorded following the suicide of their manager, who had been struggling with bipolar disorder.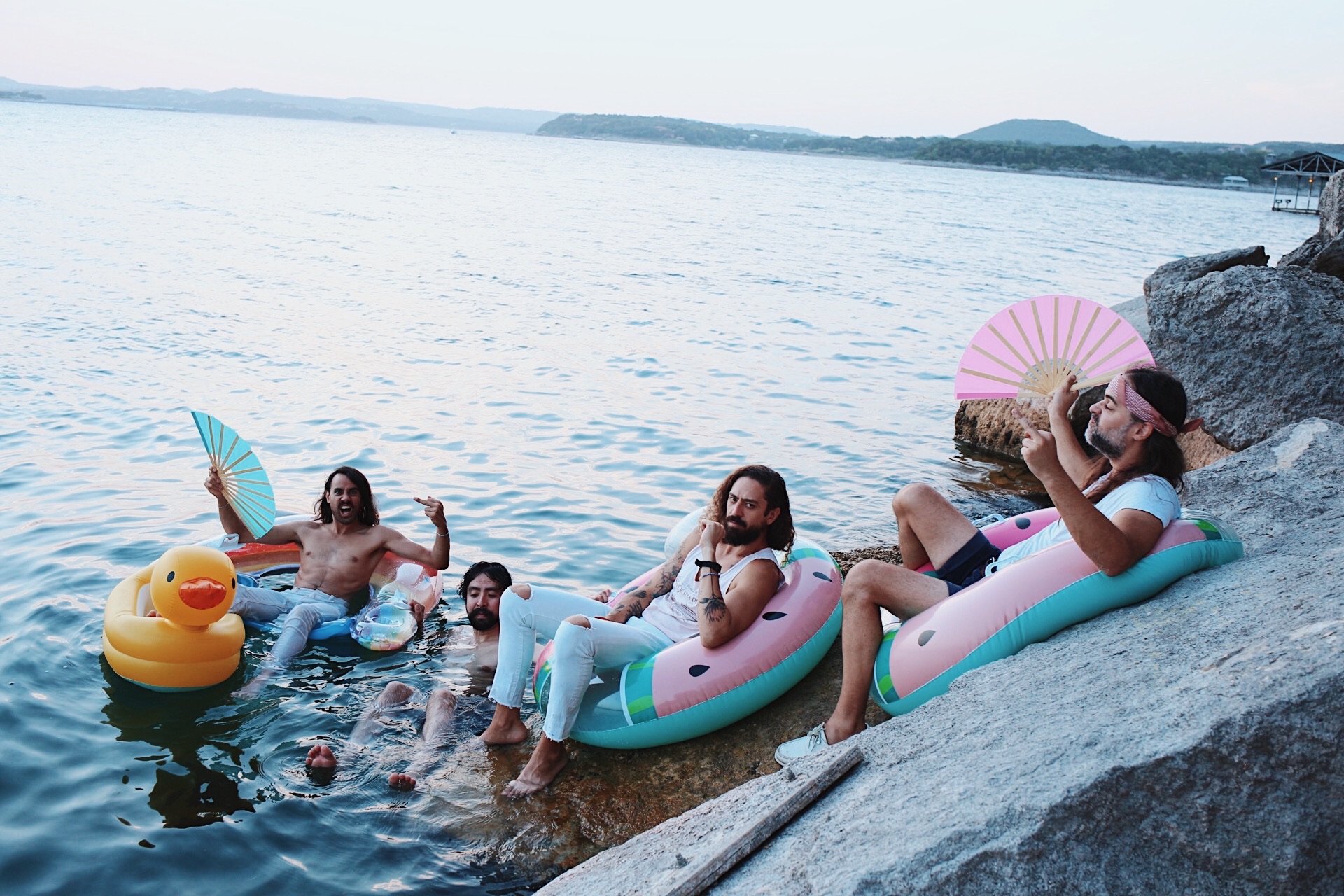 Here at CelebMix, we got to talk a bit more to Bright Light Social Hour about the new single, the upcoming album and the impact the loss of their manager has had on their music. The band's lead vocalist and bassist, Jackie O'Brien, will be providing the answers.
Please note the below interview may contain content some readers may find upsetting.
We can't stop listening to the new single, "Enough"… what inspired the composition behind it?
"Curtis and I were talking about how, as men, we're conditioned to fear commitment and vulnerability. We feel overwhelming love but enter relationships tepidly, asking 'could you be enough for me?' when we should be asking 'could I be enough for me?'"
What is the song lyrically about?
"It's a celebration of love and vulnerability as an act of resistance against toxic masculinity, that you can change the world by feeling your own f*****g feelings and loving with your entire being."
Is "Enough" any indication of what the rest of the album is going to sound like?
"Yes and no. To me, 'Jude Vol. II' is a celebration of the profound joy on the other side of terrible loss, and this song is the pinnacle of that joy. Most of the record was cut in Hollywood with producer Chris Coady and the full band, but as we were between drummers and our keyboardist/guitarist Shreddward was touring as a tech for the B-52's, Curtis and I played everything and recorded it ourselves at our home studio Escondido Sound, so it's a bit more raw than the rest."
Your manager tragically took his own life while you were recording your album. How did you deal with his loss?
"Yes. Alex. He was my younger brother as well. He'd come down with a sudden and severe onset of bipolar 1 with psychotic features. He was the most hilarious and brilliant soul you ever met, so it was absolutely heart wrenching to swing with him from manic, paranoid delusion to depression so severe he could dream only of death as relief. It's f****d up to say but he had this almost serene peace with death. He believed at 28 he'd lived a rich and full life and it was just his time.
"When he finally did it (I discovered him immediately after shooting himself on the shore of the lake outside our studio) it wasn't a scary mess like in the movies. He was like a sleeping child in my arms, like the Pietà, and I don't know if it was God or shock but I swear the sky above opened up and I felt the sublime, ecstatic peace of his passing to a higher plane. I understood that all our suffering is not in vain, that life and death are two sides of beautiful, that God and Love are one and the same and that's the only thing that matters in this whole damn universe.
"Of course, his illness and death were massive traumas and I think we've all suffered symptoms of PTSD – anxiety, violent nightmares, searing depression, recklessness in our relationships, addictive tendencies. We've done a lot of personal and group therapy. I highly recommend EMDR therapy to anyone struggling with PTSD or anxiety. I'm so grateful for therapy and all the healing, growth and peace it's brought into our lives."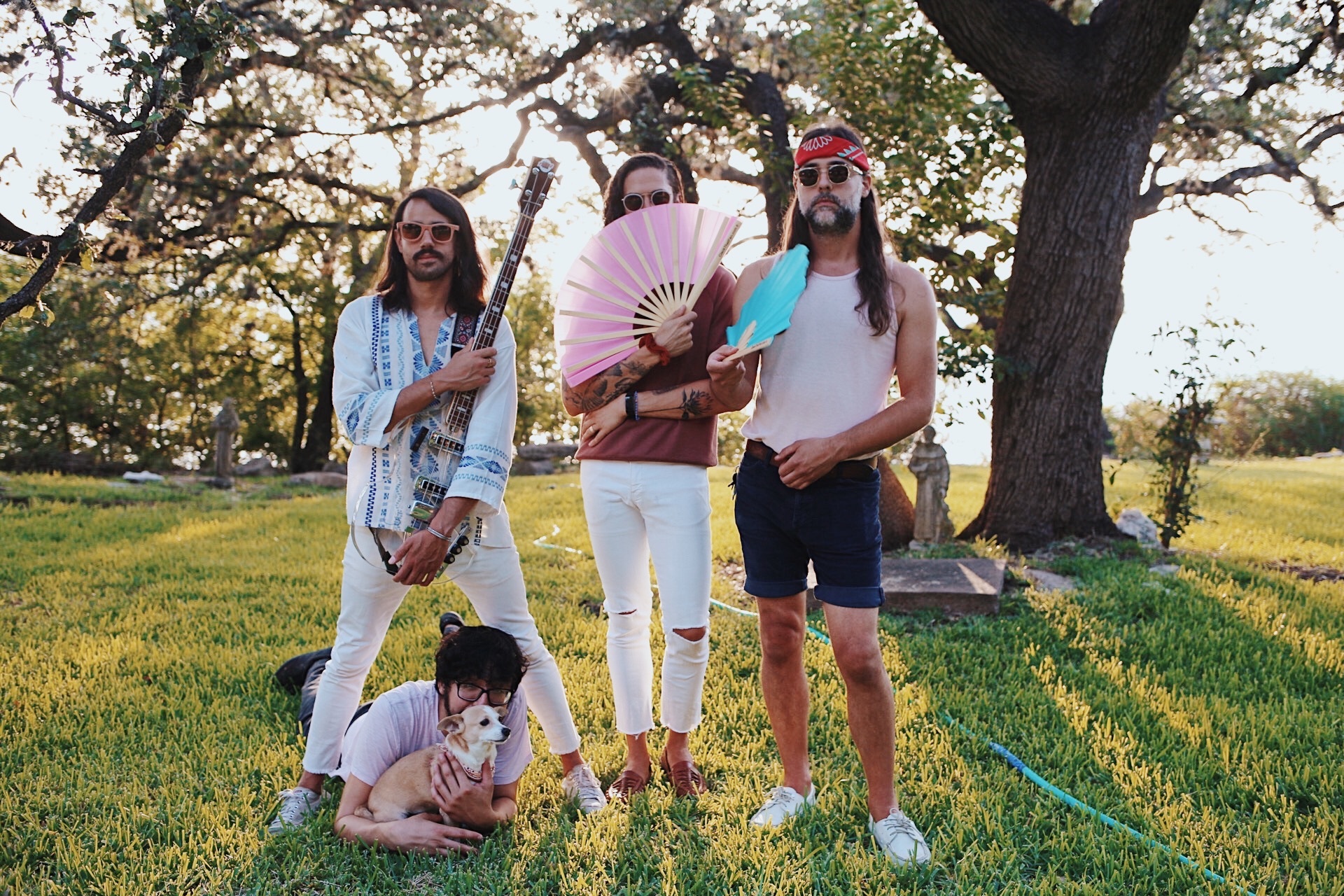 Has the loss of your manager made an impact on the music you have recorded for the album?
"Absolutely. Jude was his middle name and both Vol. I and Vol. II are dedicated to him. While Vol. I dealt with the confusion and devastation of his struggle and departure, Vol. II is about stripping off our masks and loving our beautiful flawed selves, celebrating the ecstatic joy that is living, and the profound gratitude for life and lucidity that comes from helplessly watching a brother succumb to depression."
Did you find it hard to record any of the songs following his death?
"Sometimes. There's one song, 'Aegean Mirror', that's sort of an ad-lib track recorded on my iPhone about me failing to notice early signs of his condition. You can hear me fighting to sing through tears, but we ended up going with that first take because it's real af."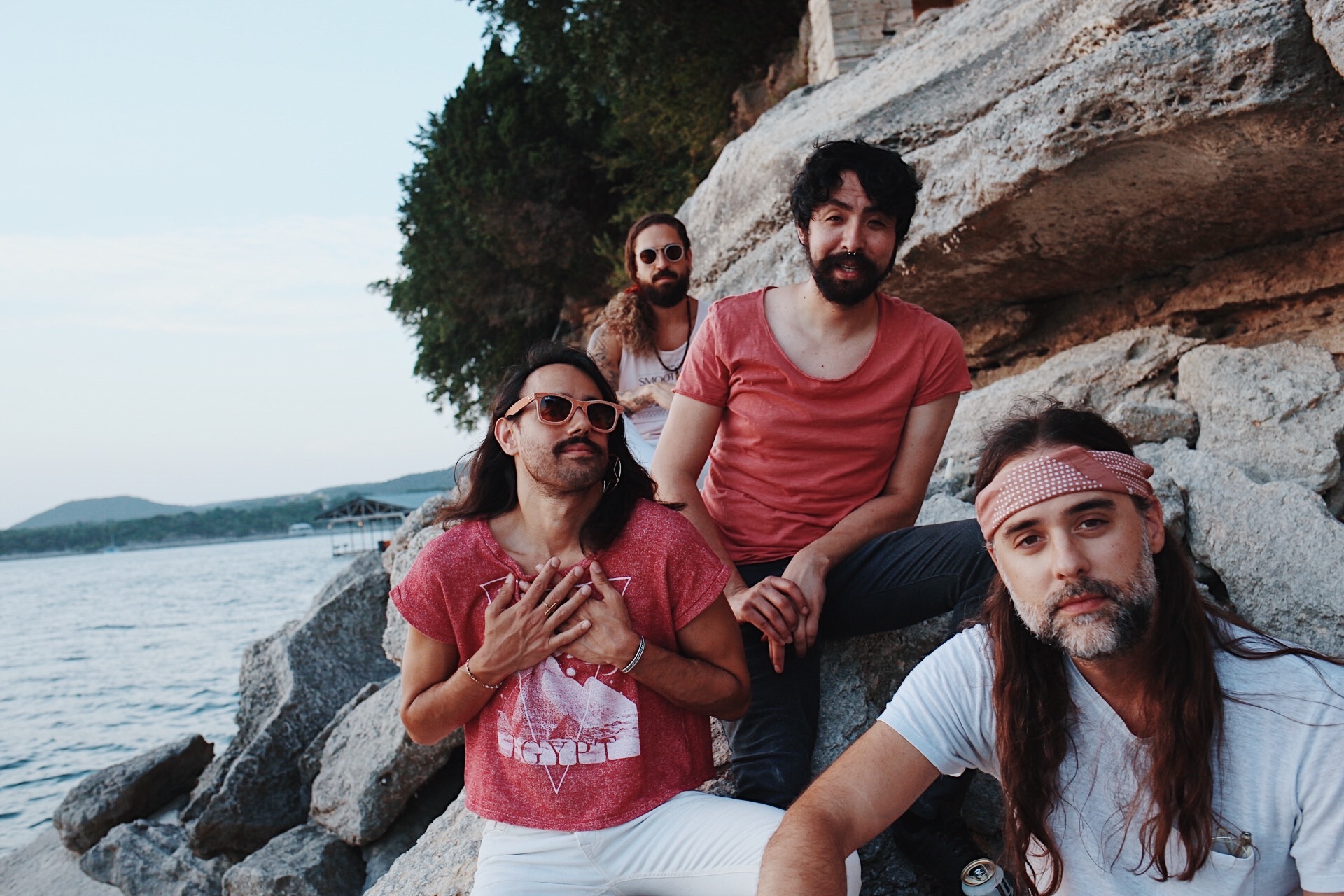 How important do you think it is to discuss mental health in music?
"Extremely. We're all so needlessly isolated because of the taboo of talking openly about it. We're all a little crazy and we all suffer deeply, what's so taboo about that? If you talk to anyone about your own mental health struggles, be proud because you're working toward ending the stigma, and it needs to end immediately."
Can you give us a hint about any particular songs on the record you're really excited about?
"There's a track from our 2015 record called 'Ouroboros' that we "covered" for the new record. It's completely different. The lyrics were originally about the economic hardships of our young brothers and sisters in the American South, but after our experience with Alex, the lyrics took on a much deeper message of love and solidarity for those dealing with mental health issues. The original was slow and angry while the new version is major key, bombastic with compassion and bittersweet joy. I'm stoked on all the songs. We put massive love into building them all."
What artists have inspired the composition of the tracks on the album?
"Oh man so many, and we all brought so many different influences to the table so you'd get totally different answers from each of us. Off the top of my head I'd say Can, War, Charlotte Gainsbourg, Elvin Jones, Slowdive…"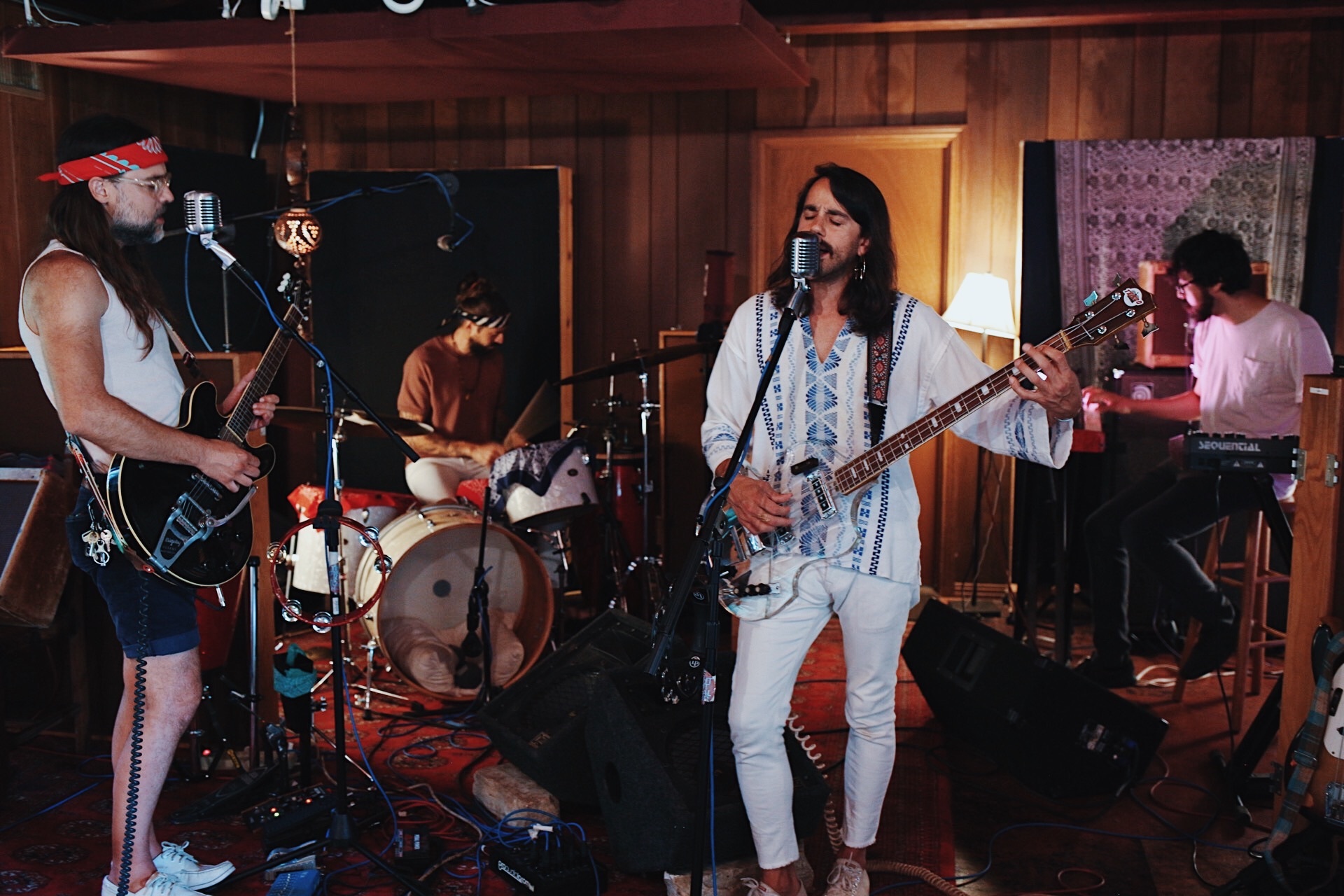 Do you want to tour for the album once it is safe enough to do so?
"We don't have to but we sure as f*** can't wait to. We will of course always put our fans' safety first and wait until it's totally safe to assemble in public. Things have gotten really f****d here in Texas. We've got a livestream show happening July 30 from The Oven, a dope venue in Austin, that you can watch from anywhere in the world except The Oven."
Do you have anything to say to those who are suffering from mental health issues?
"You may feel alone, but we are all alone together. Love yourself, love your struggle and don't be afraid to seek help. Don't buy into the egoist bulls*** that your suffering is essential to your being. Your struggle makes you you, but your art, your love, your life will not evolve unless you do."
Finally, do you have anything to say to your fans?
"Love yourself, wear a mask, kill fascists (vote)."
We also want to take the time to thank the Bright Light Social Hour members for talking to us!
If you have been affected by anything in this interview, please contact the Samaritans by calling 116 123 or emailing jo@samaritans.org – and please remember you are not alone.
"Enough" is out now, and you can listen to it and watch the official music video below:
The upcoming album from Bright Light Social Hour, "Jude Vol. II", is available to preorder now, and will be released on 28 August!
You can also follow the band across social media:
Official website | Twitter | Facebook | Instagram | YouTube | SoundCloud
Let us know your thoughts on the song over on Twitter @CelebMix!