Going viral with the release of their debut album, are ChopLife SoundSystem with their awesome Afrobeats collection of tracks, titled "Chop Life, Vol. 1: Mzansi Chronicles". They've made waves around the globe with their incredible singles, and we're excited that we get the opportunity to exclusively interview the duo.
ChopLife SoundSystem is an exhilarating pan-African music project spearheaded by the renowned Nigerian music icon, Mr Eazi, and the seasoned UK-based selector, DJ Edu. With the release of their debut album "Chop Life, Vol. 1: Mzansi Chronicles" which dropped at the end of May, ChopLife SoundSystem delve into the vibrant realm of South African dance music, paying homage to its diverse genres such as deep house, amapiano, tribal, and big room. Collaborating with esteemed artists including amapiano president Focalistic, Limpopo rap sensation Sho Madjozi, and the legendary Major League DJz, among others, the album showcases the dynamic fusion of Mr Eazi's captivating vocals and DJ Edu's expert selection skills. Inspired by the concept of "ChopLife," a West African pidgin term for embracing enjoyment and a carefree attitude, ChopLife SoundSystem infuses African cultural influences into their projects and events, promoting positivity, happiness, and wellness through the power of music. Led by the charismatic MC Mr Eazi and joined by the acclaimed DJ Edu, ChopLife SoundSystem is at the forefront of Africa's music scene, bringing a refreshing African twist to sound system traditions and celebrating the rich tapestry of African genres like Amapiano and Afrobeats.
In promotion of their debut album, we had the honour of interviewing the duo about all things ChopLife SoundSystem, and what the release of this project means to them. Find out all their thoughts on "Chop Life, Vol. 1: Mzansi Chronicles", what it was like to work with a variety of artists, and what else we can expect from ChopLife SoundSystem.
Hi there, Mr Eazi and DJ Edu, we hope you are doing well today. First things first, how did you two meet and end up creating the project ChopLife SoundSystem?
EDU: Me and Eazi met online through his music and when he came to London we really connected. We've been friends ever since. I leaked one of his biggest records, "Leg Over" so since then, we've been friends, he sends me music and we go back and forth. We've been doing parties together as well and we were like why don't we turn this into something real you know? So thats where ChopLife SoundSystem came about, my experience with Mr Eazi and rocking parties is where it all came from.
Where does the project's name come from?
EAZI: The name of the project is "Mzansi Chronicles", Mzansi stands for the music that comes from South Africa, the vibe and energy from South Africa and because this album was created and birthed in South Africa we decided to call it that.
You've just released ChopLife SoundSystem's debut album, "Chop Life, Vol. 1: Mzansi Chronicles", can you tell us more about the album?
EDU: The album has features from so many talented artists and our aim with the album was to share happiness, freedom and enjoyment through music. That was the whole process behind making the songs and I hope you can hear that when you listen to the album.
We have to ask, the title itself suggests there's going to be a Vol. 2… What are your plans in regard to a second studio album?
EDU: There is definitely going to be a Vol. 2, in fact, it's interesting because some of the artists that have seen us come up with this project have hit us up and want to send us songs for Vol. 2 but we are going to try and take the ChopLife SoundSystem across Africa and try and feed into that.
You collaborate with a whole host of artists on the new album. Can you tell us what it was like to work with the different artists?
EAZI: It was fun, and that's what chopping life with the ChopLife SoundSystem is. It was fun and when you're creating music in a space where you are free and just being allowed to express yourself and bringing artists to share that energy with, that's what the project was all about, it was so much fun to work with these artists and to work without limitations, hang out, eat, play PlayStation, do normal things but record as well.
It was recorded over the past 12 months between Cape Town and Johannesburg. What was it like to record the album? And what is your recording process like?
EAZI: Recording the album in South Africa was a great experience, having various talented artists come over to the house, chilling, eating great food, sipping the best wine and making music. Having fun and being yourself was the emphasis when recording the tracks and I think that's the sort of energy that you will get when listening to the album.
Did you feel pressure to continue to have successful releases?
EAZI: As an artist, there is always pressure because you are sharing a body of work for people to judge you on, but the beauty of the ChopLife SoundSystem project is the freedom of expression and just enjoying yourself. We weren't looking for fame, we were looking for people to have fun and enjoy the music.
How are you feeling about the release of "Chop Life Vol. 1: Mzansi Chronicles"? Are you feeling the same sort of pressure?
EDU: Every time you put something out to the world, obviously you want it to do well. Personally, there isn't any pressure on my behalf, the pressure is mostly the things you have to do around releases, making sure the marketing is in order and all these other things but as far as the body of work is concerned, we've been pretty pleased with the response so far, you know? We got to work with so many artists, the reception in the African continent has been amazing and people outside of the continent as well, you know, hence the many places we are going to have the ChopLife parties so, it's a testament to what you just having fun and being yourself and sharing that energy with others can bring.
How do you overcome those sorts of feelings? Is there anything that you do to help calm any nerves you have?
EDU: I think it's important to remember as an artist, you're always going to face difficulties and stressful situations but as long as you stay focused and have gratitude for what you have achieved, you'll get through the stressful situations.
The release of this album really showcases that you're at the forefront of Afrobeats with, you, Mr Eazi continually releasing chart hits and making your name known – hitting 4 billion global streams is a huge achievement – and then, you, DJ Edu are internationally known for championing all things African music with your radio show "Destination Africa" on BBC Radio 1 Xtra becoming the longest-running programme on the network. What's next for you two and ChopLife SoundSystem?
EDU: We're heading out on tour soon with the ChopLife SoundSystem, touring across the globe, hoping to bring the fun and energy to the fans on stage. We're also working on new music too, not only as a group for Vol..2 but as individual artists, so that's what we're up to right now.
With Afrobeats going global, hitting the charts, turning towards the mainstream, and influencing the world, what do you hope Afrobeats will go on to achieve?
EDU: I think it's scratching the surface now, I think we've only just begun but I hope artists can be able to live off their music and be able to protect their artistry, feed their families you know, grow communities and share the positive vibes that the music has brought, the unity that is has brought not only to Africa but to the world looking on Africa in different ways because before Afrobeats was travelling, all people had were stereotypes but now the energy and synergy of the music going across the world is telling different stories, real stories from the ambassadors who are bringing the sound from the motherland to the world.
Finally, do you have any words for your fans? Any advice for anyone who is a rising Afrobeats artist?
EAZI: I would like to appreciate everyone because it's not just the artists and the fans, there's a lot of people who are forgotten about, the bloggers, the photographers, choreographers, dancers, you know, OAPs at radio stations, even the fans because they're the ones putting up challenges and reposting stuff, so it's a whole ecosystem of people who need to be appreciated for this music getting to where it is and it's important to do that. If I haven't mentioned anyone, I see you still.
EDU: If you're up and coming, I hope ChopLife shows you that you can be yourself and put out music that you like and love, don't let there be any barriers because you need to come into the musical landscape as unique as you can be so you can be memorable, go out and do you and if ChopLife ever gives you a call, drop a verse and let's go.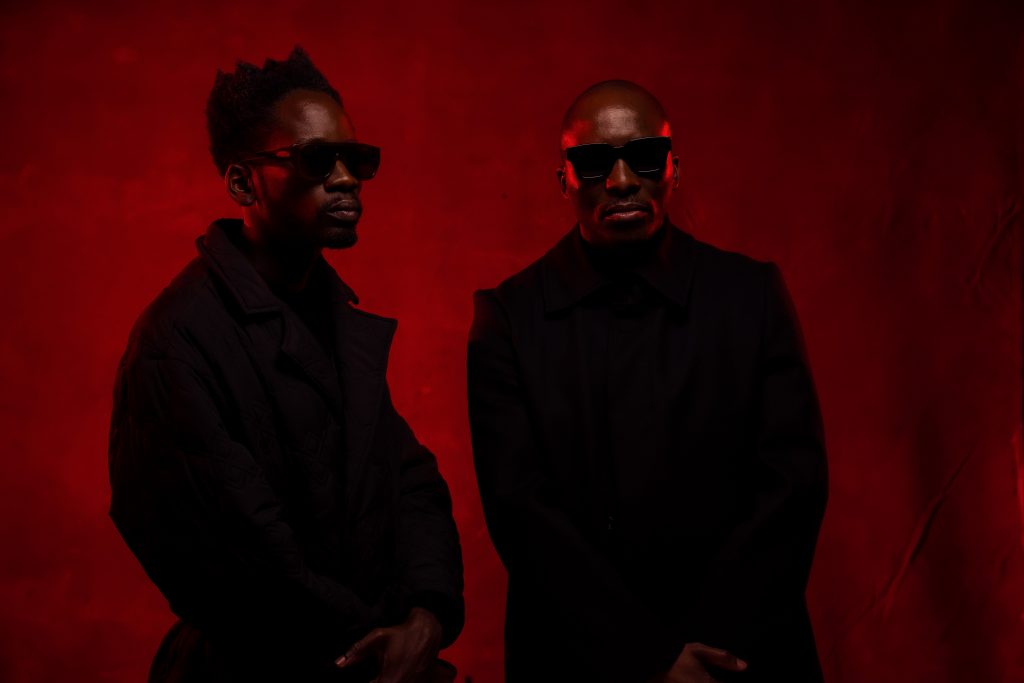 Thank you, ChopLife SoundSystem, for taking the time out to answer our questions. Congratulations on the release of your debut album, "Chop Life, Vol. 1: Mzansi Chronicles", we'll sure be listening to all 14 tracks and we look forward to that confirmed Vol. 2.
"Chop Life, Vol. 1: Mzansi Chronicles", by ChopLife SoundSystem, is available to download and stream, right now, across all platforms, via Choplife Limited Under Exclusive License to emPawa Africa Limited.
If you haven't checked out any of their releases, just yet, then you're clearly missing out as the duo has effortlessly conveyed the fun energy that they've promised. Check out their most-popular songs on Spotify below.
Let us know all your thoughts on our exclusive interview with ChopLife SoundSystem about their debut studio album, "Chop Life, Vol. 1: Mzansi Chronicles" on Twitter @CelebMix.