At just 19 years old, multi-talented singer-songwriter Jasmine Thompson has already made huge waves in the music industry.
Signing to Atlantic Records at the age of 13, the London-based artist first rose to fame on YouTube, after captivating music lovers all over the world with her ethereal vocals, spine-tingling covers and heartfelt originals. To date, she has amassed over 630 million views and 3.5 million subscribers, with the count rising on a daily basis.
Since then, Jasmine has gone on to release impressive EPs including Adore, Wonderland, and Colour, which perfectly showcase her songwriting prowess, and her ability to deliver poignant and emotive songs. She's also ventured into the world of dance music by lending her vocals to some of the biggest EDM hits from the past few years. One of her biggest breakthrough moments came in 2014, when she appeared on German deep house producer Robin Schulz's song 'Sun Goes Down'. The track charted in the top 10 in multiple countries, gaining a slew of international gold and platinum certifications.
However, Jasmine might be best known for her sensational cover of 'Ain't Nobody (Loves Me Better)'. Initially released as an acoustic cover, the track was later remixed by German DJ Felix Jaehn and took on a life of its own. Not only has the track been certified gold and platinum in numerous countries, but it's also garnered more than one billion global streams.
Fast forward to 2020, and following the release of her latest solo track 'Love For The Lonely', Jasmine is back with a stunning new collaboration – this time teaming up with EDM powerhouse Zedd for the potential song of the summer, 'Funny'. The combination of relatable lyrics, Jasmine's stirring vocals and Zedd's detailed and bouncy production is utterly irresistible to the ear, and we have no doubt that 'Funny' will be dominating the airwaves over the coming months and beyond.
We recently caught up with Jasmine Thompson on Zoom to find out all about 'Funny', being creative during lockdown, hearing her music on TV, and much more.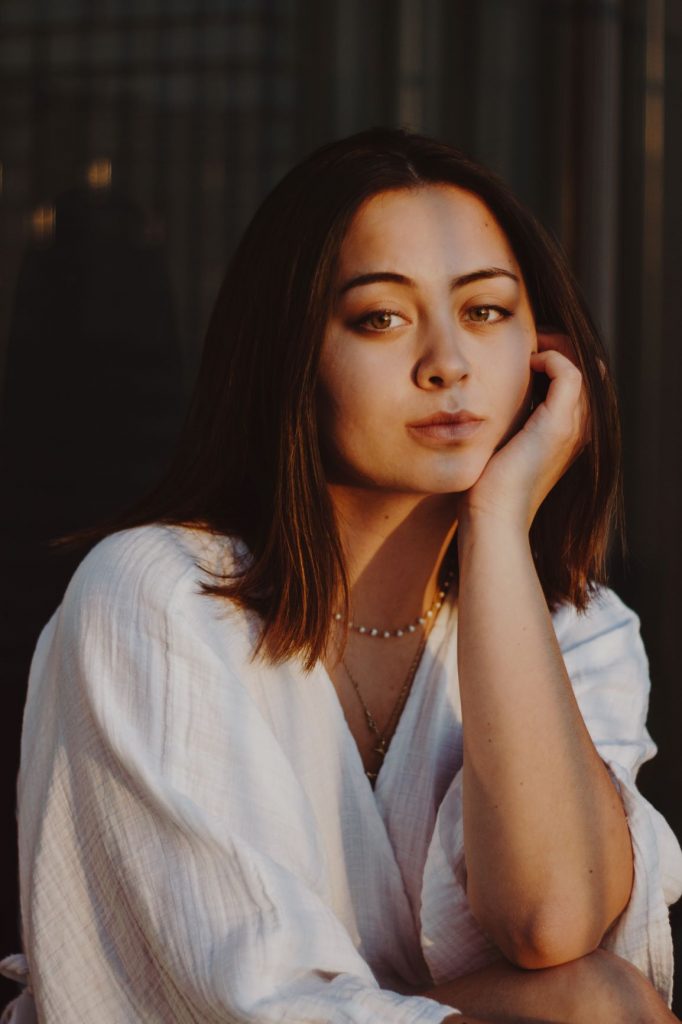 Congratulations on the release of your new single 'Funny' with Zedd! What's the response to it been like so far?
Thank you, it's been absolutely incredible! The song just came out yesterday and so did the music video. I just checked online and the music video's reached over 100,000 views already [at the time of writing, the video has since amassed over 450,000 views]. We kept it quite secret for a while and had quite a short release build up but it's been so positive already. I'm really happy and I woke up with a huge smile on my face.
'Funny' is about an ex who is trying to worm their way back in after a relationship has finished. Correct me if I'm wrong but I read that you were originally working on the track with The Monsters & Strangerz before Zedd came on board. What was your original vision for the track?
Originally it was supposed to be a piano ballad type track, a bit more towards what I usually lean to musically. We were writing the song and to be honest it felt a little bit melancholy because it is about a sad situation where your ex is trying to come back into your life and you kind of want those memories to be closed off. I was in the studio with The Monsters & Strangerz and then I actually went back to London. The Monsters & Strangerz have been working with Zedd for a while and are really good friends with him, and without telling me they sent the song to Zedd and he wanted to collaborate on it. Eventually I got an email with the first try that Zedd had done on it production wise and I was completely ecstatic and overwhelmed by how nice it was and how he'd flipped it to have a bit more of a hopeful vibe. I wouldn't call it a bad habit but I do have a habit of writing sad songs and it was nice that he'd interpreted it in a different way. He basically made the song a lot more positive and that's kind of how it all happened!
How did you find the experience of working with Zedd? Were you a fan of his before?
I was a huge fan! Obviously he's super well known and I'm very familiar with all of his previous tracks. It was wonderful and I was very flattered that he wanted to collaborate with me and use my voice on a song. Sadly, we haven't actually met before because he's based in LA and I'm based in London. We were supposed to be hanging out and filming the music video in LA but then lockdown happened so we haven't managed to do that. Normally you'd be doing all the promotion with each other, you'd be doing gigs and festivals, but I mean everything's shut down and the borders are closed so I'm not sure when I will get to meet him but it's nice talking to him over Zoom and stuff like that.
How long would you say the song took to become the finished product it is today?
I was talking to Zedd about that because we both have different views on how long it took. When I was in the studio, I was literally there for a weekend to work with The Monsters & Strangerz then I went back to London. For lyrics and vocals, sometimes it can take quite a while but for this one it was done very quickly. I was literally there just for the weekend. For Zedd, he was explaining to me yesterday, apparently it took him like 20 different tries to do the production. I don't want to speak on his behalf but he seems to have put a lot of effort and creativity into it which is really lovely. When he sent me the versions, I was just really happy with it, I couldn't give him any advice on what to change. He's a classically trained musician and he's very smart with what he does, so I just gave the green light to everything and was like "go do your thing", it was brilliant.
The lyrics of the song are very relatable and I think a lot of people will resonate with them as they've either gone through that experience themselves or know someone who has. Do you have a favourite lyric from 'Funny'?
I think my favourite lyric is the opening one, "The curtains are closed now, nothin' to see but a dozen dying roses at our feet." I love the imagery of it, it's kind of like the theatre with everything closed and the roses, but for me the meaning is really nice. The whole meaning of the song is like that old phrase, people only know what they've lost when it's gone, and I think it's a good way of saying that. When you split with someone, it's very hard to draw the line and you don't necessarily have to cut contact with someone or ghost them, but I think it's important to lay down the law sometimes in terms of "look, there's nothing here". So the fact that someone's coming back and trying to win you over with roses and daisies, that only lasts for a certain while until they show their true colours again. I think it's good to start the song with a definitive "no, this is done and I don't appreciate you bothering me constantly" haha.
You mentioned that the music video was originally meant to be filmed in LA but obviously the pandemic put a stop to that. Instead, you've got this fantastic lockdown video – how did the concept come about?
I wish I came up with the idea but I have to give credit to the amazing director Jack (Karaszweski). It was brilliant, we just told him the situation and we explained the way that we met so it's nice that he made the storyline along how we first kinda communicated via text and through Zoom. Jack came up with this crazy random world where we're Zooming with all of these puppies and then Lewis Capaldi makes a little cameo which I was blown away by. No-one told me that either, everyone was keeping secrets, just like little surprises along the way, and I loved it! Normally I'm a bit of a control freak when it comes to art, music and videos but I was so happy with all of the decisions. It was such a good collaboration. It was really fun working with Jack because we'd be sitting on Zoom and he'd tell me to "press record now, try singing 30 seconds of the song, WeTransfer it to me", and then he'd reply half an hour later and be like "cool, just do 10 more of those and then you're done". Then it was literally just following the roles of this really random world he'd created, it was really fun.
We've got to ask about Lewis Capaldi's little cameo – the story about him giving your number to Zedd, was there any truth in that?!
I wish! I'm such a huge fan of Lewis and I was laughing so much at the video as I wish that the music industry was that much of a fairytale that you magically meet someone and then Lewis gives my number to Zedd. That would be really crazy but it's sadly not true haha!
Watch Jasmine Thompson & Zedd's acoustic version of 'Funny' below.
'Funny' follows on from your most recent single, 'Love For The Lonely' and I hear that you've got more new music in the pipeline as well. What do you hope that listeners will take away from your music?
I don't want to push anyone down one solid track to say '"this is what you get from it", but like I said earlier I have a habit of being a bit more melancholic, and I like the idea that people can use music to dive into their emotions. I think it's good to acknowledge the way that you're feeling and to think about things. Me personally, that's what I use music for. The whole reason why I got into music is because my favourite artists were the ones who could really help me to explain my own feelings. I hope that people can find certain songs relatable. Not even just in a relationship sort of way – music to me explains things with my family, things with my friends, things in life in general. I just hope that it gives them a little bubble to think in.
You've been signed to Atlantic since you were 13. How would you say your music has evolved since you first signed with them?
It's been such a long time making music and putting music out there, and I'd say that like any 13-19 year old, there's been huge changes in all aspects of my life. But in music, I'd say that I've definitely in a way gone through that Uni stage where I've tried to figure out what music I love, and what I wanted to write about. I think it's still going to change a lot in the next five years, I've got a lot more exploring to do, but I'd say I've just got a clearer viewpoint of what I would like to achieve. Experimenting with production elements and experimenting with different points of views as well. Also, when I was younger, a lot of the stuff that I tried to write about was from the perspective of a 13 year old. I think all the lyrics and sentiments have changed now, but I'll probably say the same when I'm 25 and looking back at my work now!
Over the years, a lot of your songs have been used on adverts and have soundtracked important moments on TV shows. How does it feel when you actually hear your music played outside of the studio?
It's really wonderful. I can't remember the first time [I heard my music being played], but I remember a couple of years ago for example, they used it on Grey's Anatomy. My mum absolutely lost it – I remember like 10 years ago she had lots of the boxsets! Music has such an important connection when you've got a visual as well, that's why they have so many great soundtracks on TV shows and movies. It's so important when people do it right, like Tarantino for example, people who connect movies and stories with art and music. The fact that people think my music is suitable for those sorts of emotions is really touching. It's also touching to hear that people watch these shows and then use Shazam or something similar to find out who it is and then become a follower of your music. It's beautiful, I love it!
As well as writing your own music, you've also written for other artists in the industry including Selena Gomez and Marshmello. When writing for someone else, do you take a different approach compared to when you're writing your own music?
In a way, it's quite nice to put myself in someone else's shoes. When I wrote the Selena Gomez song 'Kinda Crazy', I didn't originally plan for it to be for someone else but when I went into the session it was my first time writing with the other topliner in the room, Justin Tranter. He's done so many pop smashes, I can't even count the artists that he's worked with. Obviously, he's been working with Selena for a long time so when I went into the room it was quite nice because he brought this energy which is very different to the way in which I normally approach music. It's a lot more poppy, a bit more sensual in a way, and I remember writing it and thinking "this isn't me but let's write it anyway". We both looked at each other at the end of the session and he was like "I know it's not you but do you feel comfortable pitching it out?". I said "go for it" and he got in touch with Selena, so that's how that happened. Now it's kind of a relief! If I write for myself I put too much pressure on it, whereas if you write for someone else you can say things that you personally wouldn't normally say which is quite fun.
We've been in lockdown for quite some time now – how has it affected you musically? Have you found it easier or more difficult to be creative during this period?
I was having this conversation with some friends of mine who are also writers and it's kind of weird because half of us, including me, just couldn't do it. I couldn't find the energy. I also felt like everyone was going to write the same song about isolation and lockdown and stuff. There are some people who've done it really well and it was beautiful but for me I just felt like there was so much going on that it was hard to be creative. Some of my friends are loving it, they've been writing every single day. The last month or so I have found it easier to be a bit more creative as I've had that two months of just sitting on my own and now things are banging on the walls in my head to get out again. It's been a bit of a mix really but it's been nice to just chill instead of always being creative, and just recharging the batteries.
Since you started out in the music industry you've achieved some incredible things. What would you say has been your biggest achievement to date?
Good question! I've absolutely enjoyed all of the touring I've done although it's really hard to pinpoint a specific show or country. I guess my biggest achievement right now is my last venture with another EDM artist Felix Jaehn, when I did my cover of 'Ain't Nobody'. That's probably one of my favourite memories as I was 13 when I recorded it in the studio, and again, it was a situation which wasn't planned. Felix just found it online and remixed it. That moment before when you just decide to make music with someone and it comes out and you have no expectations is just beautiful as it's so blind and unknown. Fast forward two or three years and it just grew so much and was successful all over the world. It's hard to name a biggest achievement but that's definitely one of my fondest memories.
Finally, what's next for Jasmine Thompson?
Trying to figure out how to do promo at home haha! It's kinda nice because you can do so many things and it shows how DIY you are but hopefully once it's possible I'd love to do some more gigs and shows. I've got loads of music that I've been working on over the past year or so and eventually I'm definitely going to be putting more songs out but there are no solid plans just yet.
Thank you so much to Jasmine Thompson for her time! 'Funny' is available on all download and streaming platforms now.
Keep up to date with Jasmine Thompson on Instagram and Twitter.
Let us know your thoughts on our interview with Jasmine Thompson on Twitter @CelebMix