On Thursday 19th November, Merrill Osmond and his band will be performing in a live streamed performance. The 90 minute show will be streamed live via Dice FM from London.
Merrill found fame as the lead singer for the world famous Osmond family. Merrill was a global heartthrob throughout the 70's and is also an established solo artist. He has toured the world, and performed in quite a lot of major venues. In addition to this, Merrill has over 27 gold records. Furthermore, he has produced and written the music for 5 number 1 hits.

That's not all, the Osmonds have produced 47 platinum records worldwide. In which, no other recording artists have actually earned as many gold records in one year as the Osmond family.
Ahead of Merrill's livestream performance on November 19th, we got to interview him and ask him about music, performing and most importantly the upcoming live streamed performance.

Hello Merrill Osmond, how are you?
I'm good thankyou.

So we know you have a upcoming live stream performance on 19th November. How different will it feel compared to having a real life audience?

It won't be much different from a live performance. It will be more like going into a rehearsal. The band will be having a good time, and I will be as well. So it will be like that.

What can anyone watching the live stream on 19th November expect?

I will be performing songs from previous albums and also from when I was in the Osmond's. There will be a tribute to a good friend Paul McCartney so I will be singing one of his songs, and a tribute to Neil Diamond. I will also be talking about my time with the Osmond's, the stories behind the songs and I will be talking about our friendship with Elvis Presley.

How do you feel that the music industry has changed since coronavirus?

I don't believe there has been much change in the music industry since coronavirus. Apart from people being at home more, so they have been listening to music more. So, From my point of view I don't think there has been much of a change.

What is your favourite thing about music?

I am a big believer in Hollistic therapies. Music is a big thing. I worked as a producer for quite a while. A song has to have a beginning, a middle and a end. I am quite into stereophonics at the moment.

Back to before coronavirus. Where is the best place you have ever visited on a tour?

I have travelled the world and performed at so many amazing places. I travelled all over the world as part of the Osmonds. So I do not really have a favourite place. But to answer it… it will always be England. I have to say London.

If you could perform anywhere. Where would it be?

Again I would say after travelling all over the world I performed at all places. I would say somewhere in Europe.
But I would say, England. So again I would say England, London. England has some of the best crowds. England was where the mania was. Nothing can compare to the crowds in there.

Finally, what advice would you give to anyone wanting to make it in the music industry?

I am a big believer in destiny. If you have a belief instilled in you. It is the same with any art form. You can want to make it in any industry, but you have to have something unique. If you are good at what you want to do, then you have to have something unique. The market is looking for something new, something that will sell. But most importantly you have to have something unique.

Thankyou Merrill for chatting to us today.
You're very welcome. Stay safe.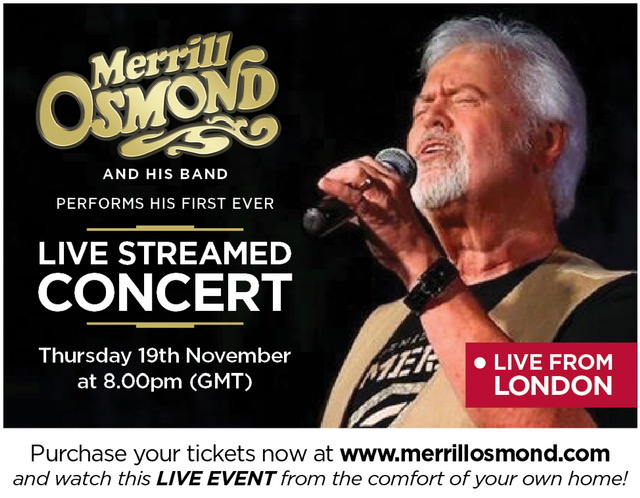 Let us know your thoughts on Twitter @CelebMix