JVNA is back with new music. The "At Least It Was Fun" singer-songwriter takes listeners on an emotional journey through her 12-track debut album, Hope In Chaos, which is out everywhere now. Themes such as guilt, grief, love and sexism are explored in depth on this project. Whether they're looking to reminisce, cope during a difficult time or simply rock out, fans of all genres will appreciate the beautiful musicality presented on Hope In Chaos. JVNA is set to embark on her first album tour beginning on February 19, 2022, in Honolulu, Hawaii. In an exclusive interview with CelebMix, JVNA opens up about Hope In Chaos, dream collaborations and more.
How does it feel to finally be able to share your debut album, Hope In Chaos, with fans and listeners around the world? 
It's honestly one of the proudest things I've ever done with my life! It feels like I've been working on this for ages – over thinking every little detail of my compositions and going insane just hearing these tracks in different variations over and over again. But in the end, it was worth it and I'm so proud of where these tracks have become for the release of the album. 
Why did you decide to sequence the album in stages of grief? What inspired you to make that decision? 
When I wrote this album, I was in a very emotionally unstable part of my life. My early 20's were full of changes and my journey into adulthood was very impacted by the death of my father. I wanted to tell a healing story to my audience that there is always a light at the end of the tunnel. Writing this album, in a sense, was also a healing process for me to cope with my understanding of all the changes I was going through.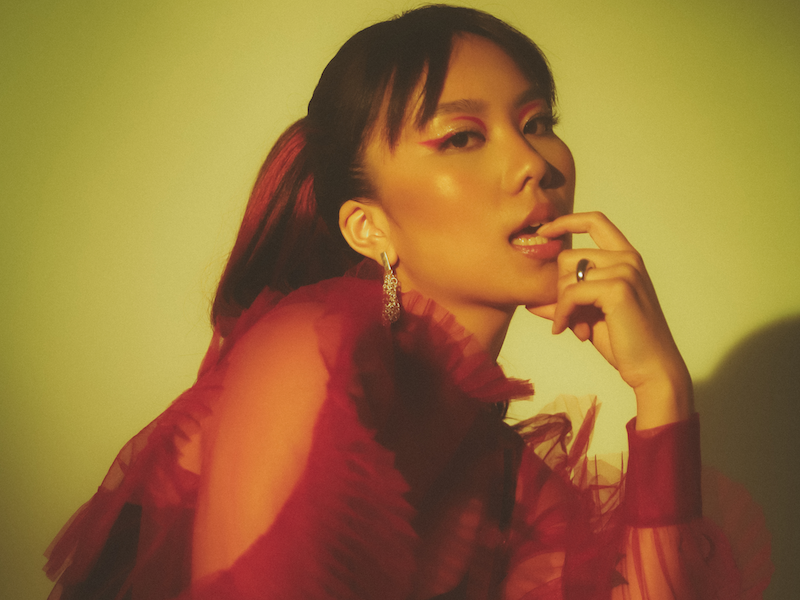 What song on Hope In Chaos was the most difficult to record and why?
The most difficult song that I spent time on recording was probably "Where You Are". This was the most precious song on the album to me since I spent so much time on it trying to get it to sound exactly the way I envisioned it. When I produced the drop, I thought of wildfires, bursts of emotions, screaming off into a cliff and a kaleidoscope of chaotic colors. It was important for me to get the sound and the feeling right. Thus, it is also my favorite song from the album! 
Going off of that question, this album is deeply personal and covers a variety of themes. Is it ever difficult to be completely honest and vulnerable with your lyrics or do these songs mean even more to you because of the situations and stories that have inspired them? 
It definitely is difficult for me to be extremely honest and detailed about the stories behind my lyrics, which is why sometimes I like to keep it a bit more metaphorical and vague through the lyrics and production. For example, "Sins" is actually about my relationship with my parents. They grew up fighting and so, I naturally had a very disoriented relationship with my father. For a while, I struggled with guilt because the last conversation I had with my father was a fight. In the drop of "Sins," I produced sounds of pans and dishes clashing – like a child hearing their parents fight in the kitchen. Towards the end of the song, I transform the song from a minor to a major key to evoke that I have emotionally come to terms with it and sing "in my heart you will live on." 
While you were recording this album, what artists or bands were you listening to?
I was listening to a lot of Halsey during this time. I honestly really love her music. I think my core influences in music however come from listening to Evanescence and anime soundtracks. Hiroyuki Sawano is one of my favorite Japanese anime composers and his style really grew on me when I listened to him when I was younger. I also started listening to James Blake during this time period. He's got a really complex harmonic style in his tracks which were really inspiring to listen to get some new melodic ideas. 
Are there any artists or producers who you dream of working with? Who are they?
I would love to collab with Blackpink…please!
What can fans look forward to when it comes to 2022? 
My album tour!
Follow JVNA on Spotify and Instagram.
For tickets to the Hope In Chaos Tour, click HERE.