French DJ and producer Klingande recently teamed up with singer-songwriter Wrabel for their infectious house anthem "Big Love"! The europhic banger fuses Klingande's catchy production with a soulful vocal rendition from Wrabel to provide one epic dance track.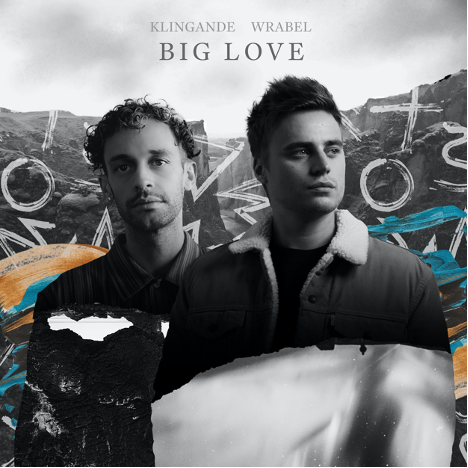 "Big Love" was the only singer Klingande released in 2020, following on from his debut double album, known simply as "The Album", which dropped in 2019.
Meanwhile, Wrabel is perhaps best known for his 2017 single "The Village", and also recently teamed up with Kesha for her single "Since I Was Young".
Here at CelebMix, we got to talk to both Klingande and Wrabel to find out more about their single together.
Hey guys! How does it feel that "Big Love" is finally out?
KLINGANDE: "Pretty exciting, I'm really looking forward to the release of this track even if I never had the possibility to play it live yet."
WRABEL: "It feels so good to have this song out. From the day we wrote it, I felt it was something special. One of my favourite collaborations of my career."
How did you two decide to come together for this track?
KLINGANDE: "I'm a huge fan of Wrabel's voice, I got this demo of 'Big Love' and immediately knew I wanted to do this song, big chorus and energy are always a win for me.
"Then, it was all about producing the song and making both of our universes fit together. I haven't been able to meet him yet due to the global situation but really looking forward to it!"
WRABEL: "I was told that Klingande heard the song and was inspired by it. I'm such a fan so I was excited to hear it how he imagined it and it truly blew me away."
What was the recording process like for this song?
KLINGANDE: "We've haven't met in person yet, but the process was really easy, once I got the vocal it was about making the track respect both of our universes and I think we both agree and are happy with the result."
WRABEL: "I recorded the vocals for it in Nashville with Dd Holloway and Nick Atkinson – such an inspired and fun day. I love collaborations like this because it's so wild to me that something can be co-created without ever getting in a room together. I guess that can feel weird to some people, but I find it so inspiring and mind blowing – that you can make the start of something in Nashville and halfway around the world it's brought to life."
What was the aim/message for "Big Love"? Do you hope this song will inspire anyone?
KLINGANDE: "I think lots of people can relate to the feeling of the track, telling a story about love can sound easy but I really liked how Wrabel wrote and approached it."
WRABEL: "My mother told me once something like. 'Stephen has a big heart and he's gonna need a big love'. It stuck with me. It's true! Sometimes I think I'm just a big heart with legs and arms and eyes.
"I tend to feel too much and fall too deep. That can freak people out sometimes. I wanted to nod to what my mum told me and try and get those thoughts and feelings out into this song."
Were there any musical inspirations behind the song?
KLINGANDE: "When I am producing songs, I am always thinking how I can mix organic live music with electronic together without sounding forced, I feel the violin completes the top line well and chords and gives an uplifting feeling."
WRABEL: "I love Bruce Hornsby, one of my all-time favourites. I think the chords and piano were definitely inspired by his work (most of my work is)."
How does it feel to be releasing this song in the midst of a worldwide health pandemic?
KLINGANDE: "It's pretty special because you're not getting the feedback from the crowd, the listeners and you are not able to promote the same way, but during this time I think it's still important to keep sharing new songs."
WRABEL: "It's very bittersweet, but I think more sweet. To know that we're all in this difficult time together helps us feel less alone in it, and I know it's cliche, but I really believe in the healing power of music. I hope that even one person heard this song and felt understood by it."
Do you two hope to perform the song live together once it is safe enough to do so?
KLINGANDE: "It's always a great experience to perform the track live and it would be a great opportunity to finally meet Wrabel."
WRABEL: "YES YES AND YES! That would be a dream."
Is this any indication of what your future releases will sound like?
KLINGANDE: "I keep exploring and experimenting with live instruments, that's the kind of music I have the most fun to produce and makes my sound different."
WRABEL: "I feel the heart behind 'Big Love' is the same heart you'll hear on my upcoming record. Stories about love and loss and longing."
Do you two have plans to work together again in the future?
KLINGANDE: "It would be great if the opportunity comes! I am really open to work with the same singer several times, it's all about making great songs."
WRABEL: "I would love to! I'm so inspired by his work."
Which artist would you two like to collaborate with and why?
KLINGANDE: "I am mostly influenced by indie folk music so I have so many artists I would love to work with. but I have to pick one at the moment, I would say Lewis Capaldi."
WRABEL: "Sam Smith. I just think their voice and emotional expression are so brilliant."
What's next for you both music-wise?
KLINGANDE: "Releasing more songs, some with more rhythm! 'Big Love' is my first release in a year."
WRABEL: "I'm working on my debut album. I really can't believe it's almost here. I've been trying to perfect it for the past year or so and I can't wait to share it."
Finally, do you have anything to say to your fans?
KLINGANDE: "I miss you guys! I can't wait to be back on the road, dance together and share memories."
WRABEL: "I guess just hi and hello and I miss you. I can't wait for the world to heal so we can be together again. Sending big love to all of you."
We would also like to thank both Klingande and Wrabel for taking the time out to talk to us!
Klingande and Wrabel's "Big Love" is officially out now, and you can listen to it below:
Make sure to follow Klingande and Wrabel across social media:
Klingande: Official website | Twitter | Facebook | Instagram
Wrabel: Official website | Twitter | Facebook | Instagram
Let us know your thoughts on the song over on Twitter @CelebMix!