Originally released in Japan on 19 July 2019, Weathering With You went international on 17 January 2020, hitting cinemas in the USA, Canada, Ireland, and the UK. It is set to be released in various other countries around the world in the coming weeks – if it hasn't already done so. It has been directed and written by Makoto Shinkai, who is best known for directing and writing the Japanese hit film Your Name – which is the highest-grossing anime film of all time, although this new film is quickly climbing.
Weathering With You has been produced by Genki Kawamura and is known in Japan as Tenki no Ko which translates as Child of Weather. The companies involved in the production aspect of the film were CoMix Waves Films and Story Inc. whilst the music for the film was composed by RADWIMPS. GKIDS acquired the rights to the film distribution in North America, whilst Anime Limited acquired the rights for the UK and Ireland, and Madman Entertainment acquired the rights for Australia and New Zealand. Various other companies distribute the film in other countries. Both the subtitled-English and the dubbed-English versions were released in North America, the UK, and Ireland on 17th January. Days prior to the release of the film, Makoto Shinkai released a novel adaption of Weathering With You, and a manga adaption has also been announced.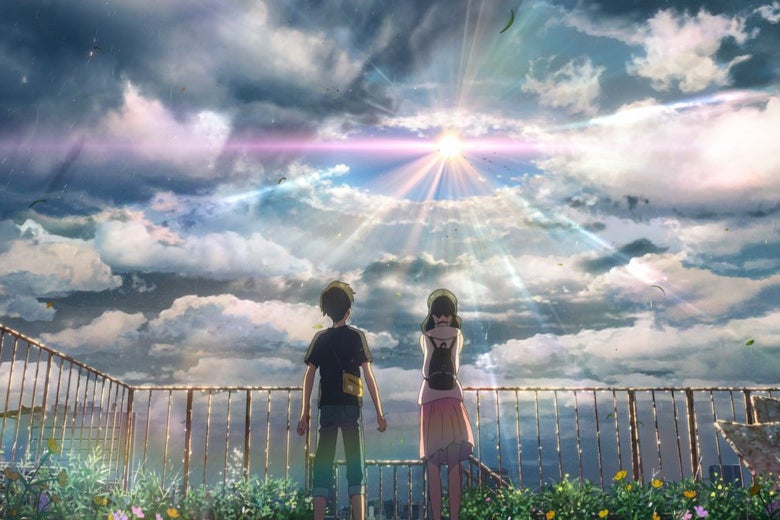 Weathering With You is located in a very rainy Tokyo, Japan and we follow Hodaka Morishima, voiced by Kotaro Daigo in Japanese (The Battle: Roar To Victory) and Brandon Engman in English (Lu Over The Wall), who has run away from his small-island home and has set his sights on working in the big city, but it's not as simple as he had hoped, where he ends up living on the streets with no money.
In the first few scenes, we see Hodaka on a boat to Tokyo. When a storm comes in to hit the ship, Hodaka runs outside as if he hasn't felt rain before, but danger arrives as waves attack the ship, with Hodaka worryingly close to falling into the sea until a man saves him. Hodaka treats this person to a meal and we find out his name is Keisuke Suga, voiced by Shun Oguri in Japanese (Lupin The 3rd, Crows Zero, Gintama, Fullmetal Alchemist the Movie: Conqueror of Shamballa, Space Pirate Captain Harlock, Godzilla Vs. Kong) and Lee Pace in English (Pushing Daises, Guardians Of The Galaxy, The Hobbit franchise, Marmaduke, Halt And Catch Fire), who tells Hodaka that if he ever needs anything, he can come to Keisuke. This is exactly what he does after finding himself on the streets, and Keisuke takes him in on the condition he does the chores around the flat and writes for the magazine that he owns. Hodaka ends up working alongside Natsumi Suga, voiced by Tsubasa Honda in Japanese (Fullmetal Alchemist, Color Me True, Radiation House) and Alison Brie in English (Community, Mad Men, BoJack Horseman, GLOW, The Lego Movie, The Five-Year Engagement), where they interview people about Japanese weather maidens, also known as sunshine girls, who have the ability to change the weather.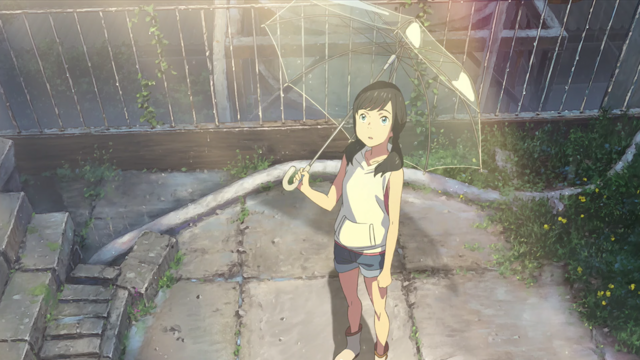 This launches into a side-story about a girl named Hina Amano, voiced by Nana Mori in Japanese (Tokyo Ghoul S, Hell Girl, Last Letter) and Ashley Boettcher in English (Aliens In The Attic, Lost In Oz, Gortimer Gibbon's Life on Normal Street). She visits her mother in the hospital, who sadly passes away, praying at her bedside that her mother would see sunshine one last time. The rainclouds separate and create a beam of sunshine on top of a building, which Hina immediately goes out to search for. She makes her way to the building, and at the very top, she finds a shrine, where she prays, and as she does so the raindrops pause in mid-air before disappearing altogether and the blissful blue sky appears with a blazing hot sun.
Whilst Hodaka is living on the streets, Hina serves him at a McDonald's and gives him a burger for free. Later, Hodaka, sees Hina being harassed by a couple of guys, so he decides to save her, only to later find out that she had actually struck a deal with these guys since she had lost her job at McDonald's. Now, she's almost 18, with no money, and struggling to support her brother, Nagisa "Nagi" Amano – voiced by Sakura Kiryu in Japanese (Love's Stoppage Time) and Emeka Guindo in English (A Case Of Blue).
Hodaka and Hina become friends and once Hina shows Hodaka her gift and that she is a weather maiden, they hatch a plan to turn it into a service so that people can have sunshine during specific events, but legend states that something bad happens to weather maidens and messing with mother nature always have its consequences, and they're coming for Hina and Hodaka.
Watch Both The English Sub And English Dub Trailers Of Weathering With You Here:
We saw the English subtitled version and so we can't comment on the dubbed version, but we absolutely loved every minute of the film. It was completely gorgeous to watch with stunning intricate visuals that encompasses the audience into this anime art style, so much so that we felt like we were in Tokyo, Japan and that it should've been raining down on top of us too. Hodaka and Hina were brilliant characters that built an incredible story and the whole concept left us on the edge of our seats at just the right moments. This is a truly unforgettable film. A total five stars from us!
Fans of the film Your Name will notice two familiar faces as Taki Tachibana – voiced by Ryunosuke Kamiki in Japanese (Your Name, Spirited Away, Howl's Moving Castle, Arrietty, Last Letter) and Michael Sinterniklaas in English (Your Name, Teenage Mutant Ninja Turtles, The Venture Bros, A Silent Voice, Sengoku Basara: Samurai Kings), and Mitsuha Miyamizu – voiced by Mone Kamishiraishi in Japanese (Your Name, Lady Maiko, Wolf Children, Chihayafuru Part 1 / Part 2 / Part 3) and Stephanie Sheh in English (Your Name, Naruto, Bleach, Eureka Seven, Sailor Moon Crystal), make an appearance or two in a few scenes. Other characters in Weathering With You included Fumi Tachibana – voiced by Chieko Baisho in Japanese (Otoko wa Tsurai yo, Howl's Moving Castle) and Barbara Goodson in English (Power Rangers, Star Wars: The Clone Wars, Naruto, Ghost in the Shell: Stand Alone Complex), Yasui – voiced by Sei Hiraizumi in Japanese (L: Change The WorLd, Shin Godzilla, Kewaishi) and Mike Pollock in English (Sonic The Hedgehog, Pokémon, Yu-Gi-Oh! GX, Kikoriki, Viva Piñata), and Takai – voiced by Yuki Kaji in Japanese (Attack On Titan, High School DXD, Guilty Crown, My Hero Academia, Accel World, Pokémon, World Trigger, The Seven Deadly Sins, Ace Attorney) and Riz Ahmed in English (The Reluctant Fundamentalist, Nightcrawler, Rogue One, Jason Bourne, The Night Of, Venom).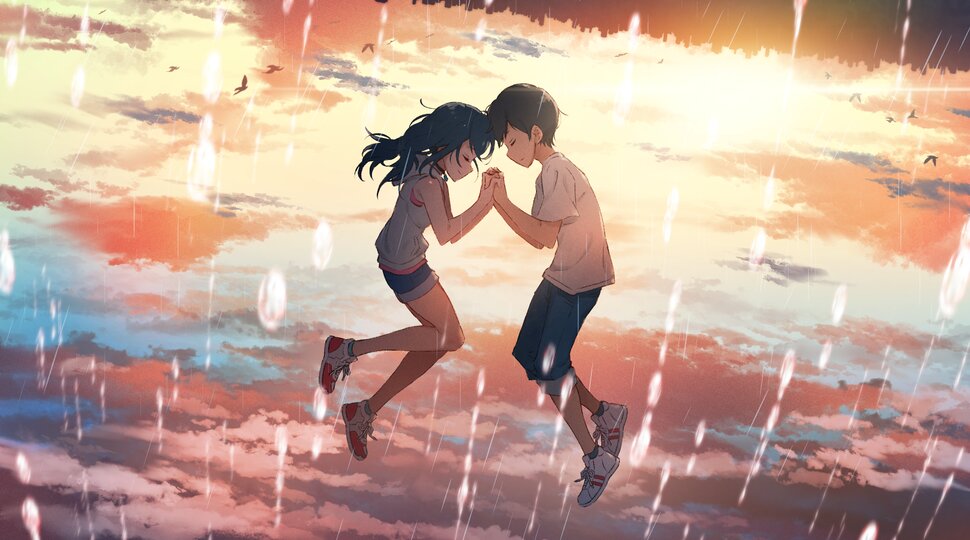 If there's one anime film you need to watch this year, it's this one! Beautiful, sweet, and heart-racing; Makoto Shinkai has done it again… We cannot wait for his next film. Until then, we shall be reading the Weathering With You book, reading the manga – when it is released, and watching the film again and again. We're now eager to see if the English dubbed version lives up to the subbed version.
Have you seen Weathering With You yet? Let us know what you made of the film over on our Twitter @CelebMix.