Luke, Calum, Michael, and Ashton will be heading on tour soon, coming to venues worldwide. There are still tickets available, and if you're debating on whether or not you should go… Here's five reasons why you should attend "Sounds Live Feels Live".
1. Your favorite songs will come to life
https://www.youtube.com/watch?v=tGVREOql-kQ
It's one thing to watch a live video (such as the one above), but it's a whole other story when you're actually there. You'll get to see everything in action; the instruments, the vocals, the fans. Instead of hearing it through your speakers, everything will be in front of you. It's really cool.
2. Be with your fandom family
The one thing that's absolutely great about concerts is the atmosphere. Even if everyone in the arena is seems different, you still have one thing in common; you're a fan of the same band. When you go to a 5 Seconds of Summer concert, you're not attending with a bunch of strangers. You'll be standing with people in your fandom, who probably feel the same way as you do. You won't get that feeling anywhere else.
3. 5SOS is the real deal
When you listen to 5SOS live, you'll quickly realize how similar they sound to their album. The members of 5SOS don't fake their talents; they actually have it in them. On top of being able to hit those killer vocals, they all play their own instruments. If you're looking for a good time with good music, Michael, Luke, Calum, and Ashton will deliver, no doubt about it.
4. "They're real!"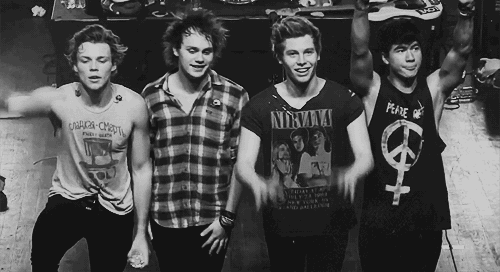 Sometimes it's hard to believe certain celebrities are real. All you see is pictures and videos of them, and sometimes we somehow rationalize that they're not actually in existence. When you see your idols live, that belief (mostly) vanishes. You'll be able to see them with your own eyes, in front of you and in person. You'll be able to see that the people you see on daily through your screens are there, alive and 100% real. It's an eyeopening experience.
5. It'll be a beautiful memory
You'll get to see four incredible performers show off the songs they've worked hard on. You'll get to be surrounded by people who know the same songs as you do. You'll be able to tell your friends that yes, they do exist. Overall, if you're a fan of 5SOS even remotely, you're going to have a great time. So if you're trying to decide whether or not seeing them is the right decision, think about what you'll gain. The ticket price is a small price to pay for everything you'll get to encounter.
Are you seeing 5 Seconds of Summer live this year? Did you see them on their last tour or with One Direction? Tell us in the comments, or tweet us @CelebMix!