Kathleen Farless' new music video dropped today following up the hotly anticipated single, "Just a Friend," her first new release in two years. The video caps the end of a difficult chapter for the performer and foretells an exciting new period of creativity and optimism. 
Directed by Ronnie Dai and featuring Jonas Maier alongside Farless, the music video is the visual companion piece to the deeply personal audio track that broke the creative lull for the singer during the Covid pandemic. Now with new energy and focus, Farless' career feels born again.
The new video looks great. How do you feel about how it turned out? 
Thank you for that. I'm glad you think so. I'm really nervous about it. I'm excited to share it with everyone, but apprehensive about their feedback. 
Overall, I'm happy with the result though, knowing that the project had a very small budget to begin with. Plus, everyone's schedule was really tight during the shoot date and into postproduction. So, it was critical to make the most out of what we had for footage. When I see it now, I think, not bad! It's really simple, but I think it did tell the story. It was a learning experience. Next time, watch out. 
How was the process of making the video for you? Were you allowed to improvise, or was the direction pretty clear?
The process was a little bit challenging for me on the day of the shoot because I was wearing multiple hats, as always. It was probably just me and how I worry all the time about everything. In my head, I was thinking of setting the shots, the angle of the camera, the mood, the lighting, the wardrobe – and my acting too. Plus, it's so "me" to worry about everyone else at the same time. Are they hungry? Are they bored? I tried my best to have fun, though. That's what it's all about. And that's when your best self comes out, too. And that's when you feel more free to improvise. So, even with the shot list, Ron's direction, and discussion with Jonas, we were able to improvise together and discover new way to make it better. 
In the video, you seem very comfortable in front of the camera. As a performer, does that come naturally for you?  
Wow, thank you for that. I'm not quite sure, because I think I'm still a work in progress with my acting and being in front of the camera. It's new territory for me. On the other hand, I feel a sense of responsibility to perform well because when you're collaborating with other  professionals, you do everything you can to make things work because you want it to be a rewarding experience for everyone.
The video includes a few moments that are physically and emotionally intimate. How did it feel to reveal that part of yourself?
Not easy for me at all! It's like a war inside my head, being the private person I am versus the professional artist who needs to perform and tell the story. Also, this is my first time acting with a professional actor and model. Did you see him? You can imagine how shy I felt around him during the intimate scenes! Thank God for the open communication. We talked about everything prior to the shoot and everyone was very professional and supportive. When the camera stopped rolling, we'd all just joke around. So, I guess, the process became easier for me.
You've mentioned you tend to be private and sometimes even shy. Was it hard to break through those feelings and make yourself vulnerable for such a personal video? 
Absolutely. I am still shy most of the time and really a very private person. I'm actually feeling vulnerable right now.  However, making this video came at just the right time. I've moved on from the past. That broken-hearted woman is gone and here I am now more focused on being an artist and creating more music that I can share with everyone. Today, I feel stronger than ever. So, the timing of this music video couldn't be more right.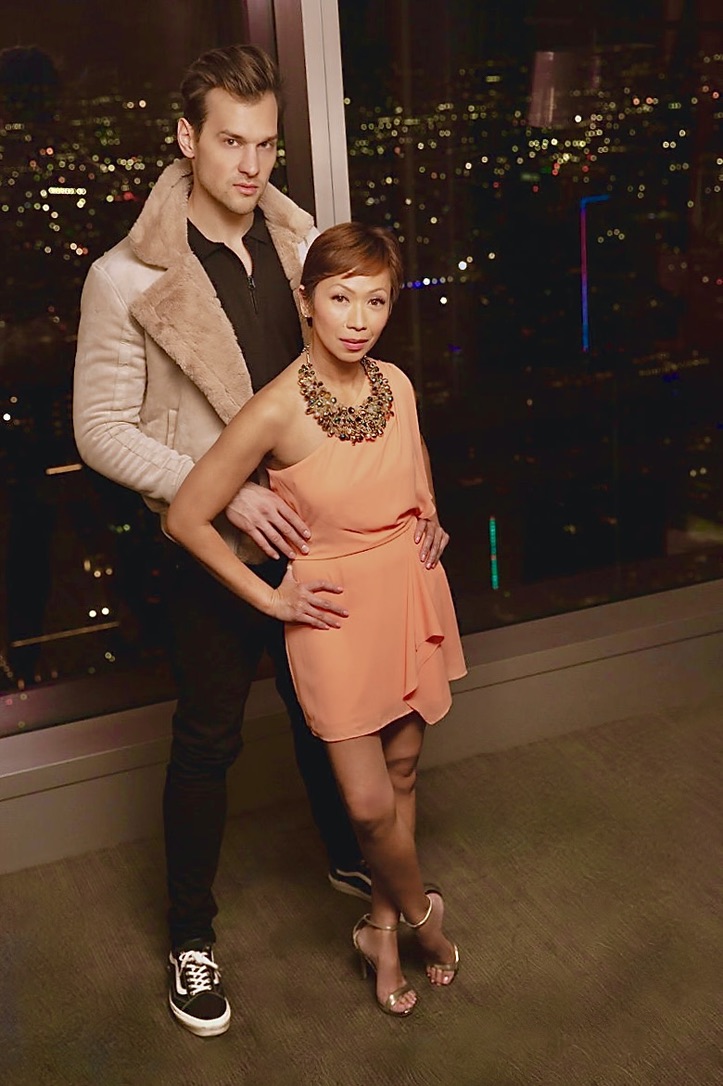 Do you feel like the video is true to the song? Does it tell the same story, or does it add something more or different to it? 
Very true to the song. I think it actually makes the song even stronger and relatable to people who have gone through the same situation. Now they can see the visual, as opposed to just hearing and feeling the lyrics. If we can get a bigger budget next time, maybe we can make a short film about it. I think that would be more entertaining. Just kidding.
I think most of us have experienced a relationship in which the feelings we give aren't the same that we get in return. How is the process of telling that story in a video format different from writing the song? 
This is a great question – my favorite. I believe this is where the creativity comes in, because in writing the song, it's basically expressing the emotions, finding the right melody and the right lyrics, based on the story you're trying to tell. In creating a music video, the vision needs to be congruent with the song in order for the song to come to life on screen. For me, the key elements to make that happen include the actors, the scenes, the mood, and location. All those logistics need to be well organized  to create the right visual compliment to the song.
Now that the video is a wrap, where is your creative compass pointing next? Can we look forward to more songs? Live performances? Something new? 
YES, indeed.  I'm ready to practice and rehearse again. I have two or three more songs to go to finish my EP. Also, I am tentatively scheduled to perform back at The Federal Bar, Noho, somewhere around the end of June or early July. Fingers crossed. I'm super excited and grateful for where I am right now with so much more to share.
Hear more Kathleen Farless on Spotify, Apple Music, Soundcloud, Pandora & YouTube
Find more Kathleen Farless on: