In 2018, Harry Styles did that.

A mostly-sold-out world tour, outfits that proved just how much of a fashion icon this man is, and sprinkled tweets throughout the year, Harry Styles continues to keep critics at bay and fans anticipating his every move.

But considering we couldn't get enough of him (and the rest of the 1D boys this year *wink wink*), 2018 proved that Harry really is the king of anticipation – we can never tell when he'll do anything (literally anything), but we're always ready for it.

In honor of everything young Harold has done for us this year, let's look back at all the things this true pop-rock/indie-rock/rock king has graced us with.
MusiCares, Grammys Weekend
Harry Styles kicked off 2018 by performing at the MusiCares Person of the Year concert by performing a tribute to Fleetwood Mac.
Although he wasn't the only one performing in this tribute, his introduction of the band and his rendition of "The Chain" kept people in the audience engaged and on their toes throughout the night.
"There are several things I never thought I would be doing in my life. One of them is sharing the stage with these legends, let alone having the honor of introducing them to the stage."

Harry Styles, MusiCares 2018
Although this wasn't Harry's first time performing with members of the band – we're looking at you Stevie Nicks – this was his first major performance of the year and we loved every second of it.
Harry Styles: Live On Tour?

Harry kicked off his arena tour in March of 2018 – 56 shows throughout five different continents.
And each and every one of his shows brought to the stage so many (so many) amazing, mesmerizing, beautiful outfits – these iconic looks will forever be ingrained into our minds (and if you've curious about some of them, check out this super cool, extensive blog with all of the looks from tour: https://harryfashionarchive.com/tour18).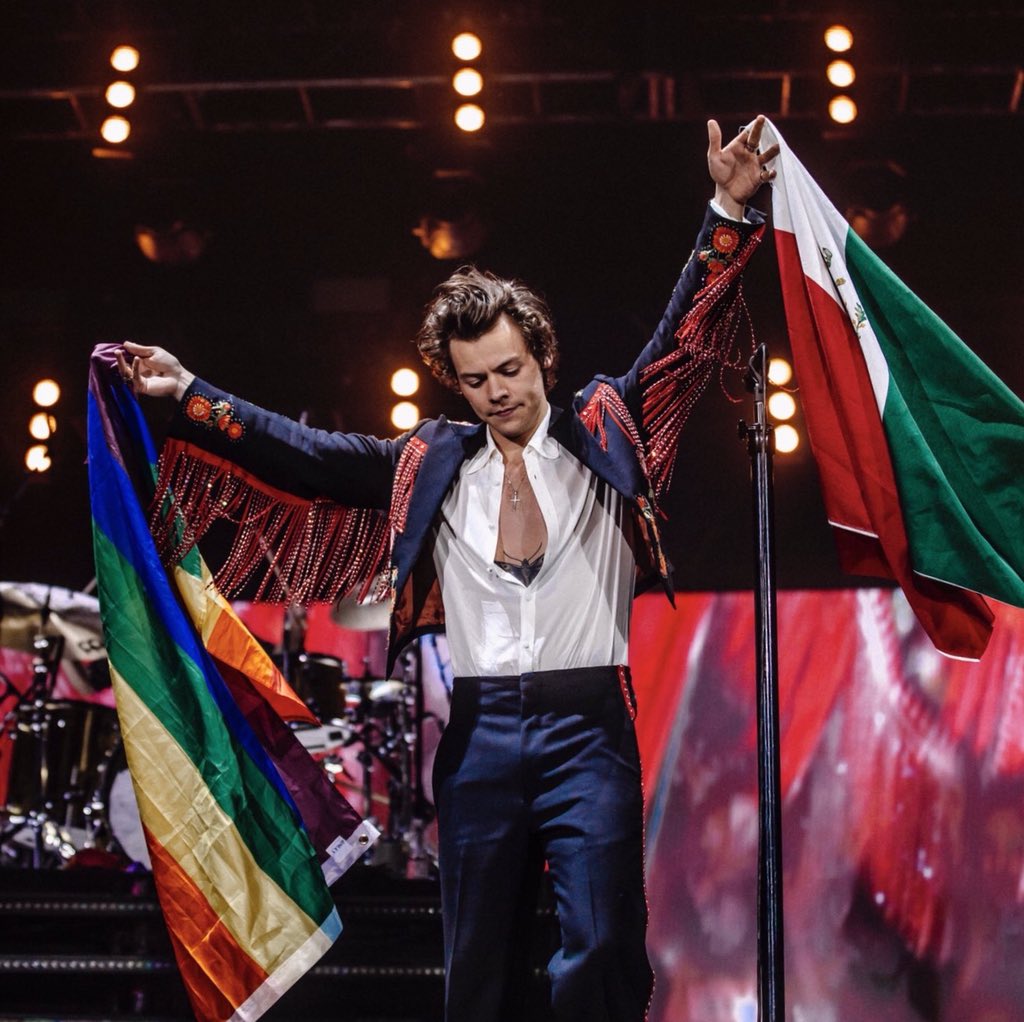 Harry also went on to donate money to some very worthy causes that were near and dear to his heart. According to Billboard, Harry's tour ticket revenue and proceeds from LiveNation and GLSEN PRIDE campaign donated $1.2 million to 62 charities around the world.
He also got tons of fans in the US registered to vote. Several of his shows hosted HeadCount, an organization dedicated to registering people to vote, in order to raise awareness for the then-upcoming midterm elections.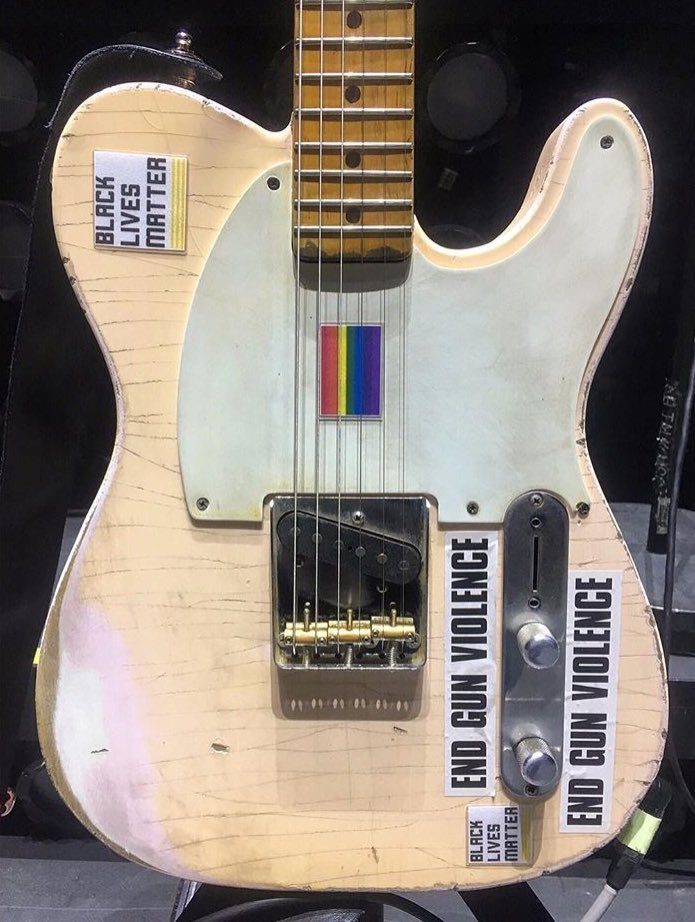 Harry did lots of amazing things during his tour – his efforts helped bring attention to issues that mattered most to him and to his audience and we cannot thank him enough for providing a platform for so many organizations. We can't wait to see what ehe does on his next tour.

Gucci Campaign
There doesn't seem to be a better word to describe Harry than iconic.
And his Gucci campaign photos proved that Harry can really pull anything (ANYTHING) off.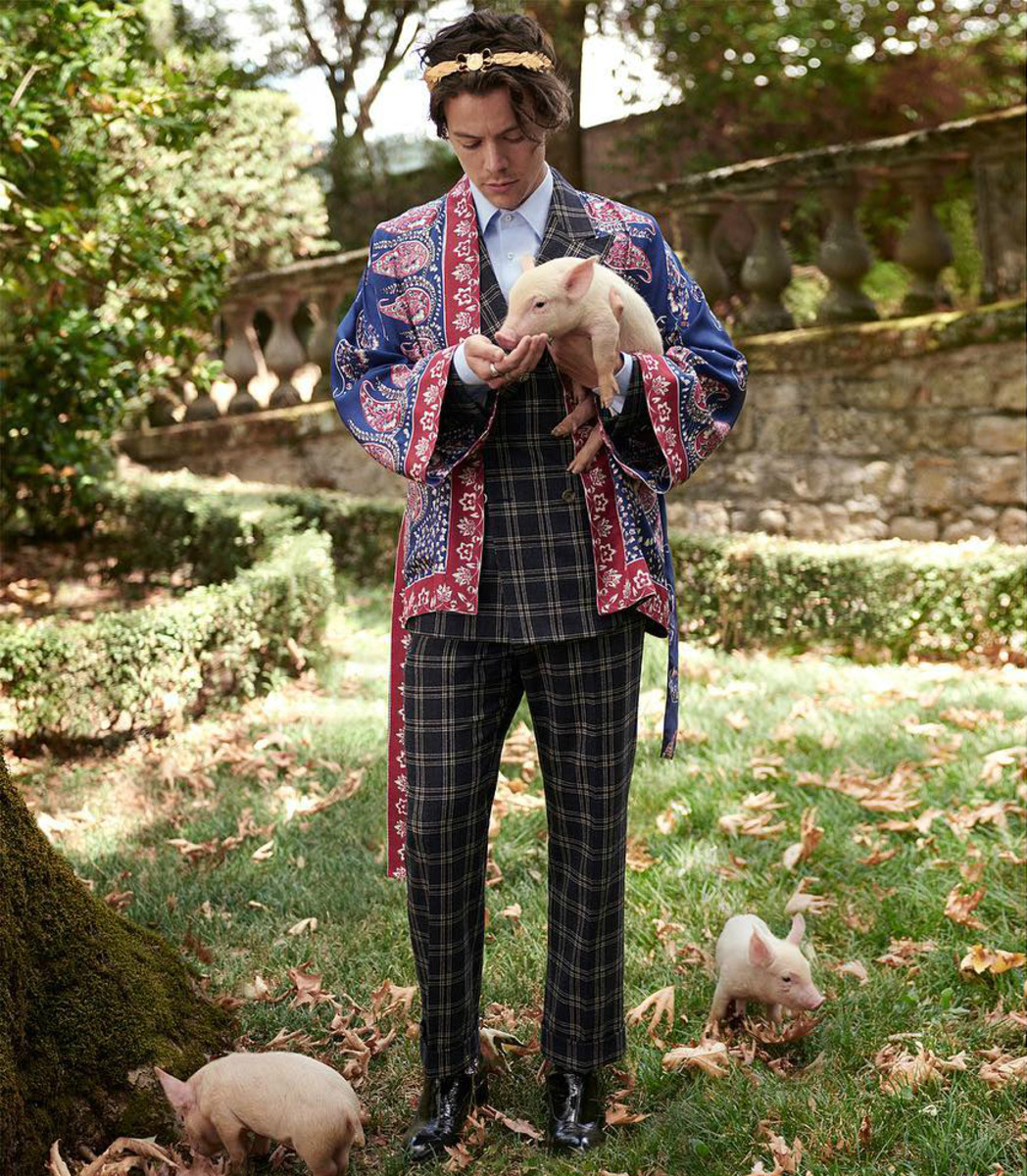 With a heart-stopping headband, several animals and a color-scheme that replicates the feel of Renaissance-era clothing, Harry was the catalyst for the Noah's Ark concept that followed his campaign.
And according to Christopher Simmonds, the art director of the Gucci Cruise 2019 Tailoring Campaign, Harry is actually portraying God here.
The Gucci campaign blessed us with insane HQ photos, outfits that no one else will be able to pull off as well as he did and we love the fact that there's a photo of Harry Styles holding a pig.

Halloween
Halloween has always blessed us with some great photos of our favorite celebs in some awesome outfits. And this year, Harry blessed us with his perfectly-appropriate version of Elton John's iconic 1975 bedazzled Dodgers uniform for the Casamigos Halloween Party in Beverly Hills party.
Although there are a handful of photos from the event, none of them are capable of capturing the insane beauty this outfit (and man) possessed that night. And we love seeing these photos because they remind us that no matter how big a star he is, Harry continues to be a giant goofball in private.
Although Harry rarely repeats outfits, we want this look to come back. Maybe he can wear it during the HS2 tour in LA? Maybe?

Harry and Timothee Chalamet
One of the things that definitely took fans aback was finding out that Harry interviewed movie-sensation Timothee Chalamet for i-D.
And even though the two have never met or spoken to each other before the phone interview was set up, we were glad to see the two had a lot in common with each other – we weren't surprised to learn, however, that the two really are as wholesome, intelligent and unproblematic as the internet has promised us they are.
H: Can you still eat peaches?
T: [Laughs] Umm I can, but not without thinking about it…

H: I've had a hard time…
T: [Laughs again] That's the most awkward scene to see with your parents in the whole world. My poor father…

via i-D
One thing that did sidetrack us a bit was finding out that even though he is relatively absent from the internet for about 90% of the year, Harry is pretty up to date with internet obsessions.
H: Have you seen Big Mouth?
T: No, I haven't. Do I have to get into that?

H: Yeah, it's on Netflix. Go watch Big Mouth.
T: Alright.


via i-D
Throughout the interview, Harry continues to shine as the thoughtful person fans know him to be – his questions cut deep, questioning all sense of comfort and status quo in society. He asks Chalamet questions that show both his and Harry's inner workings and their struggle against toxic masculinity.
H: I didn't grow up in a man's man world. I grew up with my mum and my sister. But I definitely think in the last two years, I've become a lot more content with who I am. I think there's so much masculinity in being vulnerable and allowing yourself to be feminine, and I'm very comfortable with that. Growing up you don't even know what those things mean. You have this idea of what being masculine is and as you grow up and experience more of the world, you become more comfortable with who you are. Today it's easier to embrace masculinity in so many different things. I definitely find – through music, writing, talking with friends and being open – that some of the times when I feel most confident is when I'm allowing myself to be vulnerable. It's something that I definitely try and do.
T: That's really beautiful and inspiring, and certainly it goes back to feeling comfortable in chaos and creating in madness. It's almost a high to be vulnerable. I really get that. I think it can be achieved in art, but also in intimacy. It's the craziest feeling to achieve that vulnerability. If us having this conversation, in any infinitesimal way, can help anyone, a guy, a girl, realise that being vulnerable is not a weakness, not a social barrier. It doesn't mean you're crazy or hyper emotional, you're just human, which I think is something your music gets at and hopefully my movies do too. Humans are complex; we need to feel a lot of things. We are not homogeneous.

via i-D
Considering these are two individuals with insane amounts of experience, feelings and emotions, we can't help but feel that if both Harry and Timothee have some sort of impact on our future, then we're bound to be okay.
2019…
With Harry confirming that he's working on his second album, his name attached to the Met Gala and with endless possibilities, we know that Harry will continue to please his fans.
Considering he's a musician, lyricist, model, actor and everything else, we know that 2019 will just continue to prove that Harry Styles really is a king in the modern music industry.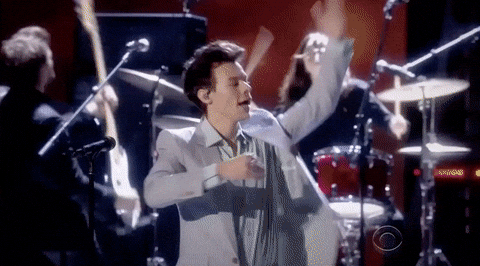 Love Harry Styles? What do you think he has planned for 2019? Make sure you tweet us over @CelebMix and let us know what plans you think he has for the new year!