One of the hottest albums of 2019 was Fine Line by Harry Styles. Fine Line reached the number 1 spot in 10 countries and has sold over a million copies in America alone. Watermelon Sugar is the 4th single to be released from the album (proceeding Lights Up, Adore You and Falling).
Watermelon Sugar is the summer anthem of 2020, First performed on 16th November 2019, at Saturday Night Live.
To promote the video release, Harry and his team have teased artwork of a picnic on a beach, each day adding one more food object onto the layout. Also, they have released watermelon and sugar cube emoji's attatched to the hashtags on Twitter #WatermelonSugar and #HarryStyles.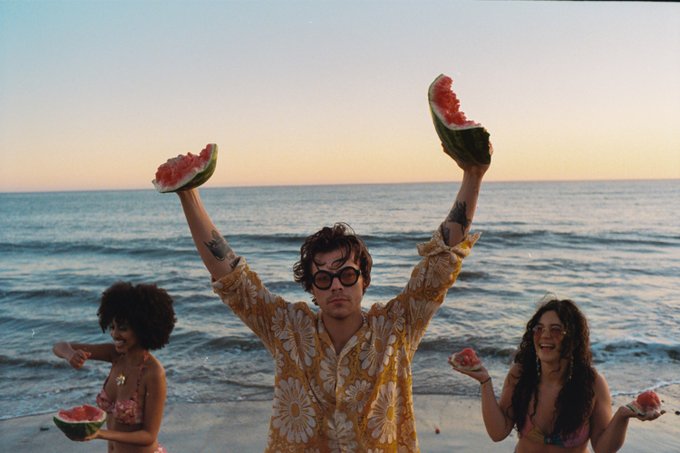 Today after much anticipation, Watermelon Sugar's official music video launched after countdowns appearing everywhere – take a look below.
The video itself was shot in Malibu during January of this year. You may recognise this very beach, as it's the exact beach One Direction filmed their debut music video 'What Makes You Beautiful' upon back in July 2011. And 'this video is dedicated to touching'.
During the course of the 3 minutes and 9 seconds, we see a lot of beautiful people surrounding Harry on this Malibu beach, eating watermelons. Harry doesn't just feed him self the fruit, others feed him too. Essentially we are reminded that vitamin C is great for you, and precisely why Harry Styles has dedicated this video to touching. The 70's theme run through-out with vivid colours and clothes to match.
We are obsessing over this music video. Transported immediately to a hot summers day. The fun, the frolics and the sand are just what we need! And getting your daily dose of Vitamin C.
You can stream and download 'Watermelon Sugar' now through Spotify and Apple Music – as well as the rest of 'Fine Line.
Let us know if you too are feeling that 'Watermelon Sugar high' by Tweeting us @CelebMix with your love for Harry!