Throughout the pandemic, Justin Bieber has helped give back in more ways than one. Most recently, the singer released "Holy", featuring Chance the Rapper, as a tribute to the pain, heartache, and frustration the COVID-19 pandemic has created and how kindness and patriotism can go along way. He also teamed up with Chance the Rapper and Cashapp to give away $250,000 to people in need struggling with the effects of COVID-19.
While "Holy" is currently gaining popularity, Bieber previously made headlines back in May when he and Ariana Grande released their collaborative summertime single, "Stuck With U." Its music video accumulated over 112M views on YouTube, and the single captured the attention of major news outlets, including, but not limited to Good Morning America, People, Teen Vogue, Elle, USA Today, CNN, among many others. Clearly, it took the industry by storm, as COVID-19 forced the world into quarantine and home-listening experiences.
At the 2020 MTV VMAs, Grande and Bieber even took home the award for Best Music Video From Home. The achievement was no surprise given the unique nature of how the video was put together. At Bieber and Grande's request, fans who couldn't attend this year's prom and those who were spending time with their loved ones during quarantine were asked to submit a video of them dancing to a snippet of the unreleased song.
And unbeknownst to many, the decision by Bieber's team and SB Projects to include two individuals in the music video changed their family's life, forever.
"1 Special Dad"
For Hollywood publicist Miriana Rexrode, who's worked with various Netflix talent, Disney talent, and celebrities, seeing herself on Good Morning America as part of the "Stuck With U" Mother's Day edition of the music video meant so much more.
On May 10, Bieber tweeted, "#stuckwithumom 10am tomorrow. All the moms and one special dad. Thanks," which immediately went viral.
David Michael Rexrode, Miriana's father, was a hero to the United States and to his entire family. He served with the U.S. Air Force and U.S. Army for 25 years, having retired March 1, 2016. Rexrode passed away unexpectedly on May 8, 2020, after a short illness at the age of 46.
"My dad was a hero. Throughout my childhood, he was gone serving our country, which I always greatly respected and loved about him," Miriana recalls. "When he would come home because he would come home often, he was always so loving and it was so fun. There were a couple of times where he did the military homecoming and surprised me in class. My dad really lived a life of service, both in serving his country, but also serving our family, making sure we had everything we needed and wanted."

– Miriana Rexrode to CelebMix.com
'Adapt and Overcome'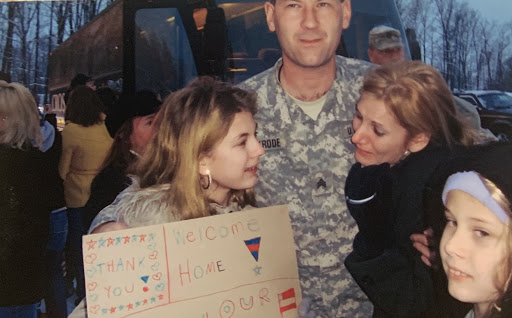 As I got older, one of Dad's favorite expressions to say was 'adapt and overcome.' He would say that to me all the time. When he passed away, my stepmom and I were trying to think of him and things to say during this time; adapt and overcome. With him gone and not encouraging us to do it, we have to now do it ourselves. He was the best. He always supported me and was blown away by everything I'm doing in public relations. He always made sure I knew how proud of me he was. I would talk with him all the time, no matter where he was. Anytime he could call us, he would.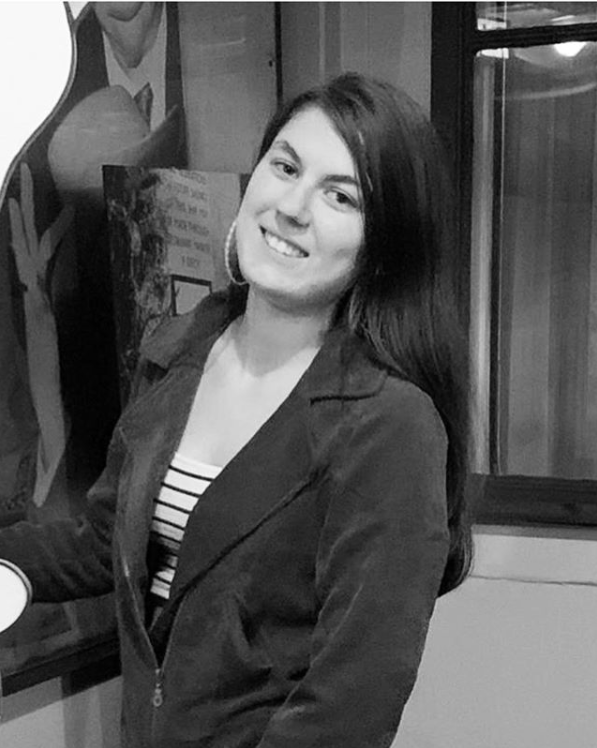 We spoke with Rexrode about how Bieber's team, including Scooter Braun, made the decision to include Rexrode dancing with her father in the Mother's Day version of the "Stuck With U" music video.
CelebMix: Were you surprised by Bieber and Braun's decision to put something like this together for fans?
Miriana Rexrode: Yes and no. I think the reason this video successfully earned the attention it did beyond Justin and Ariana's dedicated fan base, was because everybody was in the same boat of being stuck with loved ones during the quarantine.
But at the same time, Scooter and Justin from day one, have always been about their fans, supporters, and they do whatever they can do to include, honor or notice those people. They've done a variety of things, including meet and greets, visiting hospitals, private shows, among other things simply to surprise fans and others. Once you get to know him, Justin has a really huge heart. He just loves to do things for other people.
CM: We have to ask. How did the decision to include the very special segment of you dancing with your father come about in Grande and Bieber's video? Did you submit a video of you and your father dancing to Bieber's team?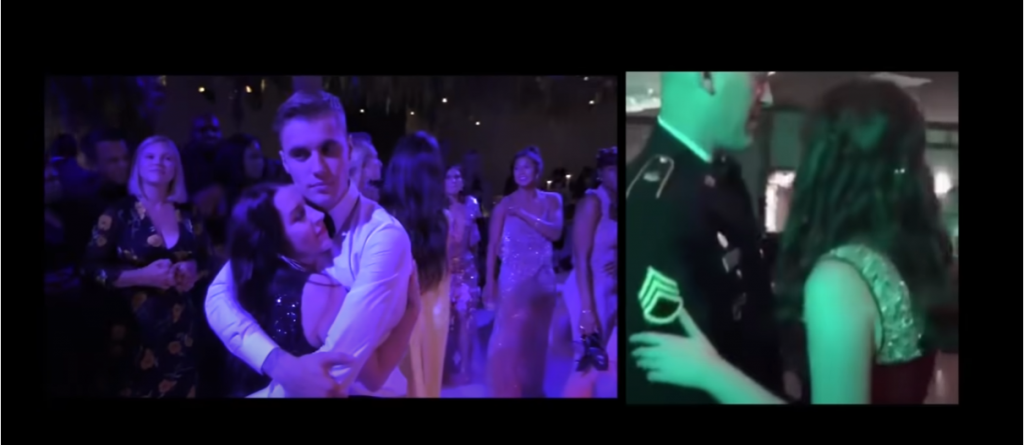 MR: After the initial fan video for Stuck With U was released, Justin and his team put out another tweet asking for videos of fans and their Mom to possibly add into a special Mother's Day version of the video. And that's the time when my dad had just passed away. I had obviously posted the news everywhere because I was in such shock.
I also put it on Twitter and my post began blowing up. And that's when Justin's manager Scooter and Justin's creative director Alfredo Flores saw it and liked it. Right now as we are talking, it's at 835 RTs and growing, which also was attributed to the attention it got from Justin and Scooter's decision to include my dad and I in the video.
Justin and some of his team have followed me for years, so because of the situation, they decided they wanted to include my dad and just one dad in the Mother's Day edition of the music video. Which brought us to Justin's tweet on May 10.
CM: When you saw the tweet and had heard rumors, what was going through your head when you found out your dad was included in the music video?
MR: I was already very emotional and obviously kind of numb to everything going on. You know, COVID-19 was here and still is. I hadn't seen my dad in 4-5 months, as I was living in L.A.
Due to the pandemic, I wasn't able to see alot of my family for months. The pandemic prevented us from not being able to move forward with many plans, including a funeral at the time. I didn't know they were going to include my dad and I and they definitely wanted to make it a surprise.
I really wasn't expecting it, I guess you could say. On May 10, the night before the video came out, Justin tweeted "Stuck With U" video tomorrow. All the moms and 1 special dad."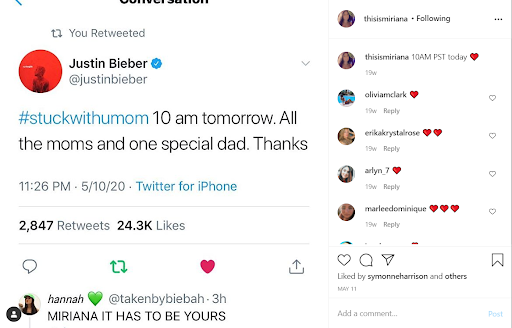 My phone began blowing up with so many messages hinting that it could be my dad he was talking about. That following morning, that's when Scooter contacted me and told me they would be contacting me later that day about the video.
So the video came out and it was a range of emotions, obviously. It was such an awesome way to honor my dad and it was really special because they put my dad and I next to Justin and his mother, Pattie, dancing in the video. My dad had actually met Pattie a while back with me at a book signing at a mall. He always spoke highly of that experience.
Ironically, my dad had also met Justin before I had when Justin was thanking the troops at the airport many years prior. It was just really special they chose to include him. It made me smile and feel better through everything that was happening at that time.
CM: Once the video came out, did you and your mom have a chance to talk about it?
MR: My mom and dad are divorced, but they were still good friends and talked. The news about what Justin and Scooter had done for us hit my mom pretty hard. She actually texted me that morning, because her best friend, Beth, had seen the video on Justin's YouTube channel and texted my mom, "Is this Miriana?!?"
So, my mom texted me and asked, which I, of course, said, yes. She thought it was so awesome.
My stepmom was also crying and told me to make sure I thanked Scooter and Justin for her as well. It was very special for our family, who all acknowledged their respect for what Justin had done.
CM: Not only are you a fan of Justin's work, but you're also a known industry publicist. How has this experience with Justin and Ariana's newest video opened your eyes, perhaps to the warmer side of the entertainment industry?
MR: Working in the industry, you obviously see many things and of course negative press associated with both the industry and people in it. I see it with the people I am associated with in my capacity as a publicist and outside of that.
But anyone who is a fan of Justin, also knows there's been lots of negative press around him over the years because, in the media, negativity sells. But it's never come from me.
I am happy and grateful knowing the kind-hearted person Justin is, alongside Ariana. It was very kind of them both to include me. But this isn't the first thing they've done for people that have gone unnoticed. Justin has done many things for his supporters including, fan appearances, private shows, meet and greets, specifically with Make-A-Wish with only one request: no cameras.
CM: Justin and Chance The Rapper just released his newest single, "Holy," which shines a light on issues we are all facing right now with COVID-19 while showing the importance of unity and kind-heartedness in 2020. How does this further play into the "warmer side" of the industry you've just identified?
MR: I think it was super important that Justin and Chance released a single and music video that is so relevant to the hardships of what fans and other people are facing today. Justin is a multi-millionaire that doesn't have to worry about job losses or evictions, he still took the time to shine a light on people that are struggling with the effects of COVID-19.
I think this video shows the warmer side of the industry because many music videos show love, a romantic type of love most often. This video really shows many types of love. The love of God, the love of a couple, the love of a family, and love and compassion showed toward complete strangers. It showcases being kind to others around you that may be in need.
Videos like that from people in the industry and celebrities as influential as he is are needed in today's society. Most recently Justin and Chance The Rapper, in partnership with Cashapp, gave away $2500 in honor of Holy to fans and people affected by COVID-19. They never have stopped giving back. It really shows their hearts.
I think there is a good side and bad side to the industry. I think the media sometimes focuses too much on the bad side, when there's really more good to it. I would like to see more positivity.
CM: In "Holy", Justin was assisted by a military soldier in addition to witnessing a military homecoming. How does this portrayal resonate with your personal experience with your dad, as a military daughter?
MR: If I'm being completely honest, the military homecoming part made me cry my eyes out. I remember being that little girl running to the door screaming "daddy" to see my dad when he was coming home from being deployed.
My dad lived a life of service and sacrifice. Service to his country, his family, and service to others. My dad was the type of person that would have pulled over his truck to help others in need. I absolutely loved how Justin and the director of the video, Colin Tilley, used a soldier character to be the one to show kindness to Justin and Ryan Destiny's characters.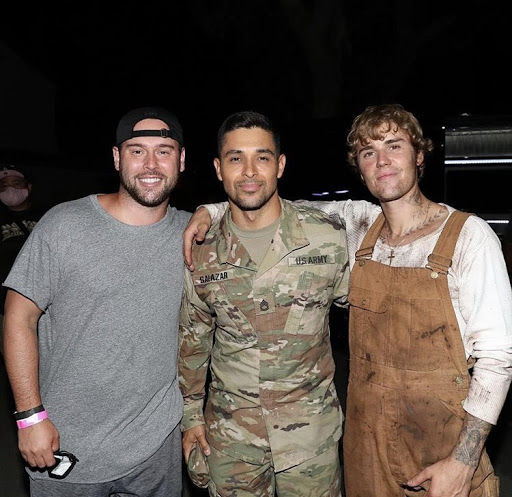 It's another spotlight that the video shined on a very important group of people. The whole end part of the video really showcased the military and military families so well.
CM: Obviously with COVID-19, many things had to be put off, including the funeral and viewing. Has your family been able to have the necessary and proper closure since his passing?
MR: Yes. We had calling hours and a military service. The service was led by my grandpa and grandpa's best friend, who is a pastor at the end of July. The day after, we had the actual military service and military burial at the cemetery.
CM: Moving forward, where do you see your career headed or what direction would you like to take in what will soon be a post-COVID-19 age?
MR: I definitely want to stick with public relations in the entertainment industry, but I also want to be involved with a bigger company, like for example, SB Projects, where I can grow and use my skills while learning from others. I just want to help and be a part of something big that matters. While I enjoy doing things on my own, I also want to be involved with bigger projects. I have really prospered and done well, making many connections in the industry.
A Special Message to Justin Bieber, Scooter Braun, and Team
As for Miriana and her family, they wanted us to be sure we included a special message to Bieber, Braun, and their team as a thank-you for what they did for her and her family in memory of David Rexrode:
I am so grateful to you Justin, Scooter, and team for doing this for me and my family. It has meant alot to us and we are all so very grateful. We all want you to know this. My dad would have loved this too, if he was here. I really appreciate everything you continue to do for your fans and you have the biggest of hearts. You are awesome. As you know I work with many different people in the industry and you are honestly the most giving, caring people and celebrity team I've ever had the pleasure of knowing. Thank you.
As of the date of this article, Bieber's initial tweet about Miriana's "1 Special Dad" is over 52K likes, 6K RT's, and 1.4K comments.
How has COVID-19 affected you and your loved ones? Let us know your story on Twitter using @CelebMix.