With the release of his latest single "Blame's On Me", Canadian singer-songwriter Alexander Stewart inadvertently tapped into the aching feelings of internal grief, felt by millions of people around the world dealing with a broken heart.
Pulling from his own personal experience of falling out of love, Alexander's bold decision to break with tradition and write from the perspective of being the person who called time on a relationship proved to be a genius move – with his super rich vocal tone, introspective lyrics and healing melodies ultimately providing a sense escapism, and place of solace for those going through the exact same thing as him.
Receiving mainstream support from the likes of BBC Radio 1, BBC Newsbeat and the Official Charts, the brutally honest track – co-written by Stewart along with Ricky Manning and Whakaio Taahi – has amassed over 36 million streams to date!
---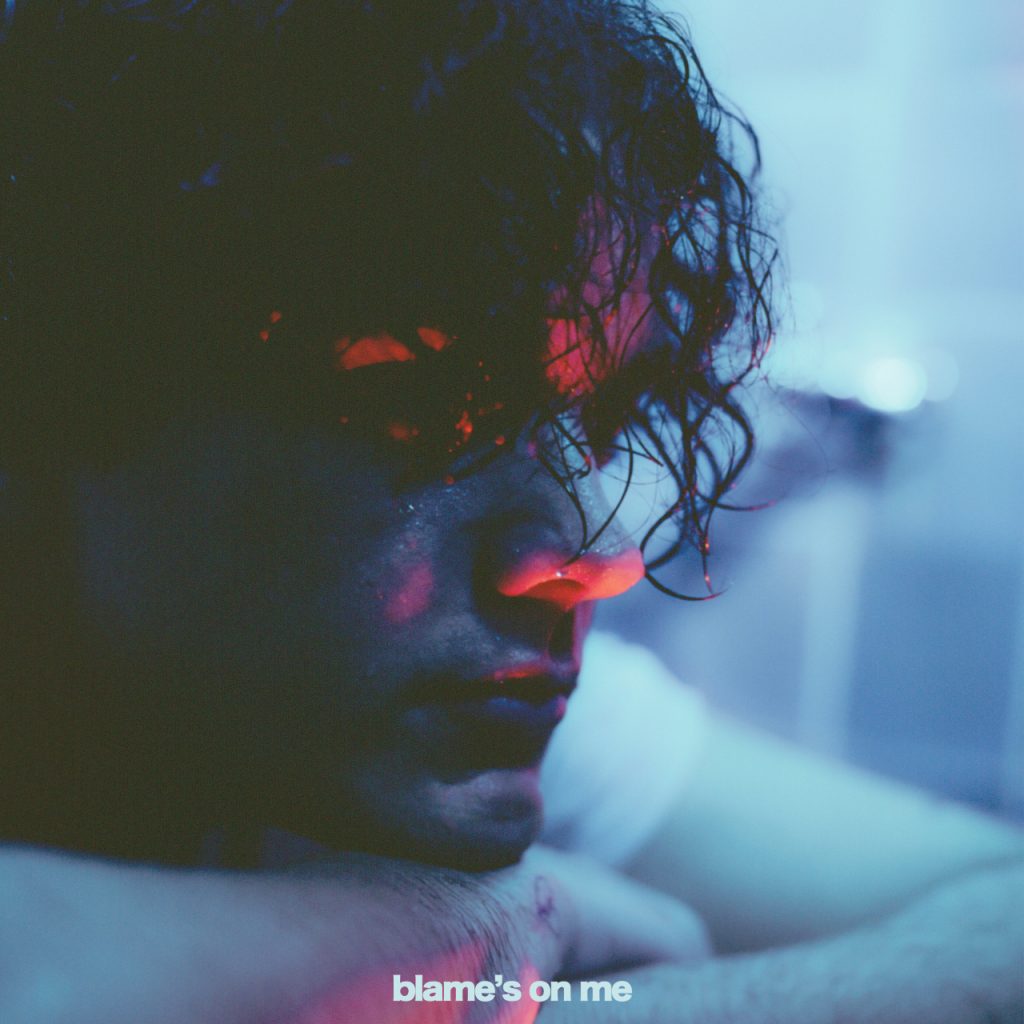 ---
Hailing from Toronto Canada, Alexander Stewart's unquestionable love for music can be traced back to his childhood, where as a youngster he sang in a selection of local choirs before becoming drawn to the burgeoning online music scene, where upcoming performers began dominating platforms such as YouTube and MySpace with their unique cover versions of popular songs originally made famous by artists including Shawn Mendes, Charlie Puth, and Bruno Mars.
Inspired by attention and traction such clips were receiving, Stewart soon hit the recording studio with a friend, and got to work on honing his craft throughout high school, eventually sparking viral gold with his take on Camila Cabello's "Havana".
As he continued to build a loyal following of over 2 million subscribers on YouTube, Stewart soon set his sights on taking his music career to the next level, making regular trips to Los Angeles with the goal of building a platform so he could afford to make music on his own. After finishing school, he relocated to the West Coast permanently and spent time in the studio refining his songwriting, eventually breaking big with the effervescent 2020 single "Backwards", which landed in his native Canada's Billboard Top 20 chart. Follow up singles "Echo" and "When You Love Someone" have continued to create momentum, so far amassing more than 23 million total streams!
---
---
To celebrate the success of "Blame's On Me" we caught up with Alexander to talk how best to deal with heartbreak, playing live, working with Rita Ora, and the undeniable healing power of music…
The response to "Blame's On Me" has been phenomenal! How does it feel knowing the song has resonated with so many people?
It feels incredible and insane. When I wrote this song I was actually terrified that people were going to think I was a bad person! It's the first song I've released that comes from the opposite perspective of heartbreak. I'm not playing the victim, I knew in this song I basically had to say "I'm sorry" and "it's my fault this relationship ended". I knew I wanted to put it out more than anything and I was terrified people were going to think I was not a good person because of it! The fact that the reaction has been what it is, it's been unbelievably heart-warming and honestly shocking to me.
From a personal point of view, how cathartic has it been for you putting this song out into the world?
It's been extremely cathartic, the day it came out I actually sent it to the human being that it's about and somehow got my own closure in that way as well. We had a really long conversation and seeing so many people relate to it makes me, like I said before, feel less alone in the situation. Hopefully it helps other people feel less lonely in their situations.
Because of the vulnerable nature of the lyrics, does that make the build up to release day even more nerve-wracking because you're essentially baring your soul…
Yes! I mean releasing any song is extremely terrifying, I've always found it to be the scariest thing. Songs are forever and they're my inner most dialogue that I don't say to a lot people. All of a sudden I'm saying it to everybody in the form of music! This song specifically was the first time I've ever put out a song from the perspective of being the one who ended things and the heartbreak that comes with that. It was truly a terrifying moment when it came out. The night it came out I remember very specifically where I was and who I was with. I was so anxious and everyone was trying to calm me down!
---
Alexander Stewart x Blame's On Me (Official Music Video)
---
What inspires your songwriting the most – love or heartbreak?
It's been heartbreak. I feel like I've experienced a lot more of it and the heartbreak I've experienced is a lot more powerful than the love I've experienced! That's just where I'm at in my life currently. I'd love to experience a love that makes me want to write love songs everyday but at this point in my life it's definitely more heartbreak!
For anybody out there currently going through a break-up, what advice would you give them?
I would say just be kind to yourself and be patient with yourself. Whether you have ended things and you're feeling heartbreak, guilt, regret or questioning if it was the right decision. Or if you've been broken up with and you're feeling sadness and loss, all of those emotions are so extremely powerful and difficult to deal with and hard to understand. They really do heal with time so rely on people around you and just be patient with yourself!.. and go buy some ice cream!
This past week you've play your first SOLD OUT show in London, at The Courtyard – how was it?
The show was unbelievable. I got extremely emotional on stage when I heard everyone singing back the lyrics to my own songs. It's the first time (for my own show) that's ever happened. I never want to stop playing shows for the rest of my life! It really was probably the best night of my life.
For those fans who haven't yet seen you perform live, what can they expect from a Alexander Stewart concert?
Honestly, I like to keep the concert very focused on the music. There aren't a whole lot of theatrics going on, it's just me singing! All the songs are very emotional to me and it's a really special feeling to be in front of everybody who knows these songs, it's crazy. To sing it to them and watch them sing it back is really a healing and incredible experience for everyone involved. It is for me anyway! I'd just say expect to feel. To be there with everybody and feel less alone, really seen and heard for a minute.
---
Rita Ora x You Only Love Me (Official Music Video)
---
You recently starred in the music video for Rita Ora's comeback single "You Only Love Me", how did that come about?
I recently met Rita and she is so, so, so, sweet. We just hung out for a bit and then a month later I got the call asking if I wanted to be in the video. I thought it was the sweetest thing ever that she thought to ask me. Obviously I was immediately like: Yes. When? Where? I'm dropping anything else I've got. We got to the shoot and they had my little cake boy outfit ready to go. For those who haven't seen it I was a cake delivery boy! I put the outfit on and it was maybe fifteen minutes of shooting, I did the same motion of passing the cake to the door loads of times and then it was done! I absolutely loved how it turned out, and Rita is incredible!
You must be pretty excited to featured in the clip alongside stars like Lindsay Lohan, Sharon Stone, and Kristin Stewart…
Yes! I mean it's crazy. I actually didn't know any of them were in the video until it came out, when we were shooting it was all confidential. So when I watched the video I was sitting there just like: you have to be kidding. There's no way. I called my manager and said "this is the coolest thing that's ever happened to me!" It's just me in a costume handing a cake to two very colourfully dressed bridesmaids! A really really incredible experience that I'm so happy with. A huge thank you to Rita for even asking me in the first place!
Anybody who has followed your career to this point will know that music plays a massive part in your everyday life! Are you able to wrap your head around the fact you've managed to turn your passion into a career?
It is a blessing, an absolute blessing. Everyday I try to lead with gratitude because at the end of the day, no matter what's going on in my life, I have to remind myself how incredibly lucky I am and how grateful I am to be able to do what I do. I've actually gotten to a point where I've been separating my personal life from my music life because they got so intertwined, which was good and bad actually. Separating them makes it even more incredible to be able to make music for a living, as I've been able to keep it my passion. A lot of the time in any entertainment or arts, once you start doing what you love for a living it can become stressful because all of a sudden it pays the bills. It can be a really scary thing. I've worked really hard on making sure that no matter what happens, music stays my number one passion. It's the driver and the thing I love doing and wake up thinking about and go to bed thinking about. The fact that I get to call music my job is something that I will forever be grateful for.
YouTube proved to be a great platform for you to really connect with your audience, and grow your following, do you believe social media / the internet is a help or hinderance to new artists looking to break-out onto the scene?
It's an incredible help. I've always thought it was absolutely ground-breaking. There's never been a time on this planet ever where artists, no matter what level you are, absolutely massive or don't have a song out, have zero followers, have ten hundred million followers have basically equal opportunity to promote their music! Especially with TikTok these posts are going viral everyday, I've discovered so many new artists from TikTok! I think it's such a beautiful thing that for the first time ever artists can market their music themselves. I think It's really created a playing field for so many people to have their music heard that maybe wouldn't know how to do it in the first place before. I say absolutely 100% positive!
You've always remained true to yourself, and are proud to be an independent artist, how does it feel to be the one in control and calling the shots?
I mean I love being an independent artist, I've been doing this for a long time, about eight years. It feels like a long time! Being able to be the one in control the whole time has been phenomenal, there have of course been times in my life where there were certain things that didn't go as planned, I didn't feel as in control. It makes me even more grateful for what I have, for having the power to call some of the shots. It's hard when you can't, it's a powerful thing to be able to make the music and also decide how you want to release it and how you want it to be heard. I was going to say how you want to be perceived but no artist has control over how their music is perceived! It's something that I've never taken for granted and I feel very lucky that I get to have such creative control over my art.
What's next for Alexander Stewart?
Two words: album and touring. I guess that's three words! I cannot be more excited. I'm going to announce more tour dates soon, the first few shows were so fun and were probably the highlight of my entire life actually. And putting out more music! I have so much music, so many songs that I'm unbelievably excited about and cannot wait to get out into the world for people to hear. Art is just such a cool thing because it's yours until it's not. It's mine and it's about my stories and it's really special to me and then the moment I put it out it's perceived how it's perceived by everybody. It's terrifying but also the coolest thing at the same time. I can't wait to put out a whole track list of that! And to hopefully go play around the world, that's definitely what's next for me. Three words: touring and album!
Alexander Stewart's single "Blame's On Me" is out now.
---
Let us know your thoughts on Alexander Stewart over on Twitter @CelebMix now!