When the world was placed on an indefinite pause back in the spring of 2020, due to the global outbreak of COVID-19, actor, musician, artist and writer Arun Blair-Mangat suddenly found himself at a crossroads.
Having landed the most poignant role of his career so far, in David West Read's new musical & Juliet, a coming-of-age stage show featuring the music of legendary Swedish pop songwriter Max Martin, Mangat was riding high – receiving rave reviews, and winning a legion of new fans for his portrayal of 'May', Juliet Capulet's uber fierce, gender non-conforming best friend. However the jubilation of the moment was sadly not to last, as just four months into the productions initial West End run, a ban on all large gatherings was enforced in a bid to halt the spread of the virus, plunging millions of theatres and concert venues around the world into darkness.
Unable to continue to live out the childhood dream that now had become his reality, yet unwilling to momentarily walk away from an industry he had worked so hard to become a part of, Arun wisely allowed himself a period of grace, to look back, reflect and reset.
---
Arun Blair-Mangat & Miriam-Teak Lee – I'm Not A Girl, Not Yet A Woman (& Juliet Original London Cast Recording)
---
"Life suddenly became super regulated, which I know was really hard for a lot of people, and understandably so, I mean everything about our world seemingly changed overnight didn't it?" Arun muses from his apartment in LA, where he's been staying since the beginning of winter. "But for me… I don't know, I was very lucky because that pause in time allowed me a sense of freedom to think, to play, and to just be."
It was during a peaceful moment of clarity, some months into the first lockdown, that Arun says it became abundantly clear to him what his next move should be, and so rather than reprise the role of 'May' in & Juliet, Mangat decided to take a leap of faith, and embark upon a brand new adventure that would see him explore his artistry in an altogether different way. And whilst unsure of what his immediate future might look like, the former Kinky Boots star says he was determined to not waste the luxury of 'free' time unexpectedly afforded to him by worrying about the shoulda, woulda, coulda's of everyday life, instead choosing to harness the power of the great unknown, and 'dive in' to a whole new world of endless creation and possibility.
"For the first time in a long time, I feel like I'm finally seeing myself again – and that makes me happy, because it had been kind of hard to do that through the haze of everything going on over the last couple of years." Arun says of his current state of mind. "I feel hopeful when I wake up in a morning, and I like that, it's a good feeling."
---
That pause in time during the first lockdown allowed me a sense of freedom to think, to play, and to just be.

Arun on how an enforced moment of isolation, lead to both a personal and professional transformation.
---
"There's something different, more exciting, all in the air…"
Despite all of the uncertainty, and the looming fear of change lingering in the air, there's no denying that the stillness of 2020 provided our world with a brief time-out from the fast-paced way of life we'd all grown accustomed to living. Stripped of our daily responsibilities, and with no real school / work / family or social commitments to uphold, now was the time to ask questions of ourselves, to re-visit childhood memories, remember forgotten aspirations and recall the visions of the people we once dreamed we be.
"At school I for sure wanted to be a pop star!" Arun laughs when we ask what his younger self wished for as a child. "A pop star who made films; that was my goal, and that was what I told myself I was going to to do! I didn't know how I would get there, and I knew it wouldn't be easy, but I believed if I worked hard enough, I would eventually end up where I wanted to be. That kind of approach to following your dream can be quite anxiety inducing for some, and I maybe thought it could be for me too, but for some reason there was something inside of me that allowed me to feel happy in each moment, and content to navigate through various, different life adventures until I reached my destination, without really comparing myself to others and without worrying about whether or not I was doing the 'right' thing."
Reflecting on that period of time in his life further, Mangat adds: "Don't get me wrong, it wasn't plain sailing, there were so many near hits and misses, and a number of opportunities presented to me that I thought had the potential to turn into something, but ultimately they never did. At 16 I very nearly got put into a boyband and almost left school, then I was scouted to do various reality shows, and I participated in a couple development workshops, but it was almost like there was always a stumbling block preventing me from making it past the finish line."
"One of the main problems I encountered was that whenever I took meetings, I often found that people would want me to behave one way or do a certain things to live up to a stereotype, and I didn't want to do that. I've always had a very clear vision of what I wanted to do, and more importantly who I wanted to be, and I didn't want to ever compromise on that because if I did, in my head, it felt like I was settling for less. I've always perceived there to be a fine line between compromise and collaboration – sometimes you need a bit of both, you can't get your way all of the time, and there will be occasions when you do need a bit of guidance. But I think if you find yourself feeling like you're losing your artistry, for the sake of what direction other people may be steering you in, that's when I feel like things can become more detrimental than beneficial."
"And so that's why now, after all my years working in theatre, me deciding that I want to get back into music, really does feel like the right thing to do, because making music is such a creative release for me. It's a way in which I can express myself and explore my feelings without compromise. So, when in the middle of the pandemonium of the pandemic, I finally started writing (songs) properly again, it felt like 'ohhh… okay, this is what's been missing'."
---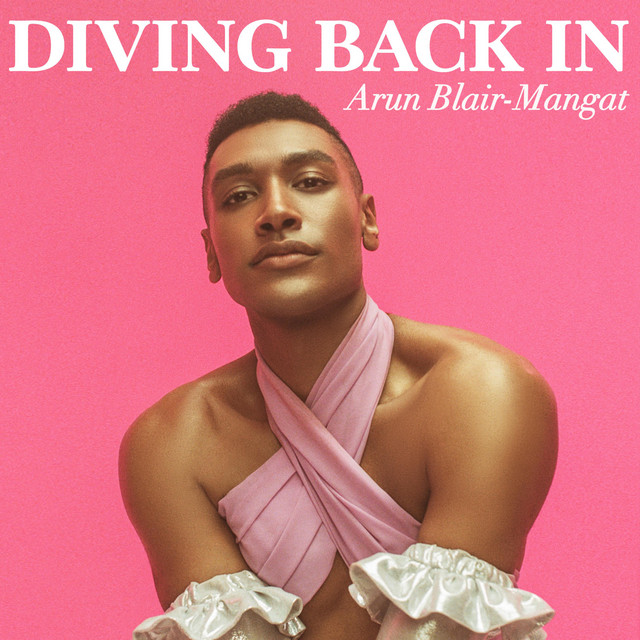 ---
With the release of his debut single 'Diving Back In' last October, the world was officially introduced to Arun Blair-Mangat, the recording artist!
Co-written by Arun, along with Jennifer Lucy Cook and Peter White, the super upbeat track lyrically paints a picture of what a night out on the town could look like for a person, post pandemic – with its playful, and flirtatious opening verse detailing the singers arrival back on the social scene, before transitioning into an uber catchy, sing-along chorus that manages to stay lodged in ones brain after just one listen.
"At heart, I'm a storyteller. I love to create pictures with my words, and for my songs to have some sort of narrative that aligns with where I'm at in my life at that moment." Arun explains of his bespoke approach to songwriting. "'Diving Back In' came to life as a result of the moment we found ourselves in two years ago, and was inspired by my experience of coming out of lockdown in the summer of 2020. I remember I'd gone out into Soho for the first time, during that weird window of time in the 'Eat Out to Help Out' era, and I was like a kid in a candy shop! My once familiar surroundings all of a sudden felt completely brand new to me, it was somewhat unsettling but also really exciting, and I thought it was something that other people would be able to relate to, so I wanted to write about it."
As his first offering of original music, the single provided listeners with an exciting insight into Arun's identity a contemporary recording artist in his own right, by seamlessly fusing together the majestic sounds of 70's disco, with sonic elements of classic 90's pop, to create an undeniable top tier bop, that served to perfectly reflect the playful side of Mangat's multifaceted personality.
"Some songs are born out of a feeling, so the lyrics almost become secondary to the emotion you're leading with – and I love that, I enjoy a hard baseline and a dance/party track, we need them in our lives right?" Arun muses. "But as important as the musical element is to any song, I'm finding that for me personally as a songwriter, I'm more inspired by the thought behind the lyric. But I will say, I do think 'Diving Back In' has the perfect mix of both those two things, and that's why I knew it as my first single – it's the perfect introduction to me a proud, independent, queer pop artist! And I'm super excited to perform it live, because as much as I love being in the studio and being creative, I think I come more alive when I'm performing on stage in front of a crowd…"
---
Arun Blair-Mangat – Diving Back In (Official Music Video)
---
As a professional actor, and performer who has spent the majority of the last decade being directed by some of the theatre worlds most prestigious impresarios, and inhabiting a diverse range of different characters and personas, we imagine having the opportunity to now walk out onto a stage as his true, authentic self must be a pretty liberating feeling for Arun.
"Listen, I love performing and working in musical theatre." the London native says with an infectious smile. "I do, I love everything about it! I love playing different characters, I love acting as part of a company with other artists, and I love singing all of those wonderful musical theatre songs; but… and there is a but here (laughs). It's not something that's always inherently enfranchising for me as a creative person, in the sense that you're often a bit like a cog in a machine, or playing a part in a much larger picture of someone else's creative vision, which can sometimes mean you don't have the freedom to explore or bring a character to life in the way you'd like to."
"So yes, I have to admit, it has been incredibly liberating to be able to perform as the artist and performer I, myself want to be; rather than as an artist, playing a part, who has to then add a layer of character into every choice they make as a performer, playing a role in a production (laughs)."
Pausing for a moment to think, Arun adds: "And please, don't get me wrong, that is an amazing gift and a wonderful way to challenge yourself as an artist, and I am so, so lucky to have had the opportunities I've had in my career, and I know that! But I think I'm at a point now where I've maybe hit a bit of a wall… and I say that because realistically, within musical theatre in the U.K. at least, there are only so many roles that I'm 'allowed' to play. That might have changed as a result of the racial awakening that happened in the summer of 2020, but even then I feel like although it's not necessarily tokenism, there is a feeling of 'oh well you could be the alternative option…' but I'll be honest and say, I don't want to be somebodies alternative, I want to be cast on merit and because I can bring something different and unique to a role."
---
Making music is like a creative release for me; it's a way in which I can express myself, and explore my feelings without compromise.

Arun on the profound inspiration behind his love of songwriting, and creating his own music.
---
"In one moment you could be changing…"
In a society that is, hopefully, ever evolving, and as we as a human race continue to put in the work to ensure that the mistakes of the past are not repeated in the present, there feels to be a sense of hope in the air as we enter the new year – united in our stance for equality, as we look towards a brighter, more inclusive future. However, it would be remiss of anybody to not acknowledge the social atrocities, and injustices faced by many marginalised communities over the course of the 18 months. Feeling impassioned to make right some of the wrongs his community has faced, and to stand in solidarity with those he loves most, Arun admits now is as good a time as any to speak up, and make our voices heard.
"I think we need to start holding people accountable for their actions, and let them know that how they're behaving isn't acceptable in 2022." Mangat says matter of factly. "But that doesn't mean you have to be aggressive, or get into screaming arguments with people – it's all about how you approach a situation. On my part, I will always be respectful, polite and courteous, but just because I'm coming from a place of calm, doesn't mean I'm going to shy away from airing any grievances I have… and ideally, I'll do it face to face because I think it's really important to look into peoples eyes when having those types of discussions."
"I make a point of saying that, because a lot of people take to social media to vent their frustrations now, which I believe can be a very brave thing to do, and that's totally their prerogative to do so, I just worry sometimes that because the roar of the negative crowd is often so loud on those platforms, your message can sometimes get lost in the noise; and I think that's why so many of us have become resigned to the idea that social media is just a place for people to bad mouth one another and spread hate. To kind of flip that idea on it's head though, I try to view social media like it's the wild west, and one thing we should always remember is that in the wild west, yes there was obviously bad, but there was also good too! I guess what I'm trying to say is that we always need to search to find the positive in life, because always focusing on the negative will only drag us down. I know it's not always easy, but I promise you, the positives are there in abundance if you look hard enough."
Manifesting more of that optimistic energy, Arun adds: "I personally feel quite empowered and invigorated… I'm positively optimistic that a change is coming! I'm seeing and hearing a lot of good, healthy conversations happening which I love, and I talk / check in with tribe of people about things all the time – it's important to remember that we're not alone in this, we're in it together, and like I said before, I'm not afraid anymore to speak up and use my voice to support myself, and my community and nor should anybody."
---
Arun Blair-Mangat – Hazy (Official Music Video)
---
Having amassed a wide, and diverse social circle of creative friends and collaborators throughout the course of his decade long career in entertainment, Arun finds himself part of a thriving community of young artists who are taking control of their own narrative and creating a legacy for themselves, on their own terms.
"I will always glow up the people I love." a proud Arun grins. "There are so many talented people out there, and I want to celebrate all of them, and be a part of a team of artists that grows together. Society loves to celebrate the person that's already here, but I say 'look to your side', support your friends on the rise, and let's win together."
In an industry that has a reputation for being dog eat dog and incredibly cut throat, it's refreshing to hear of todays consortium of artists actively working as one, to re-write the rules for a new generation to follow.
"I honestly believe that you can learn something from every single person you encounter throughout the course of your life, and what you learn, you should pass on." Mangat muses. "When I was 6 years old I joined the Chicken Shed Theatre Company, and during my time there my teachers introduced to this whole new world of creativity, that changed me forever! Then as a student, studying history at LSE University, I found myself in this very international, academic environment, and surrounded by people from all different walks of life and backgrounds. There were so many different mindsets, outlooks and perspectives for me to learn from – I suddenly found myself in this place where there was this intersection of cultural, community and thought, and although it could be intense at times, the experience was invaluable and played a huge part in my personal development throughout my late teens and early 20's."
"Transitioning then into the world of musical theatre, and learning a whole new discipline and way of working, provided me with great insight and an all together different perspective on what it means to be a professional actor, and how to adapt and be responsive to the energy that you feel coming from an audience in order to give your best performance possible."
"Being a part of shows like Kinky Boots, In The Heights and The Drag, taught me so much, and of course & Juliet… I mean, honestly that whole experience and my time in that show was a huge turning point for me. Not only was I immediately excited at the prospect of playing the role of 'May' and to have the opportunity to illuminate their message on a West End stage in a mainstream musical, but it also inspired me and guided me to explore the world of pop and R&B, and write my own music, which is where I know my future lies."
---
"This person will always find their way…"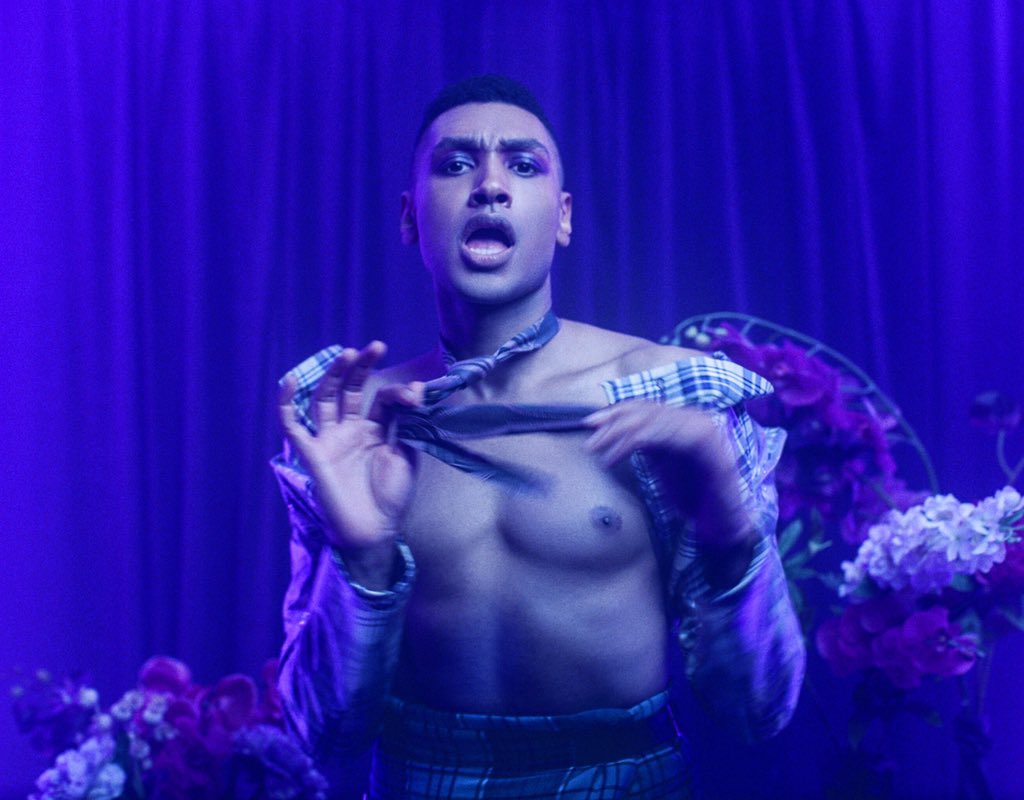 "My Mum says when I was born, I had a super serious look on my face, and this aura of wise energy around me." Arun explains of his arrival into the world back in August 1991, as we begin to cast our minds towards the future. "I was always really, very shy as a kid, I remember I used to hide behind people a lot and found that I was much more comfortable and confident at home, in familiar surroundings. But over time, and through discovering the arts and because all of the incredible people I've met, I grew out of that and was able to become the person I am today."
"Circumstances change as they are supposed to, and situations present themselves to you as a way to help you grow and evolve – these past 2/3 years have changed me; the pandemic helped to shift my perspective so that I could see my own worth as a performer, and my time in the studio has given me the fuel to push forward into the next phase of my career."
Sounding happy, content and at peace, Arun adds: "What I'm doing now, writing songs and making music, is what I want to do for the rest of my life! I want to be innovative, I want to push boundaries and I want to be unapologetically myself!"
"I don't know where this life will take me, but I honestly believe that there's happiness to be found in the surprise of the unknown journey. And whatever happens next… I'm ready for it!"
---
Let us know your thoughts on Arun Blair-Mangat over on Twitter @CelebMix now!