Having already made a name for himself as a renowned actor after appearing in recurring roles for hit TV shows including Pretty Little Liars, The Rookie and Glee, performer, vocalist and songwriter Titus Makin, aka Butterfly Ali, looks set to conquer the world of music with the release of his eagerly anticipated new EP, Preacher's Kid – a project that serves to emancipate the Honolulu native from the restrictions he has, at times, felt in the past.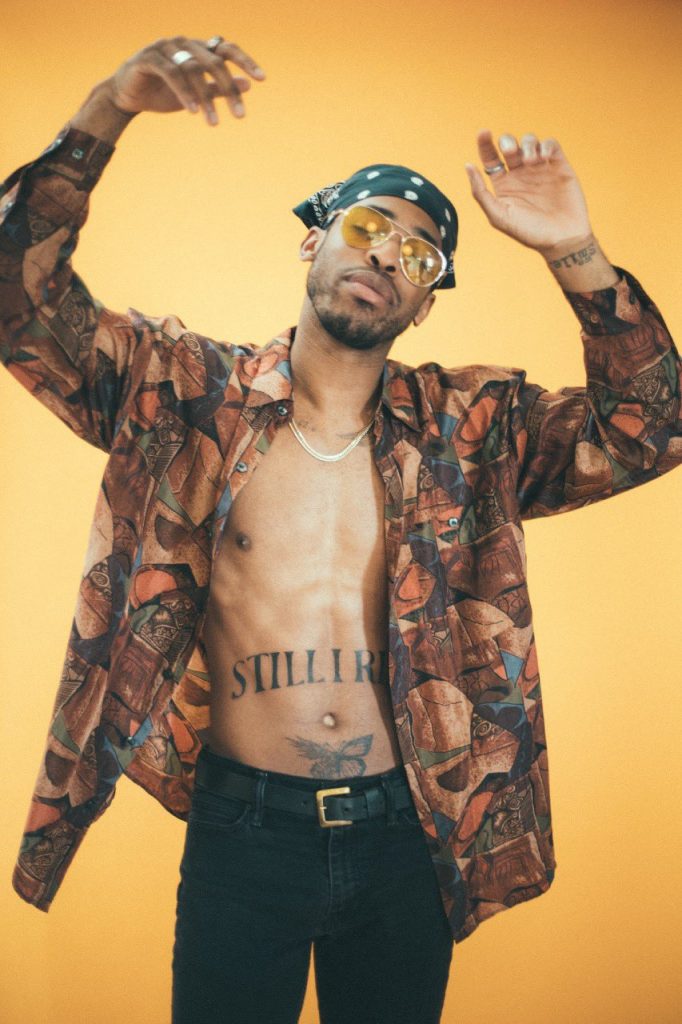 "When I was younger I saw a lot of musicians in my community feeling like they had to be a gospel artist, or like they had to make Christian sounding music that was either 'secular', 'mainstream' or 'pop' because of how society thought they should be." Ali tells us as we chat from his home in Los Angeles. "But now I'm older, and I think about everything I've been fortunate enough to experience in my life so far, and I just feel like there needs to be a safe space where we all just love on artists, and allow them to make the kind music they want to make without giving it a label."
Reflecting further, Ali adds thoughtfully: "I guess overall this new EP shares a different viewpoint… more specifically, my viewpoint of how I see the world as a result of growing up a preacher's kid."
---
"Call it testimony, I'm bout to speak on it…"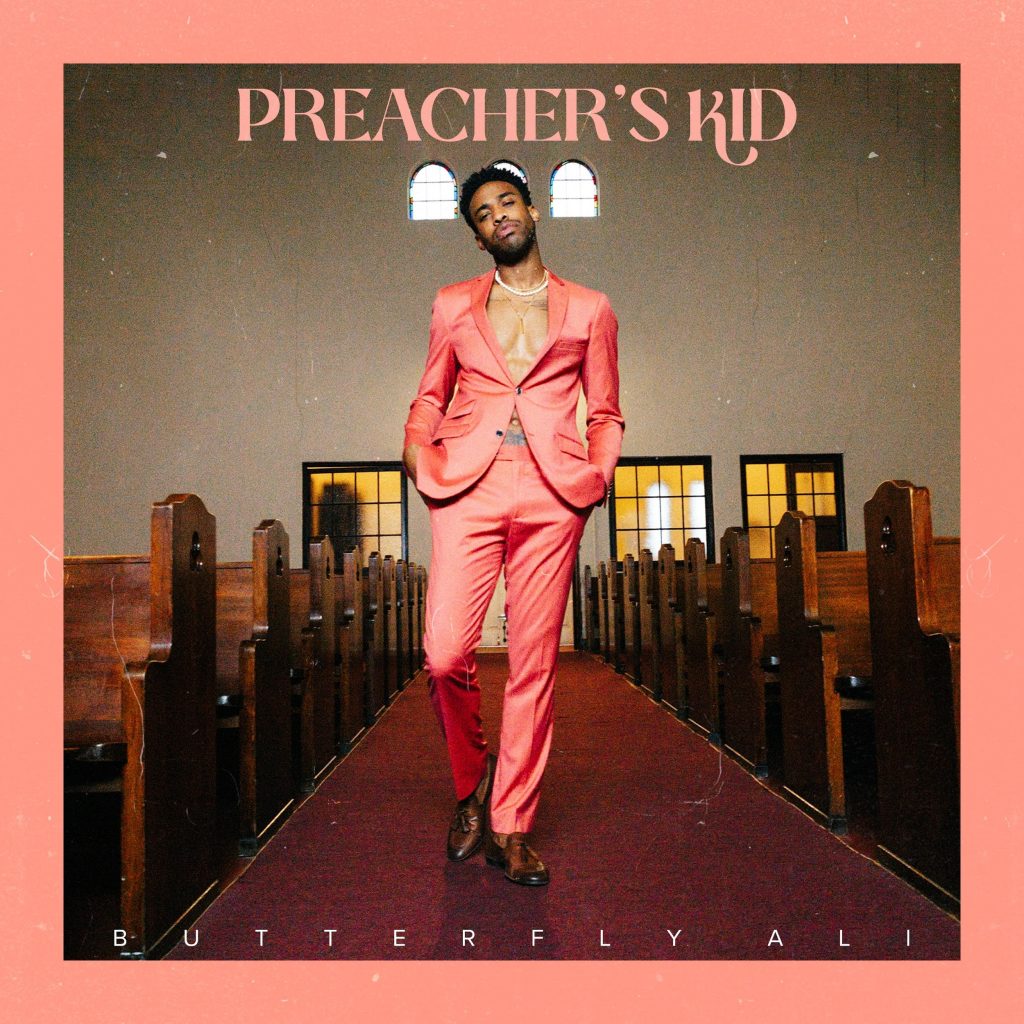 Made up of 5 spirited, funk/R&B inspired tracks, Butterfly Ali opens his heart and digs deep into his soul to deliver a truly innovative and cohesive body of work that sonically pushes the boundaries for what it means to be a contemporary recording artist in 2021, by adopting elements of the classic soul sounds favoured by his musical heroes Marvin Gaye, Al Green, Pharrell Williams, Cee Lo Green, Bill Withers and Andre 3000, before filtering it through his own energetic lens, to produce a timeless and authentic style all of his own.
As a fledgling performer, keen to make an everlasting impact on pop culture, we imagine the prospect of presenting that all important first musical project to the world must have been quite a daunting task for Ali – after all, as the famous saying goes, you only ever get one chance to make a good first impression. With this in mind, we wonder did the former Glee star have a clear vision in his mind for how he wanted his debut EP to feel and sound?
"Yes and no – I mean my dream as a recording artist has always been to create a fresh and new crossover genre of music that allows other artists the freedom to make any style of music they want to, without feeling restricted or like they have to fit into a certain box because of their circumstances and surroundings."
"So maybe, I guess stylistically I knew I wanted to do something that was totally different musically to anything else out there, but in terms of a concept, I never knew the EP would end up being called 'Preacher's Kid', or that I would address lyrically some of the subject matters I did. It was more a case that over time, the same themes and ideas became the through line for all of the songs I was writing, to the point where one day I just kind of realised that what I was creating, was a depiction of who I am, and who I am is the son of a preacher man (laughs)."
---
Testimony (Official Music Video)
---
"The songs that ended up being included on EP were the tracks that felt organic and relevant to the times." Ali continues. "There's been so much going on in the press, so much going on on social media and so much going on in the world, and I felt like I wanted to comment on everything, but in an authentic way that felt true to me… like I didn't want to just tweet something or put a press release out, does that make sense?"
"I want to be known for being an artist who's work speaks for its self and makes some kind of statement, if you know what I mean? But it's important for me to say, and point out to you that anything I do say in my music, is coming from my perspective – I'm not condoning anyone, I'm not pointing fingers and I'm not saying I'm right and someone else is wrong, this is literally just me using my platform to share my views."
A prime example of Ali's approach to contemporary songwriting comes in the form of Truth Is – the politically charged third single to be released from Preacher's Kid, that sees Butterfly Ali powerfully push back against a key section of society who to try to deny the existence of systemic racism in todays world. Spurred on by the thousands of Black Lives Matter marches that took place across the globe following the death of George Floyd in 2020, Ali pours his pain and frustration into the singles defiant and poignant lyrics – calling out social injustice, challenging perceptions and demanding answers from those in power in the hopes of breaking the cycle of historic racial inequality.
"Honestly, recording that song was my personal way of trying to keep the the conversations of 2020 moving forward, but in a way that doesn't promote harm." Ali says thoughtfully. "And what I mean by that, is that you can continue to move the needle by simply having general, calm conversations based around the subject matter that don't antagonise people or make them unnecessarily angry, because at the end of the day, anger just breeds anger! And trust me, I understand why people are angry, but we've got to move away from that emotion to evoke real change in the world."
Expressing his progressive opinion and outlook further, the 5 Minutes singer adds: "I'm not naive enough to think that things are going to change overnight or that me talking to somebody with totally opposing views to me will evoke this mass social awakening, but if one simple conversation, or one song can – overtime – open up a persons mind to maybe thing in a different way then… well, it's a start isn't it?"
---
Truth Is (Acoustic Version)
---
As a forward-thinking recording artist who finds himself constantly inspired by an eclectic mix of different sonic styles and performers, fans shouldn't be fooled into thinking that Butterfly Ali delivers just the one style and flavour on his debut project…
"I grew up listening to a lot of Marvin Gaye and Bill Withers, I love André 3000, Anderson Pakk, Pharrell… I could go on forever!" Ali says with a sense of excitement as he does a roll call of his all time favourite music acts. "All of those artists, and more, helped me to created my own sound that I love to call 'left of centre R&B'."
"It's so fun to experiment musically, because… well you know, I always gotta make sure that I'm not being too basic you know?! (laughs). Seriously though, I enjoy switching it up and maybe going against the grain to do things that maybe people wouldn't expect from me. That's why on the flip side of songs like Truth Is, there are tracks on the EP with more of a groove and a beat, that showcase me in another totally different light, and I'm expressing another side to myself because ultimately I want people to see all sides of who Butterfly Ali is."
Explaining his hopes of influencing his audience to be the best version of themselves, Ali adds: "I like to use my music as a way to inspire people to be confident, so there are tracks that almost talk directly to the listener that say 'hey, walk in your confidence, walk in what you have to offer and don't let people tear you down for that.'"
For a young performer who has spent much of their life living under the constant glare of the showbiz spotlight, we would imagine confidence is key component every entertainer must possess if they wish to enjoy a fruitful and long-lasting career. And whilst there's no denying Ali is an undeniably gifted and confident performer, it is surprising to hear the hitmaker admits he does struggle with self-esteem issues from time to time.
"It's funny, I'd say I project confidence as a way to remind myself to abide by it, because in everyday real life, it's quite the opposite and I'm not as confident as people may think." the 32-year-old says with a refreshingly honest candour. "People will always assume, based on what I do, that I'm this bold, confident person, but that's not always the case, I literally have to psych myself up to be confident. My family and friends who really know me, know that I'm not good at being in big groups, or good at talking in front of large crowds and at press events… it's almost like I have to 'turn it on' and tell myself: 'you got this, you can do it!'"
"Truth is, I can be very insecure, and nervous, and scared about what people are going to say about me! And I think that's maybe because there are a lot of people out there nowadays that just love to take what you say and twist it… like, reality is, in some ways, the entertainment industry is a kind of scary industry to be in sometimes. But my way of overcoming that, is to project through my music and my art, how I expect to lead myself! So it's like I'm putting out the messages that I personally need to hear in my own life, do you get what I'm saying? I put out messages telling people to be confident, and to own their confidence because that's something I need to hear and be reminded of in my life. For real it's something I suffer with, and my hope is that by me sharing that with you and the people reading this, will be inspired to take ownership of themselves, and learn to be more confident too."
---
"Walk in your confidence, walk in what you have to offer and don't let people tear you down for that."

Butterfly Ali on his advice to fans who find themselves feeling timid and insecure.
---
Sharing ones insecurities is never an easy thing to do, especially when you have lots of eyes watching you, but it's Butterfly Ali's willingness to be so open, and be so honest and vulnerable with the public, that has adhered him to millions of people all around the world.
"People are super, super kind and I'm so appreciative all of the support I get from people; it's very flattering and I hope that everyone who has followed me to this point is willing stick with me, and continue go on this journey with for a long time to come."
"I sometimes don't think fans realise how much their support means to artists – it makes us feel liberated and brave… I honestly don't know if I would have had the courage to release this project if it weren't for the support I've had from the public. And I say that because being so open with music can feel like a bit of a double edged sword at times, because essentially what you're doing is signing yourself up to be criticised, and you almost leave yourself no room to make mistakes. But I will always persevere and I won't give up until I'm exactly where I want to be."
---
Pray For 'Em (Official Music Video)
---
As the world around us slowly starts to return to what was once perceived as 'normal', and people of all ages and races find themselves reflecting on the past, whilst also looking forward toward the future, many of us are now determined to make the most of the freedoms we all too often took for granted before. We wonder, how does Butterfly Ali feel about his own future as we collectively begin to transition out of the dark and back into light?
"I feel hopeful. I feel grateful. And that's what I'm trying to exude right now because it's very important to me that there's always some sort of message that I'm putting out there for people to vibe with." Ali says passionately. "I'm very lucky to have the platform I have, and with that platform I want to encourage and inspire people to… I don't know, love better, be better and be who they want to be, no matter how hard life gets because we all go through dark times, but we can still always love on the flip side of that pain – I want people to know that."
"Life might not always look like you want it to look like, or take you to where you think you want to be… but maybe where you end up will be better. So don't ever give up hope, hang on in there and learn to love yourself and others that little bit harder."
Preacher's Kid is available to download / stream now.
---
Let us know your thoughts on Butterfly Ali over on Twitter @CelebMix now!