Presenter and media personality Amel Rachedi is known to many as the bubbly vibrant host of Pulse88 Radio's weekday morning show, Brunch With Amel – a topical, zany, fun melting pot of pop culture moments that sees Rachedi interview some of the biggest celebrities in the business!
Broadcast weekly on Monday's and Tuesday's at 10am, past guests on the programme have included Emeli Sandé, Sean Paul, Rak-Su, Sinead Harnett and Love Island Stars Anna Vakili and Jack Fowler.
"I really have put my heart and soul into my show to make it what it is today." Amel tells us as we begin our interview. "I always go the extra mile with everything I do – I basically sleep, eat and breath the entertainment industry, I feel like this is definitely where I belong."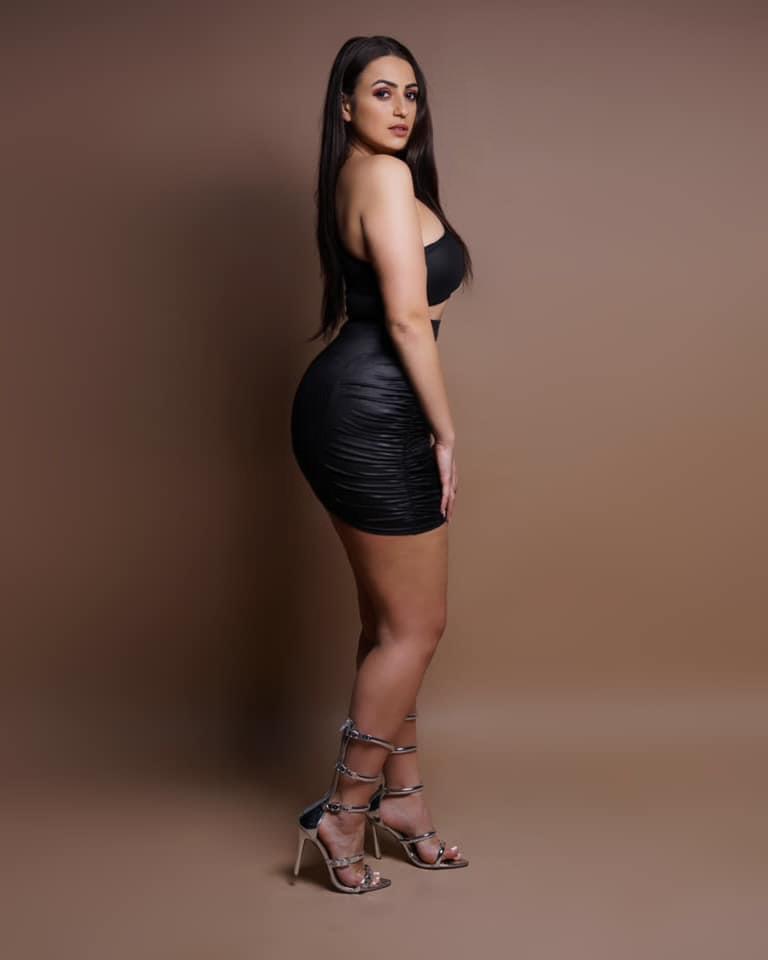 We caught up with Amel to talk life on the radio, her favourite guests and what it's really like achieving your dream job…
For those who haven't yet tuned in to hear an episode of 'Brunch with Amel', how would you best describe the show?
My show is LIT – it's nothing but pure, good vibes… trust me! I love my guests to have a great time, we talk about what projects they have coming up, the latest music, the latest news; it's literally like a brunch date on a zoom so we're vibing, chatting, catching jokes (laughs). If you haven't checked it out, you're missing out!
What one thing do you want to achieve, and for listeners to feel when listening?
I want listeners to catch a vibe, and be like "yeahhh this is lit", whilst also learning new things about each of my guests that they may have not known before. I always keep in the back of my mind that each time I interview someone, there might be someone listening who's never heard of that person before, so it's cool for me to have a platform to introduce artists to a new audience. That's really important to me, because I see so much talent out there, not just here in the UK, but worldwide – the world is a big old place isn't it, so we make sure we take things global and include guests from all around the world; we're international.
How do you go about planning content and figuring out what topics you want to cover each week?
Honestly, each week is different – sometimes the whole show is planned out, sometimes it's totally unplanned and more spontaneous. Once I know who my guest is going to be, I'll plan some general questions out in my head, but usually I just freestyle everything – I find it's more natural that way and I get more out of my guests. When I look back to some of the shows most iconic moments, it's been because of the chilled, laid-back vibe in the studio – like one time, Beenie Man sang 'Who Am I (Sim Simma)' and put my name in there; I'll remember moments like that forever.
Looking back on all of the celebrities you've interviewed so far, who would you say has been the most surprising in terms of how they presented themselves to you and your audience live on air?
I feel each celebrity has been so different, and most of the time just how I expected. I'm quite good at catching people's vibes so that's always a good ice-breaker for the people coming on; they feel at ease to be themselves. If I had to single out one person though… I mean, it would have to be Sean Paul, he's a living legend isn't he? I grew up listening to his music and I just love how down to earth, humble and real he was in our interview. I always got big love to him and his management Steve Urchin – he's a lovely friend of mine!
---
Brunch With Amel | Sean Paul
---
Was presenting / DJ'ing something you'd always dreamed of doing as a child?
You know what, I actually wanted to be a fashion designer when I left school (laughs). But I think I'm more suited to what I'm doing now, this is this industry I'm supposed to be in, it's for sure where I belong. I've always felt like we make plans in life, and say 'this is what we want to do' but the reality is, life isn't a book it's a journey, and things change, people change. I truly believe you will always end up where you're meant to be, and I love presenting so much! It's a dream for me, to be be able to do a job that allows me to show my personality and to support other creative people and their projects. When you wake up smiling every morning, you know you're onto a good thing.
What would you say was your big break into the industry?
For me, I think it was more the little breaks that led to the big breaks – it's an on going journey of hard work and graft that never stops! I would probably say projects like LADbible, doing a UNILAD campaign, my show on Pulse88, and starring on The Big Narstie Show were the biggest moments of my career so far. But like I say, it's an ongoing journey and I'm always pushing for that next big break because for me, success isn't a destination, it's a journey that never stops – and I can't stop now, I have to keep on going and I encourage everyone reading CelebMix to do the same! You never know how close you are to landing the big break you've always dreamed of so yeah, don't give up, keep going!
How did you land your own show on Pulse88?
I knew that I really wanted to be a presenter, so I just put my mind to it and I went for it! Pulse88 really believed in me, they got my vision and felt I could really go somewhere so they gave me a chance, and I thank them SO MUCH for that!
Which presenters do you look up to?
I really love Maya Jama! She's so real and down to earth – I love her vibe and she's actually from Bristol, and I'm from Cardiff 30 minutes down the road, so I really feel I can relate to her. She's also been grafting for years, so really love seeing the journey she's been on to get to where she is now. I also love Davina McCall, I mean, who doesn't – she's a legend! I remember her always being on TV when I was younger, and thinking I want to do what she's doing!
I'm always pushing for that next big break because for me, success isn't a destination, it's a journey that never stops – and I can't stop now

Amel on never giving up on her dreams
Who would be your dream celebrity to interview?
Ooh that's a hard question… I would say… Nicki Minaj! Or the Kardashians…. am I allowed to pick two? (Laughs) We plan to make the show the biggest thing ever this year – I'm super excited to see what 2021 has in store!
With that in mind, are there any other sectors of the entertainment industry you hope to venture into?
Yes definitely! I see myself doing more TV for sure… starring in some films would be fun too (laughs). I'd like to work with some more brands as well. The goal is to have my own TV show… but one step at a time, Rome wasn't built in a day!
What advice would you give to anyone looking to follow in your footsteps to become a presenter / radio personality?
Firstly, you HAVE to believe in yourself! Secondly, be ready to work hard. And thirdly, be persistent. You have to remember that things take time and if this is something that you really want to do, you can't just give up because you feel like nothing is happening, because the reality is in this industry, nothing really happens over night. But if you really want it, and you keep pushing forward and you're consistent in keeping things moving you'll get there. I'd also say that networking with other creatives is very important. And maybe most importantly, you have to have a thick skin, because you will encounter a ton of rejection before you get that big break you're looking for.
Looking to the future… what do you hope to achieve in 2021?
For 'Brunch With Amel' to go HUGE worldwide!!!!! I'd also love to star in some films, make some more TV Appearances, secure more campaigns and do more presenting gigs for sure! We're obviously still living in a pandemic at the moment, and things are on pause so it's a difficult time for everyone, but it's about thinking out of the box and creating opportunities and perfecting our craft so that we're ready for when the world, hopefully, gets back to normal. I cant wait to see what's next!
You can catch Brunch with Amel on Pulse 88 radio every Monday and Tuesday from 10am.
---
Let us know your thoughts on what Amel Rachedi has to say over on Twitter @CelebMix now!