Back in the spring of 1997, if you had told young, up and coming popstars Faye Tozer, Claire Richards, Lisa Scott-Lee, Lee Latchford-Evans or Ian "H" Watkins that 24 years into their career together as Steps, that they would be on course to achieve their third #1 album in the UK, it's fair to say that none of them would have quite believed you!
But testament to their talent, as well as the unwavering support of their ever loyal army of fans, this week the much loved quintet find themselves in that exact scenario, as they go head to head in a friendly, yet fierce, chart battle with Welsh rockers Manic Street Preachers, that feels eerily similar to the events of September 1998, when both bands first found themselves pitted against one another, whilst vying to make the top spot – the Manics with their album This Is My Truth Now Tell Me Yours, and Steps with their debut offering, Step One.
To celebrate this extraordinary time in Steps career, we caught up with the ever lovely and eternally gracious Faye Tozer to talk about What The Future Holds Pt. 2, the groups up arena coming tour and why she's now happier than ever to be back onstage with her best friends and bandmates…
Tell Me What The Future Holds…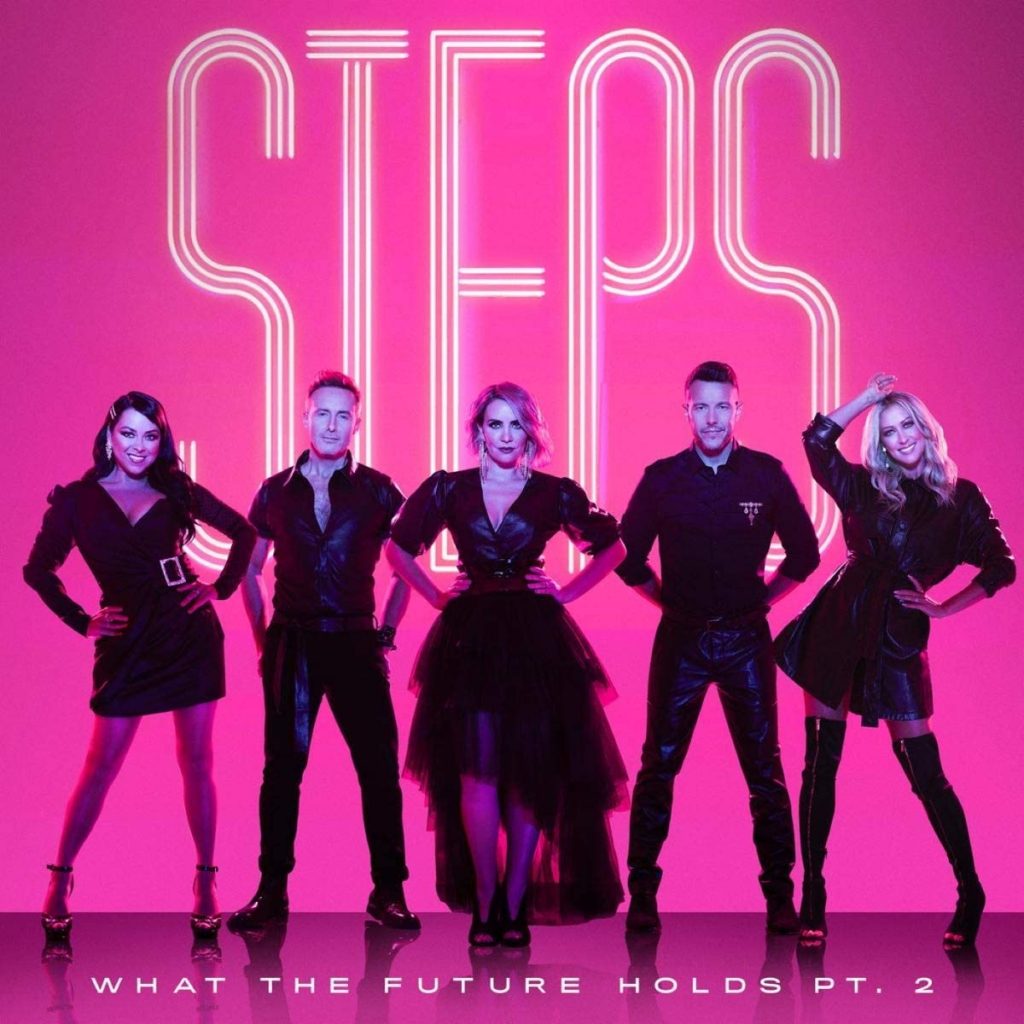 "It's amazing to be back!" Faye tells us from the set of the bands brand new music video at a top secret location in London. "I don't think any of us would have ever believed, or even dared to dream that we'd be back and operating at this level again, 24 years into our career! And to be so close to possibly getting another number 1 album… I mean, come on, how amazing is that?"
"Seriously for me though, as excited as I am about the charts and the reaction that this album is getting, it's honestly just a joy to still be working with the rest of the band! We have the best time together and I think that now more than ever, we're enjoying it and having more fun than we ever have done before, which is amazing."
Eagled eyed fans and followers of the group will have been able to witness that joy and sense of fun over this past weekend, because as well whole-heartedly embracing all of the new and innovative ways in which bands can promote their music nowadays, Steps have taken somewhat of a back to basics approach to publicising the launch their 7th studio album What The Future Holds Pt. 2, by travelling up and down the country to meet their legion of supporters face to face, via a serious of old school style record signings in music stores across the U.K.
"This week has just been incredible!" Faye says excitedly whilst on a break from filming. "It's been manic, and we've been incredibly busy, but we have loved it and are honestly blown away by the response and support we've had for this album, we can't thank everyone enough for all that they've done for us."
"The record signings we did at the weekend, were just off the charts and what was so lovely was that we were able to see first hand how much people are enjoying the music! After all these years of doing this, it's honestly still so exciting for us and forgive me because I know I keep saying it but we actually can't quite believe how well this album has been received, we really can't."
As she reflects further on the bands current psyche and seemingly ongoing, upward trajectory, Faye adds: "What's really exciting for us at the moment is that we feel like we're at the top of our game, and that all of the external things usually out of our control, seem to be going in our favour, which after all these years of working together, is just incredible. We can't quite believe the direction in which our little band is going in."
"We've always been very lucky in the sense that we have always had this phenomenal swell of support from our fans, which we will never take for granted! But lately there feels to be this lovely feeling of support coming from radio and TV too, and I think when you combine that with the calibre of all of the writers and creatives we've worked with this time around… I don't know it seems like everybody is really rooting for us which is really, really lovely."
---
Heartbreak in This City (Official Video)
---
Back in the late 90's and early 00's it was easy for critics and certain sections of society to be dismissive of British pop acts, choosing to rather foolishly ignore and overlook their obvious talent and appeal, to pledge their allegiance instead with more "authentic" styles of music made by artists who were considered to be way more "cooler" at that time.
"Listen, we've always been seen as the underdog, and we're totally fine with that." Faye says matter of factly. "I think sometimes the way we've been received, or should I say the way we've been perceived in the past, by people who aren't necessarily Steps biggest fans, is that we're a bit disposable, and that the music we make can be easily thrown away and forgotten about, but I would argue and disagree with anyone who says that because, both our work and our music has stood the test of time, whether it's to your taste or not, you can't deny the fact that we're still here and still enjoying all of this amazing success… I, myself can't quite believe it (laughs)."
"We're hard workers." Faye adds matter of factly. "And between the five of us, we do now have a lot of knowledge and musical experience behind us, mainly due to the fact that we've been working at this for such a long time, but also because we have been so hands on in our careers, meaning we've been able to learn so much about the business side of the industry as well as the music. It's that understanding that enables us to keep on doing what we do."
Famous for their out-and-out pure pop sound, colourful music videos and elaborate stage shows, Steps never set out or intended to be a band "for the critics", something of which Faye is acutely aware of, and equally unfazed by.
"We are an unapologetic pop band!" Faye says proudly. "Throughout everything we've ever done, we've always tried to remain true to the essence of what Steps is all about, and that's pure, unadulterated pop! We make joyful music that helps people to escape their worries, and I love that about us. We wholeheartedly embrace who we are, and what we do."
It's that tenacity and understanding of who they are as a band, that has allowed the Steps to weather the fickle world of pop and remain at the top of their game for the past 24 years. It is also the inspiration and behind their most recent albums, What The Future Holds Pt. 1 and Pt.2.
---
Take Me For A Ride (Official Video)
---
Made up of 15 bold and daring tracks, including 10 brand new unheard songs, along with an EPIC cover of the Five Star classic The Slightest Touch, and 4 special acoustic versions of previous singles What The Future Holds, Something In Your Eyes, To The Beat of My Heart and Heartbreak In This City featuring Michelle Visage, What The Future Holds Pt. 2 serves as a sonic continuation of it's predecessor, that sees Steps once again adopt the same mantra and motif of "one foot in the past, one foot in the future" to produce an exciting and progressive body of work that catapults the group into a whole new musical stratosphere, whilst still very much honouring and paying respect to their quintessential pop roots.
"I feel like we've definitely crossed a line, and upped our game with the production on this album, in terms of developing that traditional Steps sound that people have come to expect from us." Faye says of the record. "I'll use 'Take Me For A Ride' as an example, because I personally don't think that in its original form, that song sounded anything like a Steps, but once we put our voices on it, and played around with some of the harmonies, we were able to make it what it is now, a futuristic, modern sounding pop song, but with timeless, classic harmonies."
"And doing that with tracks on this album was a gamble, it really was, because in doing something a little bit different, you can never be sure how people are going to react, it could have gone either way really couldn't it? (laughs). So for it to have been received in the way it has, makes things even more exciting for us as a band moving forward, and gives us really great lee-way to do different things in the future."
Of other stand out tracks on the album Faye says: "'Living in A Lie' is a real stand out for me, because I think it plays really well alongside 'Something In Your Eyes' from the last album; it has that Abbaesque style to it, and a really strong melody that I love."
"'A Hundred Years of Winter', which was written by Darren Hayes, is another favourite of mine because I think it's one of those songs that allows us to explore a bit of a different sound, it's kind of moody and vibey, which I'm really like, and its sort of has this autumnal / winter feel to it which I think everyone will enjoy listening to in the run up to Christmas. And finally as a passion project, the five of us we're absolutely blown away when we heard the final version of 'The Slightest Touch' – I mean, what a moment for Steps that was! The production on the track is amazing, it has this brilliant energy to it and it really does, honestly feel like a piece of us. The first time I heard it, it totally took me right back to the beginning of Steps, when we were first starting out – it was a glorious moment."
---
The Slightest Touch (Backstage Party Visualizer)
---
Once again reflecting on the overwhelming positive reaction to the album, Faye adds: "Ultimately I think both parts 1 and part 2 of What The Future Holds marry together so well, so that when people who loved the tracks we put out last year heard the new singles, they became even more excited and invested in what we were going to do and present to everyone this time around, this is fantastic… and it sets us up perfectly for the tour.
In what will be their tenth headlining tour, Steps are set to hit the road this winter to play 18 arena shows across the UK including two dates at London's The O2 with support from the queen of the kitchen disco, Sophie Ellis-Bextor!
Kicking off in Sheffield November 2nd, the pop supergroup promise fans a night they won't forget as the perform tracks from both What The Future Holds parts 1 + 2, as well classic hits including Tragedy, One For Sorrow, Stomp and Scared Of The Dark.
"By the time we hit the road, this tour will have been three years in the making… and let me tell you, we cannot wait to get back out there!" Faye says with a palpable sense of excitement. "Like a lot of artists and bands, we've had to move it and the reschedule the dates so many times now, which has been so frustrating for everyone involved, not just us but for our crew, management, costume department… everyone! But, it's finally happening… which is a relief (laughs)."
"So right now we're just coming out of the beginning stages of the creative process." Faye explains further. "We're set on the concept and we've pretty much decided everything that's going to happen on stage so now we move onto filming all of the content for the big screens, which is something I always enjoy doing."
---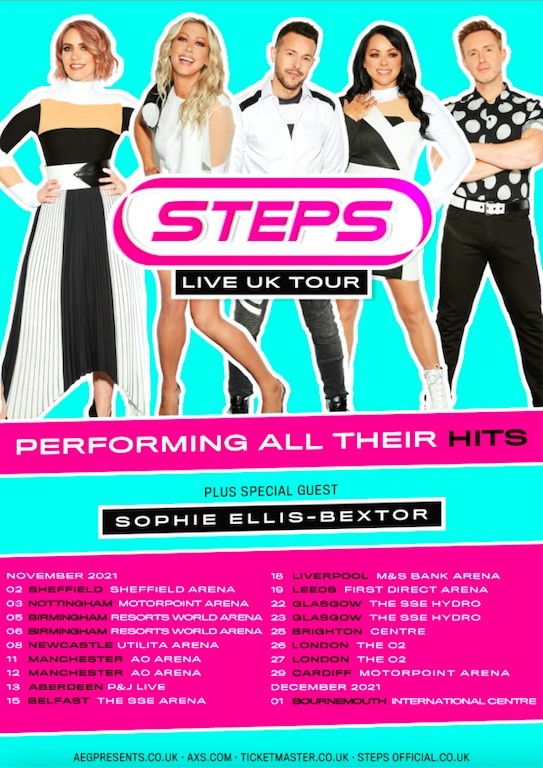 ---
For a band who have pretty much done it all in terms of pushing the traditional pop arena show to its absolute limits, we're interested to know how does a theatrical band like Steps go about planning and devising their live shows.
"We always like to go back to the very beginning of our career, because we feel like we need, and want, to celebrate where we started." Faye says of the bands creative process in planning one of their productions. "The difficulty in that though if you like, is that we have 7 albums worth of material now, so there's always a big discussion around which songs we can and can't we perform… and it's so hard (laughs). And I say that because we don't ever want to disappoint anyone, by leaving out that one song they are desperate not hear; but if we were to try and include every track we've ever done, I think our show would run for about 3 days!"
"But adding a point to that, we owe so much to all of our original fans, because they are the ones who support and fought so hard to get us where we are today, so it's important that we incorporate all of their favourite songs into the show because we don't ever want to disappoint them. So, for all it's faults, we actually find social media to be a real help to us, in terms of how we're going to shape what the setlist should be. We love hearing from fans what they want to hear live, and what old tracks they'd love to hear us perform again. We also always look at our streaming numbers, and see what's getting a good reaction on there, so yes… deciding on the setlist can be a long and complicated process (laughs)."
"We work with Steve Anderson on our tours, who helps us to breathe new life into some of our older songs which is always exciting! He does the most incredible remixes and mash-ups for us which means we can cram even more shows into the show, and actually, do you know what, we're punters too! Each of us go to concerts all the time, and as fans ourselves, we know what kinds of things we want to see from our favourite artists and the majority of the time, that's the hits! So for us as Steps, in terms of our live shows, we want to deliver what people expect, and that's a brilliant show with lots of singing, dancing and glitter!"
---
Heartbreak In This City (Radio 2 Live 2021)
---
"This feels to be such a real celebratory time for Steps." Faye tells us as she's called back to set to film shots for the groups as yet unknown new music video. "I don't know, maybe the stars feel to have aligned, and all of this is meant to be and it's just is our time? I'm not going to question it or overthink it, I'm happy… and if we could get that number 1 album tomorrow, 24 years into our career, that would be just magical."
What The Future Holds Pt. 2 is available to download / stream now.
---
Let us know your thoughts on Steps over on Twitter @CelebMix now!