It's the much loved Mariah Carey Christmas classic we wait all year long to hear, and this holiday season British singer/songwriter Lucy Spraggan gifts us all with a beautiful new rendition of All I Want For Christmas I Want For Christmas Is You, just in time for Santa's annual visit later in the month!
---
All I Want For Christmas Is You (Official Video)
---
Released through Lucy's own label Little Pig Music via The Orchard, Spraggan's tender version of the universally adored track, places Carey's playful lyrics at the centre of proceedings, stripping back the production to reveal the true meaning and message of the song.
"When we first started to have the conversation about me doing a Christmas song, someone actually suggested I cover 'All I Want For Christmas Is You' as a joke, and we all kind of laughed about it and moved on." Lucy says of the early discussions she had with her team whilst searching for the perfect festive song to record. "But when I really took a minute to look at the lyrics, I realised that the sentiment of the song is really, really lovely and I felt it was the perfect track to release."
Despite being an accomplished singer/songwriter in her own right, famous for composing conversational style pop songs that cleverly manage to speak to our culture, and resonate with the times in a way that very few lyricists can, Lucy also has a knack for remaking classic songs like All I Want For Christmas Is You, and presenting them in a way that feels completely authentic and genuine. How does she go about deconstructing, and reimagining such iconic, and famous songs we wonder?
"For me when it comes to covering a song, the first thing I do is read the lyrics without listening to the melody or hearing the track in full, so that I'm able to really weigh up in my head what the song's actually about." Lucy explains. "From that moment I'll start off at the piano, because I've totally fallen out of love with playing the guitar, and then… well, to be honest with you, I can't really tell you what I do next, because I just play the song as I hear it in my head and somehow manage to bring that to life. But I think everyone interprets music differently don't they? And I think that's a brilliant thing, especially over the course of the last year and a half where it's felt like music has been the only thing that's connected us and kept us sane throughout all of the uncertainty we've faced."
Reflecting further, Lucy adds: "Outside of myself, I'd say that I've surprisingly felt really connected to people during all of this, because we all sort of went through a lot of the same things during lockdown didn't we? Social media, for all its faults, helped me to form more of a relationship with my fans which I'm really grateful for." 
As Lucy makes reference to the events of 2020 and 2021, and describes how she coped with being cut off from the rest of the world during the pandemic, we catch a glimpse of the maturity and growth the 30-year-old singer displayed on her most recent album, Choices…
---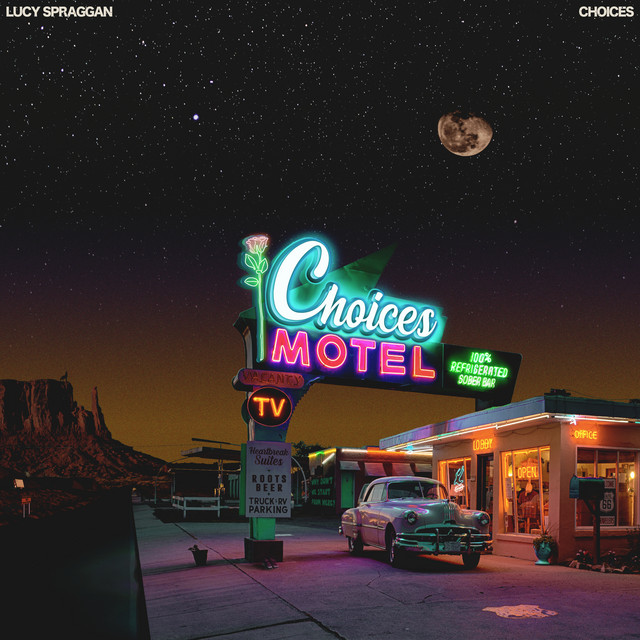 ---
Released back in February of this year, Lucy's 6th studio album Choices saw the Canterbury native reflect upon one of the toughest periods in her life, addressing past issues with sobriety and broken relationships, as well as acknowledging her struggles with both her physical and mental health, to produce her most personal and emotive work in years. Featuring the singles Flowers, Sober and Roots, the record became Spraggan's best performing yet, charting at #5 on the UK Official Albums Chart in its first week of release.
"Looking inwards and being self-reflective was the thing that enable to me write 'Choices' – I don't think I could have written those songs if I hadn't taken some time out to think about my life on a deeper level in a way that maybe I hadn't before." Lucy says as she reflects on the success of the record. "It's my job to grab something from the inner most part of my brain and create something that people can sing-along too, and sometimes you get it right, and sometimes you get it wrong, but I'm happy that the material I recorded for this album found its way to people and they connected with what I had to say."
Explaining how the process of making music can be something of a form of therapy for her, Spraggan adds: "Do you know what's funny, writing songs can sometimes be the thing that informs me of how I'm actually, really feeling about situations in my life, without me previously realising (laughs). It's a bit like journalling in a way, but just on a deeper level, because songwriting can sometimes turn out to be be a much longer process than simply writing a couple of paragraphs in your diary, so during that time you're really exploring your emotions and feelings and questioning why it is you feel the way you do… sometimes you can get get a bit of a surprise when you listen back to what you've written at the end of the day. But I love it, I love the creative process just as much as I do performing live."
---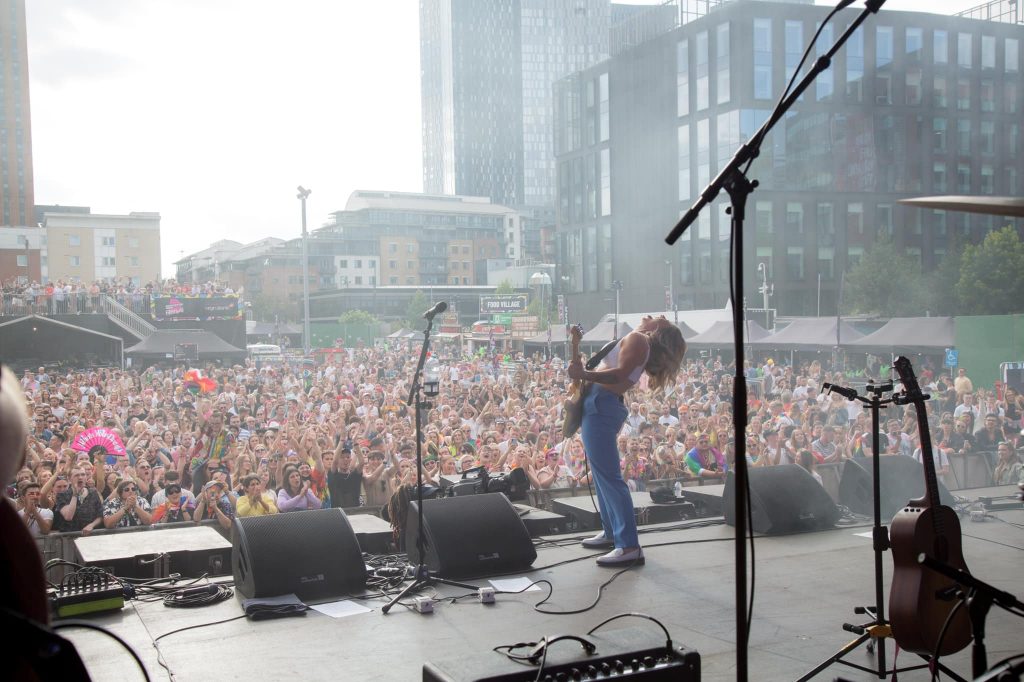 ---
Our interview with Lucy comes just a day after she spoke about the terrifying moment a violent "venue-wide fight" broke out during her show in Dover this past weekend. Addressing fans on Instagram the Lighthouse singer wrote in part: "As some of you may have read or seen, during the show in Dover, a woman that had been asked to be quiet on multiple occasions attempted to attack me during my set, which resulted in a venue-wide fight. A member of security had his hand bitten, venue staff were attacked. As an artist, and as a human being, I do not EVER want to be in a position where my fans, touring crew and venue staff are uncomfortable. Sadly, during this tour we have seen high levels of unrest and I have noticed this not just professionally, but in forms of homophobia, aggression and inappropriate comments from strangers in my personal life too."
The morning after her post went live, a defiant, yet clearly emotional Lucy tells us how whilst the incident has left her feeling somewhat disheartened and disappointed, she's not about to give up her love of touring and performing anytime soon.
"I can't lie, this tour has been quite a bit of an effort for me, and for the first time in my life, I can honestly say I'm very much looking forward to finishing up and getting home." Lucy admits candidly. "I'll be totally honest with you, during this past week I've really been thinking about what else I could, or might want to do, with my life away from this industry. And I feel that way because music is really, very important to me and I don't ever want to lose, or fall out of love with what I do."
"But then on the flip side of that, as kind of bewildering as this experience has been, I've gotta say that 99.9% of the people who have come along to these shows have been amazing and incredibly supportive – I cannot stress that enough! So I've had a long chat with my team and we've decided that moving forward we'll be making some changes, and in the future we plan to play more theatres rather than standing venues so that we all feel safe and protected. I can't change what's happened, but I can make the experience of coming to my show better in the future."
Never one to throw in the towel or back down to naysayers, Spraggan adds: "I guess I've not come this far to just give up and walk away now…"
---
Tea & Toast (Official Video)
---
Even in the fast paced world of pop, it seems hard to believe that next year will mark 10 years since Lucy first burst onto the music scene, as a contestant on the 9th series of The X Factor, instantly winning audiences over with her own unique brand of witty, acoustic pop.
A decade on from her time on the show, and with a lot of life lived in between, Spraggan admits she's excited to enter the next phase of her career with a new, and revitalised sense of self – inspired by her past, and feeling compelled to share with fans the honest truth of her journey in the industry so far.
"There was always far, far more to my story than the public knew or was made aware of." Lucy admits. "So I've decided, a decade after my experience of being catapulted into the limelight, and then being smashed right back out of it, that now is the right time for me to let people know what really happened back then. That's what's going to form the basis and inspiration for my new album, and I'm really quite excited about it to be honest with you."
Explaining the premise of the record further, Spraggan adds: "It's going to be filled with songs that very much tell my story from when they public first met me, to where I am in my life now, so that's a lot of ground to cover (laughs). It's going to be very revealing and pretty dark at times, but there will also be moments of light and hope, and tracks with positive messages that will hopefully inspire my audience to see how they too can come out the other side of hard times in their lives, just like I did."
"It's going to be good; there's a lot for me to tell…"
All I Want For Christmas Is You is available to download and stream on all digital service providers now.
---
Let us know your thoughts on Lucy Spraggan over on Twitter @CelebMix now!