Multi-platinum DJ, Martin Jensen, has teamed up with Stefy De Cicco and Ben Hamilton to drop his first release of 2020.
The catchy new track is an edit of Kid Cudi's 2008 release Day'N'Nite.
Ben's hypnotic vocals lay effortlessly on top of Stefy and Jensen's pumping beat, giving the 2008 track a deep house vibe, alongside Jensen's familiar piano chords.
Jensen shot to fame when his 2016 breakthrough track Solo Dance, garnered 1.2million streams daily upon its release, and even went 8xPlatinum with international success.
Since then, we have saw the global phenomenon work with the likes of The Vamps and James Arthur, and was even approached by Katy Perry and her team to officially remix Bon Appetit ft. Migos.
Now teaming up with Stefy De Cicco – producer renowned in the club circuit – and Ben Hamilton – American singer and musician – for Day'N'Nite, the track is set to be a successful start to the new decade.
We got the chance to chat to Martin Jensen about the new edit, working with artists from different music genres, and landing a spot at #45 on DJ Mag's Top 100!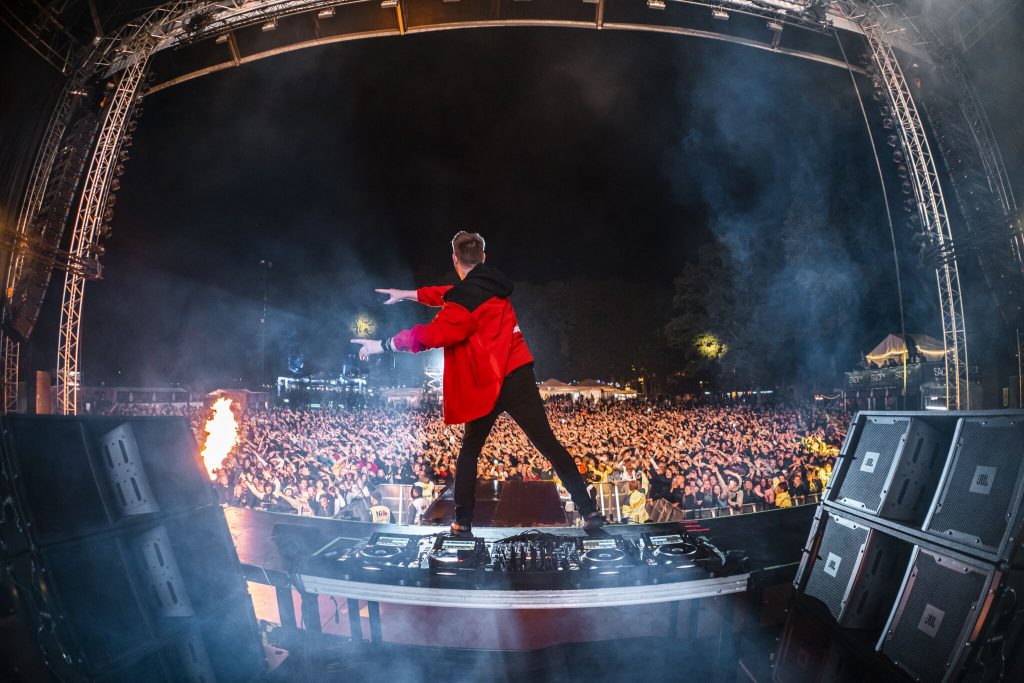 Hi Martin. So, you just released your new song which is a remix of Kid Cudi's 2008 hit, Day'N'Nite. Why have you chosen this classic to kickstart the year?
Well, it's actually more of an edit and not a remix. Like songs such as Jonas Blue – Fast Car or Sigala – Easy Love. We have a new singer on it, we have a new production and it's more in the 2020 sound with the deep house vibe, but of course since it's a Martin Jensen edit, you have the piano in the chorus. I think it's a good track which we've taken into the 2020 sound and tried to develop even further than it already was. I believe we did a good job with Day'n'Nite!
How did the collaboration with Stefy De Cicco and Ben Hamilton come about?
My A&R contacted me and said he had an option for me to do Day'n'Nite. I was like: "Cool, I really love that track." I played the original a lot back in the day – when I was playing as a resident DJ – and now, I've had the chance to make my own cut of it and I thought it was super interesting (as I was already in the house genre when it was made). I then got to work on it with Stefy De Cicco and Ben Hamilton – it's always fun to work with new talents!
So, what was it like to work with them?
It was actually really smooth. They sent out the first production, then I did some edits of what my take on the track would be. We sent it back and forth a couple of times until everybody was happy. It was all really smooth and I loved the process of working with them!
The original track features rapper Kid Cudi. Is there any future plans to work with a rapper?
It's actually funny, I just received a new track with a rapper as a feature and it wouldn't actually be my first time doing something similar. I did an edit of 16 Steps with Oliva Holt and the British rapper, Yxng Bane. That was my first time working with a rapper, and now on Day'n'Nite. So yeah, it's funny to work in other genres of music. In my opinion, hip-hop is an art and genre that hasn't been touched enough by the EDM world. I would love to help it further into electronic with an influence, if I can.
Speaking of collaborations, you are a huge fan of Taylor Swift! Can we expect a studio session this year?
I would absolutely LOVE it. So, if you can set it up please send me a message on Instagram haha!
Your 2019 Spotify Wrapped results were sensational with over 37 million Spotify listeners. Did you ever expect this after your breakthrough track Solo Dance?
A lot of people have told me: "You never made a track like Solo Dance after Solo Dance." But, if you look at the statistics, I now have four tracks with over 100 million streams each. So yeah, I don't even know how many streams now, but I think combined it's like 700-800 million streams which feels amazing! But for me, the fun thing is still to look around and see what you can create of new tracks instead of looking back at what you have already made. 2019 was amazing, but I'm aiming for 2020 to be even better. It's the start of a decade, and a whole new Martin Jensen wave! There is so much new music ready now – compared to what I released in 2019 – because I was very busy touring. It's an amazing feeling and seeing the hard work paying off like this is what I always strive for.
You have landed a spot in DJ Mag's top 100 for the last four years! What would it mean to make it a fifth time (especially when you would be the first from Denmark)?
I have climbed the list every year and now on the 45th spot. It's amazing to still be climbing up the DJ Mag list and keep Denmark on it. I'm happy to be the only Dane in there, but I'm also sad as I hope for more of the Danish DJ's to be with me in the poll. We need to all come together and help each other reach our dreams. That's what I'm working towards.
What advice would you give to a DJ just starting out, or even to your younger self?
I would say to a DJ just starting out, just go after your dream. Every time someone says: "You're never gonna make it", or "You're not talented enough", just turn around and say: "I will show you when I'm on top of the charts!" I wouldn't really say anything to my younger self, everything that happened is what got me to where I am today. I actually appreciate all the mistakes and kicks I have gotten throughout my career. I wouldn't change a thing – even if I could.
You told us in 2019 that you hoped to get out and do more shows. So, where can we expect to see you in the new year?
Expect to see me all over the world – as you have the last three years. I have some really big deals closing, booking wise! But unfortunately, I can't say anything about them just yet. Let me say this… I'm having a glass of champagne on Thursday and will probably be able to announce it next week or so. I really cannot wait to share it. Keep following my social media though and you will see it very soon!
To keep up with Martin Jensen, you can follow him on Instagram | Twitter | Facebook
Check out Martin Jensen's brand-new edit of Day'N'Nite and tweet us over at @CelebMix with your thoughts on the captivating track!