In the almost ever changing, fast-paced world of pop, you'd be forgiven for thinking that the average lifespan of a young musical act was woefully short – with many bands and solo artists seemingly enjoying a limited run of chart success, before rule abiding cynics would cruelly write them off and have you believe their "fickle fans" had lost interest and turned their attention, and affection, towards the "next big thing".
However, for every rule, there is always an exception; just ask The Vamps…
---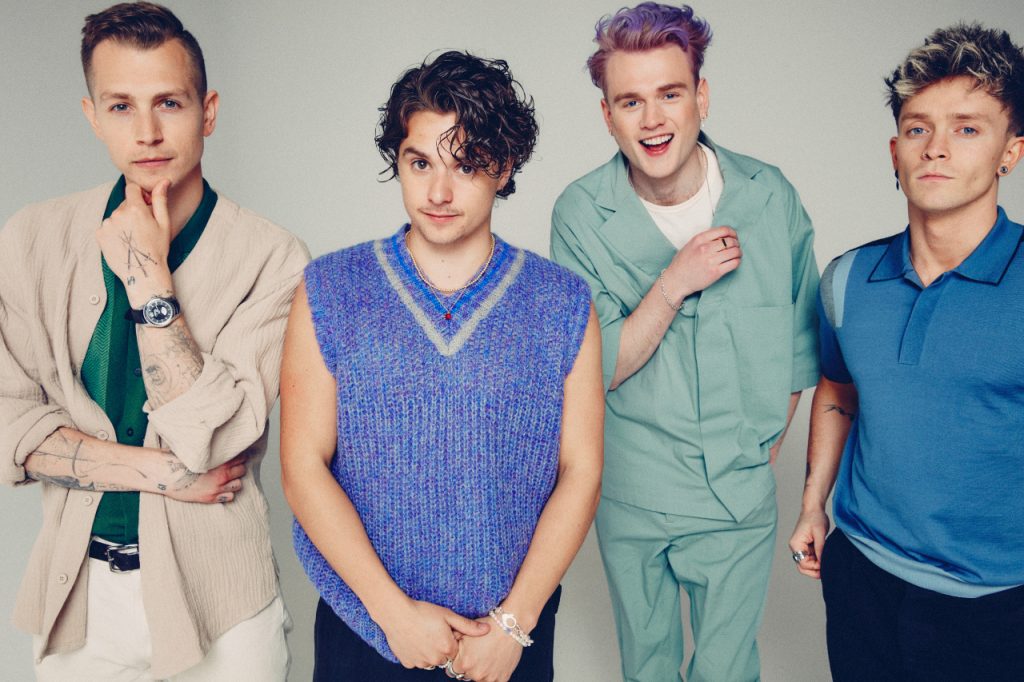 ---
A decade on since their formation, Connor Ball, James Brittain-McVey, Tristan Evans and Bradley Simpson are celebrating 10 years together as The Vamps – the super successful British pop / rock group who's fun, quirky sense of style and enduring, genre-bending sound has defined a generation. From their early days of posting videos on YouTube, to undertaking multiple arena tours and having hit no.1 albums, sharing stages with Coldplay, Jay Z and Taylor Swift, and becoming the first band to headline The O2 five years in a row – the last decade has certainly been quite a whirlwind for the boys…
"At this point in our career I think it's really important for us as a band to look back and reflect on everything we've achieved so far." Lead singer Bradley tells us as we ask how it feels to have spent the last few weeks and months reminiscing about the past, and musing over all of the good times the four friends have shared over the course of the last ten years. "Modern society maybe tends to encourage people not to do that nowadays, like there seems to be this mentality that we're all supposed to adopt where we just keep going, and going, and going, and never look back! But I honestly believe it's necessary, and a good thing, to allow yourself to press pause for a minute and take stock of things. If you don't, you can easily forget so much of what you've done, and I think that's a real shame."
Continuing his bandmates point, and nodding in total agreement, James adds: "Our achievements together as 'The Vamps' have far outweighed any of our expectations and dreams! We've done so much and have experienced so many amazing moments together, I think we deserve this moment to celebrate all of that. I mean when you think of where we came from, to where we are now… it's mind-blowing!"
---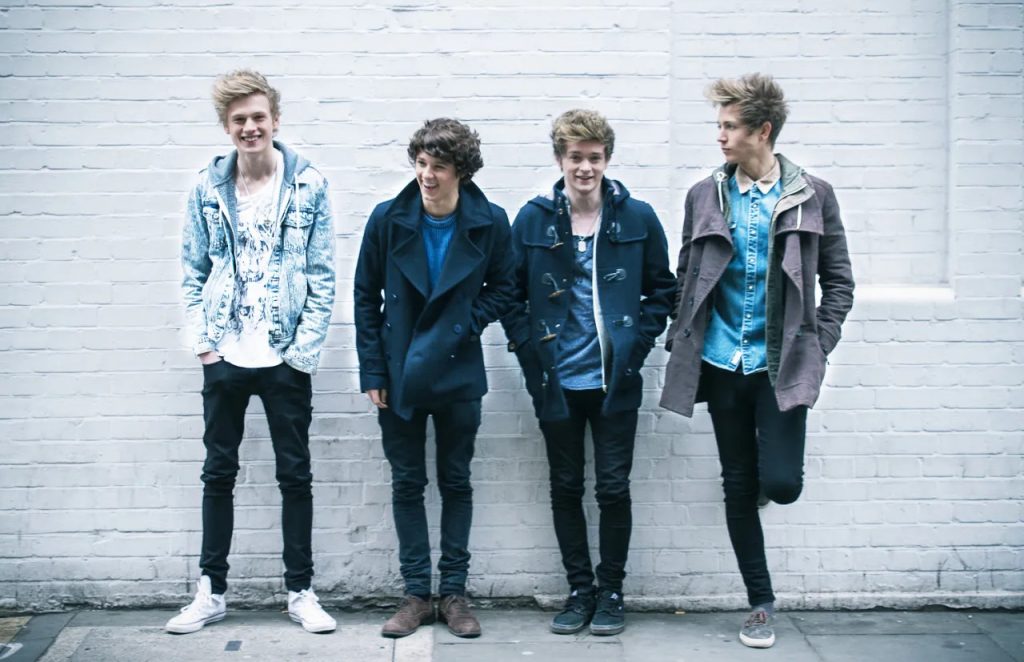 ---
Launched at a time when the majority of mainstream pop acts, prominent in culture and dominating the charts, had found fame via reality television, what set The Vamps apart from their contemporaries, and seemingly part of their initial appeal to both fans and critics, was the fact they were a group who had grafted their way to the top, the 'old fashioned way'.
Having met through mutual friends and via social media back in late 2011 / early 2012, the boys say they instantly formed a close bond, born out of their love of music, and quickly set about studying the career paths of their idols; whilst hustling and perfecting their craft behind the scenes in the hopes of making it big – that's not to say however the four teens weren't savvy to the y2k tools at their fingertips…
Using advancing technology and online music platforms to their advantage, the quartet began uploading cover versions of their favourite songs to their newly launched YouTube channel, before premiering their first original composition 'Wild Heart' in the summer of 2013. Within two days the video had received over 46, 000 views, and within months boys were gearing up to release their debut single.
"In the very beginning, even before we'd really thought about the kind of music we were going to make together, Brad and I wanted to be The Kooks." James laughs when explaining what life was really like back in those early days of the band working together. "Seriously, we wanted to be just like them! But we soon realised that being a carbon copy of another group probably wasn't going to work out so well for us in the long run, so we went back to the drawing board and the four of us worked together to develop our vision for the band."
Reflecting further the now 28-year-old guitarist adds: "We were so innocent back then, we really were. None of us came from families who had connections in the industry, and we didn't really know what we were doing (laughs) but pretty early on I think we all felt that we had something special together, and now when I look back on those early days, I love that we were able to organically create and develop our sound, friendship and the bands identity, without any real pressure or external people telling us what to do, or who to be."
---
I love that we were able to organically create and develop our sound, friendship and the bands identity, without any real pressure or external people telling us what to do, or who to be.

James reflects upon the freedom the band enjoyed in the beginning of their career.
---
Showing great understanding of what potential audiences and fans might want to hear and see, the groups tenacity and drive to create music that would speak to their peers proved to be the key to their initial success. That's not to say however the boys didn't hit a few bumps in the road during those early years of working together, with the sudden change and pace in lifestyle coming as an initial shock to their systems. But despite any hardships or struggles, the four friends say they somehow managed to always remain true to their original vision for the band, and instead of getting caught up in any drama or industry politics they kept their focus solely on their music and dreams of one day being able emulating some of the musical greats who came before them.
Chipping in, an enthusiastic Bradley says: "We also used to watch a lot of other artists live videos, because as much as we wanted to have brilliant songs, we also wanted to be an incredible live band as well. I'd grown up watching live DVDs of AC/DC and The Foo Fighters, and I know the other lads would watch similar things too, and so all of us were really keen to emulate the kind of energy those bands would bring to the stage, and how giving they were to their audience. So our kind of thought process in the beginning, and even now actually, is that when we're playing a festival, regardless of where we're appear on the bill, we want to be the one band that people remember when they leave at the end of the day."
"Having that shared mindset definitely helped to unify us, and set us off on the right path, so when things really kicked off and we became more well known and successful, because we were solid in our friendship and support for one another, we knew that no matter what the world threw at us, we were always going to be alright because we had each other."
---
'Can We Dance' (Official Music Video)
---
Following the release of their debut single 'Can We Dance' in the September of 2013, life for Bradley, James, Connor and Tristan has been something of a whirlwind – with the band working solidly throughout the course of the decade.
In and amongst creating and producing a solid run of top tier pop bops (to date they've released 5 studio albums, 23 singles and 5 EP's) the quartet have also collaborated with artists including Shawn Mendes, Demi Lovatto, Sigala, Krept & Konan, Tini, Matoma and Bruno Mars, headlined 12 concert tours, sold out some of the worlds most iconic music venues, appeared on several legendary international chat shows, created their own festival (The Vamps Weekender in Barcelona), drunk shots with Dave Grohl, hung out with Sean Paul at Woodstock, been held at gunpoint at airports, played for royalty and generated over two billion views on YouTube, and amassed over 6 billion streams!
"I think it's really hard to pick out specific highlights," drummer Tristan muses the boys begin to share stories, and personal highlights of years gone by. "For me, on a personal level, it's the times when people tell you how much a song or an album has affected them, or helped them to get through something in their life. I feel like our early material really captured a moment in time, and spoke to a lot of people who were feeling exactly the same things that we were – to be able to make that connection with another human being, that you've not even met, is really special."
"We were so naive to things like that in the beginning." Bradley adds. "We were really young and although we had a lot of control, and The Vamps was very much our project, we were just silly teenagers writing songs in the studio, with no real clue of what life had in store for us. So I don't think we ever really thought about the possibility that one day our music would have some sort of impact peoples lives… I mean, most of the time when we were in the studio we were too busy having fun and messing about, that our producers would struggle to get us to do any work (laughs). Maybe I'm being a little harsh on us there, because 99% of the time were were very focused and professional… the good thing about being in a band is that there's always someone there to keep you in line."
"As people and as a group, I feel we've always played down our success, and while in a lot of ways I quite like that about us, I also think there comes a point where you have to champion yourselves a little bit and celebrate your wins." James adds thoughtfully. "There's a song on our last album called 'Glory Days' that very much encapsulates the journey we've been on and says 'wow look at everything we've done, look at what we've achieved', that to me sums up how I'm feeling about the band right now."
Pondering his own personal memories, Connor contributes to the conversation : "Aside from all of the accolades, and the record sales, the places we've visited and all of the amazing people we've been able to meet, I think my overall highlight of the last ten years is the relationship I have with the boys. I've always sort of felt like the camaraderie we have between the four of us, is the thing that inspired our original sound – all of those early songs that resonated with people, all stemmed from the energy we exude when we're together. So without our friendship, I don't think we'd still be here, making music today."
---
'Glory Days' (Blossom Sessions)
---
As a group of musicians, responsible for writing and producing some of the catchiest and most instantly recognisable pop songs of the last ten years, we wonder how the bands working relationship and creative process has changed since those early days of non-stop, incessant songwriting in the hopes of producing their breakout, debut hit.
"I'd say overall our creative process is still very much the same." Connor says without hesitation. "As songwriters we've always written about what we're going through in our lives, so maybe the topics and subject matters we talk about have changed slightly because we're all now a bit older and we have a little more life experience behind us, but on the whole I'd say we still work the same way we always have."
"If it ain't broke don't fix it right?" James adds with a knowing smile. "The only real noticeable difference I see, is that in the beginning of career we would write the majority of our songs acoustically, and therefore a lot of our early demos would effectively be live versions of songs, which we would then have to hand over to the musicians we were working with at the time, for them to turn them into the versions you now hear on our albums. But because our last album 'Cherry Blossom' was produced by the boys themselves, we were able to create a track from scratch and build the full production around our original ideas and concepts without anyone having to come in and work for us, which was so exciting!" Explaining further, McVey continues: "Taking more control of the production of our music has opened up so many doors for us. If we decide we want to make an album that has a slightly different feel to it, we now have the experience and knowledge amongst us to facilitate that, whereas before we would have been reliant on someone else, and would've had to go knocking on the door of a producer who would want hundreds of thousands of pounds to bring our vision and sound life. I love how self-sufficient we are now, it's given us even more of a sense of ownership of what we do."
"We've always been quite picky about the people we collaborate with…" Brad interjects with a laugh. "Only in the sense that it's a bit like welcoming a new family member into the fold, and there needs to be a level of understanding and trust there because although making music is a lot of fun, it's also something that's quite personal and it can be daunting to open up to somebody you don't know that well. Us being able to make an entire album, just the four of us is incredible." Pausing for a moment, the Sutton Coldfield native adds: "It's kind of fun you asking about change, because sometimes I feel like we've not changed at all, but everything around us has beyond recognition."
---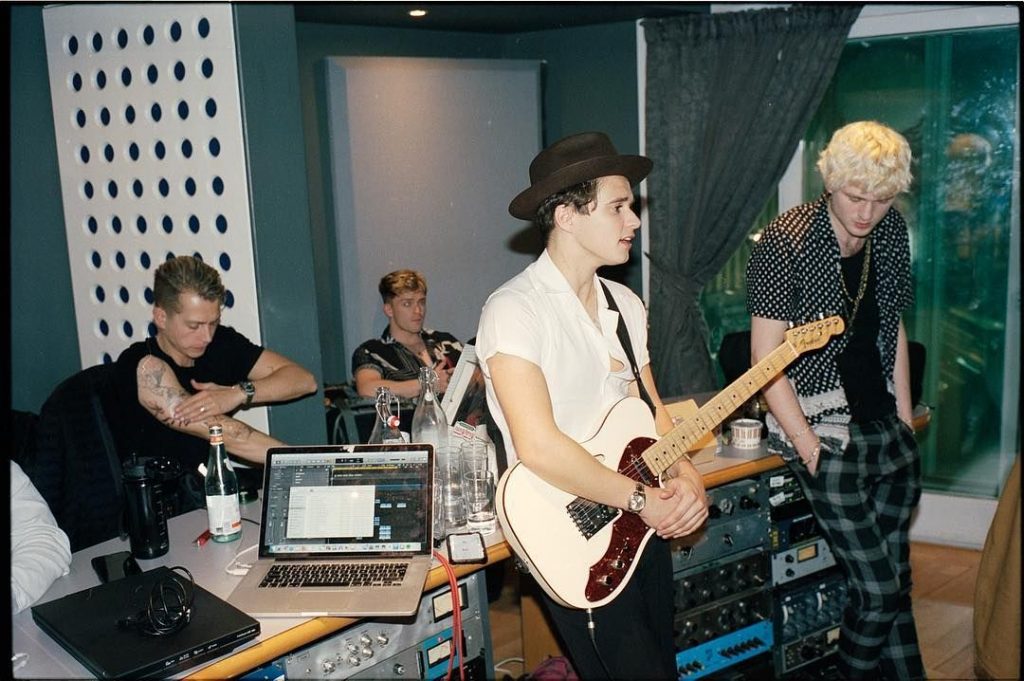 ---
As one of the last bands of their generation to launch onto the scene before the juggernaut that is social media exploded and became the force it is today, all four members of The Vamps agree that platforms such as TikTok, Instagram and Twitter have irreversibly changed the way artists release and promote their music.
"When we first stated out YouTube was the main platform that musicians used to promote themselves and get their music out there." James reflects. "Yes there had been MySpace before that, but with YouTube you could create more of a visual to go alongside your song so, it was another great way for us to be creative and get the vibe of The Vamps out there."
"Back then I loved it because in those early days of us being together, there wasn't the toxicity that there is on some social media platforms now, nor was there the pressure to have an online presence 24/7. Nowadays it feels like having a high number of followers enables people to believe that they're somehow superior to their peers and competitors… and I don't like that, I don't like that at all! I don't think it's good for people to have that mentality."
Offering his own take on how the music business has evolved since the group released their debut album 'Meet The Vamps' back in 2014, Bradley says: "I think pretty much everything about the industry has changed since we started out, and I'd be lying if I said it hadn't been tough at times, but I think we've thrived in the face of all the challenges presented to us. We've always sort of had this belief that if we wanted to stay around in this business, and still maintain an element of relevancy, then we'd have to change and adapt with the times. So yeah, our style has changed a little bit over the years, as has our sound, and I think we've managed to really step it up when it comes to our lives shows."
---
Without our friendship, I don't think we'd still be here, making music today.

Connor shares his thoughts on the bands enduring appeal.
---
In celebration of their 10th anniversary The Vamps have announced they are to hit the road later in the year to play a string of live shows to commemorate the momentous occasion with fans! Scheduled to kick off Wednesday, November 23rd at the O2 Apollo in Manchester, before visiting Brighton, London, Bournemouth, Cardiff, Dublin, Belfast, Liverpool, Glasgow, Nottingham and Birmingham, the '10 Years Of The Vamps – The Greatest Hits Tour'will see the group perform ALL their biggest hits from across the decade, in what promises to be a night audiences won't forget!
"Touring is without doubt our favourite thing to do!" an excited Bradley tells us as we begin to discuss plans for the bands upcoming live shows. "I think what's going to be brilliant about these gigs, is the fact that we're going out there to celebrate everything we've achieved, and nothing else! We're not trying to push or promote an album or a single, we're not trying to compete with any of our peers, we're simply going to be up there on stage and saying to our fans: 'look at what we've all achieved together!' and I honestly can't wait!"
With the bands now extensive back catalogue filled to bursting with a plethora of chart hits, and five albums worth of material to choose from, we wonder how the band will go about planning and preparing for the anniversary tour…
"We usually start off by devising the setlist, that's kind of what we've always built our live shows around." Connor explains. "Like you say, we have five albums and an EP's worth of material to pick from, which means there's maybe a little bit of pressure to create the dream setlist, but I think we're more than up for the challenge (laughs). Like Brad said, this tour is just as much about the fans as it is us, so we definitely want their input and want to hear what songs they would like us to play."
Looking to his bandmate Tristan for input, Evans chips in: "From there we then come together to create all of the weird stuff that happens throughout the gig – things like the interludes, intros, and how long we want to play each song for; the flow of the show is very important to us as we always want to tell a story and take our audience of a little bit of a journey. At that stage it always feels like we've got everything sorted, then we hit the rehearsal room and everything changes (laughs). But it's cool, because we've always really enjoyed the process of planning our tours, and like the boys have said, these shows are all about the fans, so we we want to make sure we give them the best show ever… I actually think this is going to be the best tour we've ever done!"
"We want people to in tears one minute, and then feeling elated the next! It's going to be a total rollercoaster from start to finish!" Bradley laughs. "Seriously, it's going to be awesome, and because we haven't toured properly for quite a while, I think it will be quite emotional too. Live music is such a beautiful thing, and it's something I think we all missed during the pandemic, so for us four to be able to be go back out on the road again, and make people smile is an amazing feeling; we feel really lucky to be able to do all of this for a living, and we don't take any of it for granted."
---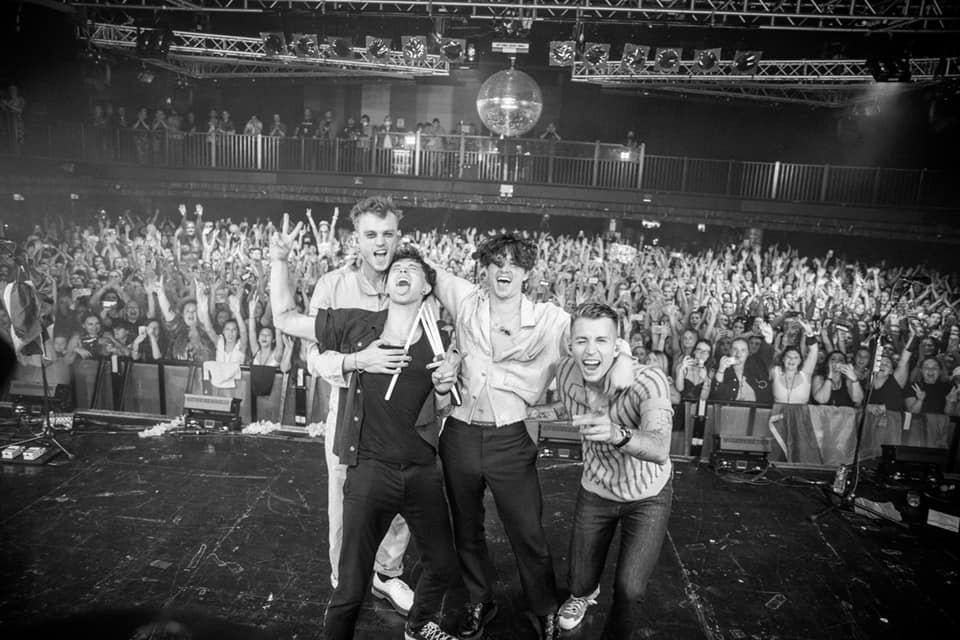 ---
"We are four normal guys, from four very normal backgrounds… sometimes it's hard to comprehend that any of this has happened to us!" James says as he tries to summarise what the last 10 years have meant to him. "It's one thing to have a dream as a kid, and to have an idea for what you'd like to do with your life… but for that dream to then become a reality is mind-blowing – I mean to have done 5 albums in 10 years is sick!"
Laughing at his friends enthusiasm, Connor adds: "This anniversary is a massive moment for us! And I know we said this at the beginning of this conversation with you, but it is really important that we celebrate this milestone in our career, and say thank you to all of the people who have helped us get here. It's been the most amazing journey, and I personally can't wait for the next decade!"
"We were so young when we started out." Tristan reflects. "And although we didn't really know what the future held for us, we knew we had this incredible energy between us that felt really special. I'm proud of the fact that we've stuck together and never really veered off course – I've been to places and done things that I never thought were possible, so yeah… this band, these lads mean everything!"
As we begin to say our goodbyes, and wrap up our interview, Bradley shares one final thought: "The Vamps has been our whole lives for 10 years now, and like James said, we can't actually believe what's happened to us, because at the end of the day, we really were just four normal, everyday lads, who enjoyed playing music together as teenagers, it's as simple as that! As a group we had all of these dreams, one being that we'd be able to build a career that would sustain us for the rest of our lives, and although I don't know exactly what the future holds for all of us, I feel like we've definitely done a good job in achieving a lot of the things we set out to do."
"But forgetting all that we've achieved a lot these past 10 years, I think the one thing we're all most proud of, is the fact that we've remained great friends, and that we're still just as close now, as we were back then. Friendship is the foundation of our group, it's why we're still here after ten years and it's why we'll still be around in another (ten years)."
Tickets for The Vamps 10th anniversary tour are on-sale now.
---
Let us know your thoughts on The Vamps over on Twitter @CelebMix now!